AMC files revised stock conversion settlement proposal in Delaware court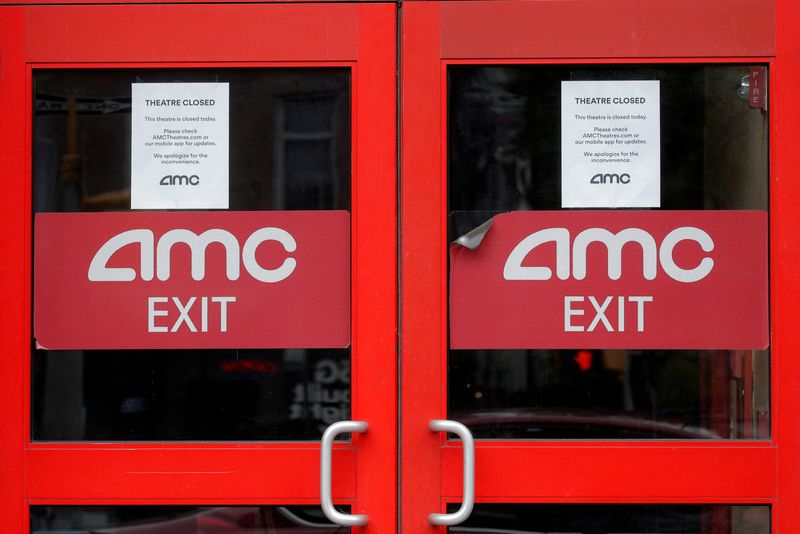 © Reuters. FILE PHOTO: Closed signs are seen on an AMC Theatre during the outbreak of the coronavirus disease (COVID-19), in New York City, U.S., April 29, 2020. REUTERS/Brendan McDermid/File Photo
(Reuters) – AMC Entertainment (NYSE:)'s chief executive officer on Sunday said the company filed a revised petition for a stock conversion plan that would allow the company to issue more shares.
"Yesterday we along with the plaintiffs, filed with the Delaware Court, a modification of the legal release surrounding the settlement of the Delaware litigation in an effort to address the Court's voiced concern," AMC CEO Adam Aaron said in a letter to investors.
He emphasized raising capital for the company's survival and said "to protect AMC's shareholder value over the long term, we MUST be able to raise equity capital."
Aaron also mentioned that in a March 14 special election a majority of the AMC common shareholders and preferred shareholders supported his views on the stock conversion.
Delaware Vice Chancellor Morgan Zurn on Friday denied approval as the deal would also settle potential claims by preferred shareholders who were not represented in the lawsuit.
The settlement had received more than 2,800 objections from shareholders.
The company was sued in February for allegedly rigging a shareholder vote that would allow AMC to convert preferred stock to common stock and issue hundreds of millions of new shares.
The settlement's backers want Zurn to weigh the new version of the deal without seeking additional comment from AMC shareholders, according to a Bloomberg news report.