Bryan Fischer
College Football Writer
It's a near-constant refrain to say that it was a chaotic weekend in college football. After the sport crossed the halfway mark and began Week 8 in earnest, however, it really felt like this past Saturday was filled with head-turning results everywhere you looked.
Ohio State triumphed in a battle of defensive will, Arizona State threatened to make Washington's hangover from beating Oregon even worse, Alabama stormed back against Tennessee, and one-win Virginia sent folks scrambling to witness an improbable upset of North Carolina.
If there was one league that largely stayed above the fray though, it was the Big 12. Four of the league's six games essentially came down to some big fourth-quarter plays, while both of the conference's ranked teams survived after being put on upset alert early — No. 8 Texas holding off a pesky Houston side, and No. 6 Oklahoma stopping UCF's two-point conversion in the final minutes
"We were fortunate to win the game," Sooners coach Brent Venables told reporters after the game. "We made enough mistakes to lose."
Indeed, big plays — a real area of growth for the team after giving up so many in 2022 — haunted OU defensively against the Knights despite having the advantage of a week off and a boisterous sellout crowd. UCF tailback RJ Harvey had a 54-yard run mixed in with several chunk plays, while Javon Baker had an 86-yard touchdown before halftime in which he literally was blowing kisses to the opposing sidelines on his way to the end zone.
As Venables knows from all his years in the league, and from making College Football Playoff runs with Clemson, however, there's something to be said for winning such games even when you're not playing your sharpest. Missing field goals, fumbling, and having QB Dillon Gabriel throw an interception against his old team are all things that can lead to a multi-score loss instead of a narrow escape in conference play.
That's especially true when you're on the road, as Oklahoma will be this week as it travels to face a dangerous Kansas squad on Big Noon Saturday.
The Jayhawks represent the start of what appears to be a season-defining stretch for Venables and company — at Lawrence, Bedlam at Oklahoma State and home vs. West Virginia. All three games are as winnable as they are ripe for upsets.
If you're Oklahoma though, you must also sense the opportunity at hand. The conference is surely there for the taking, and the strides made in Norman have aligned perfectly with a chance to close out this era of Big 12 play as the Sooners often have: holding up one of those glass bowls representing a league title.
This week's opponent is a great case in point.
The Jayhawks have been a fringe top-25 unit all season and convincingly beat the same UCF squad that nearly topped Oklahoma. Quarterback Jalon Daniels was the Big 12 Offensive Player of the Year coming into the campaign. Yet he's missed several games dealing with a back injury that should make him less than 100% even if he plays Saturday.
Kansas' rushing attack of Devin Neal and Daniel Hishaw Jr. has played just one defense that ranks in the top 80 against the run (Texas) and neither could crack 45 yards in a blowout. Oklahoma, it should be noted, has allowed just two rushing touchdowns all season and is second in the country in tackles for loss. Even with the incredible amount of shifts and blocking schemes that KU offensive coordinator Andy Kotelnicki can draw up, this is a strength-against-strength matchup that still tilts heavily in favor of Venables' side.
Quarterback is another advantage, not just because Daniels and backup Jason Bean have been so up and down this season, but because Gabriel has been every bit the Heisman candidate. He's seventh in FBS in efficiency, sixth in touchdown passes, and is averaging more than 9 yards per attempt. Add in a backfield that seems to be making progress every week, and the Sooners offense is starting to click and resemble one of those feared units once again.
It also helps that the rest of the Big 12 seems to be clearing a path for the lone undefeated team standing.
Oklahoma survives UCF. Can Sooners get to No. 1?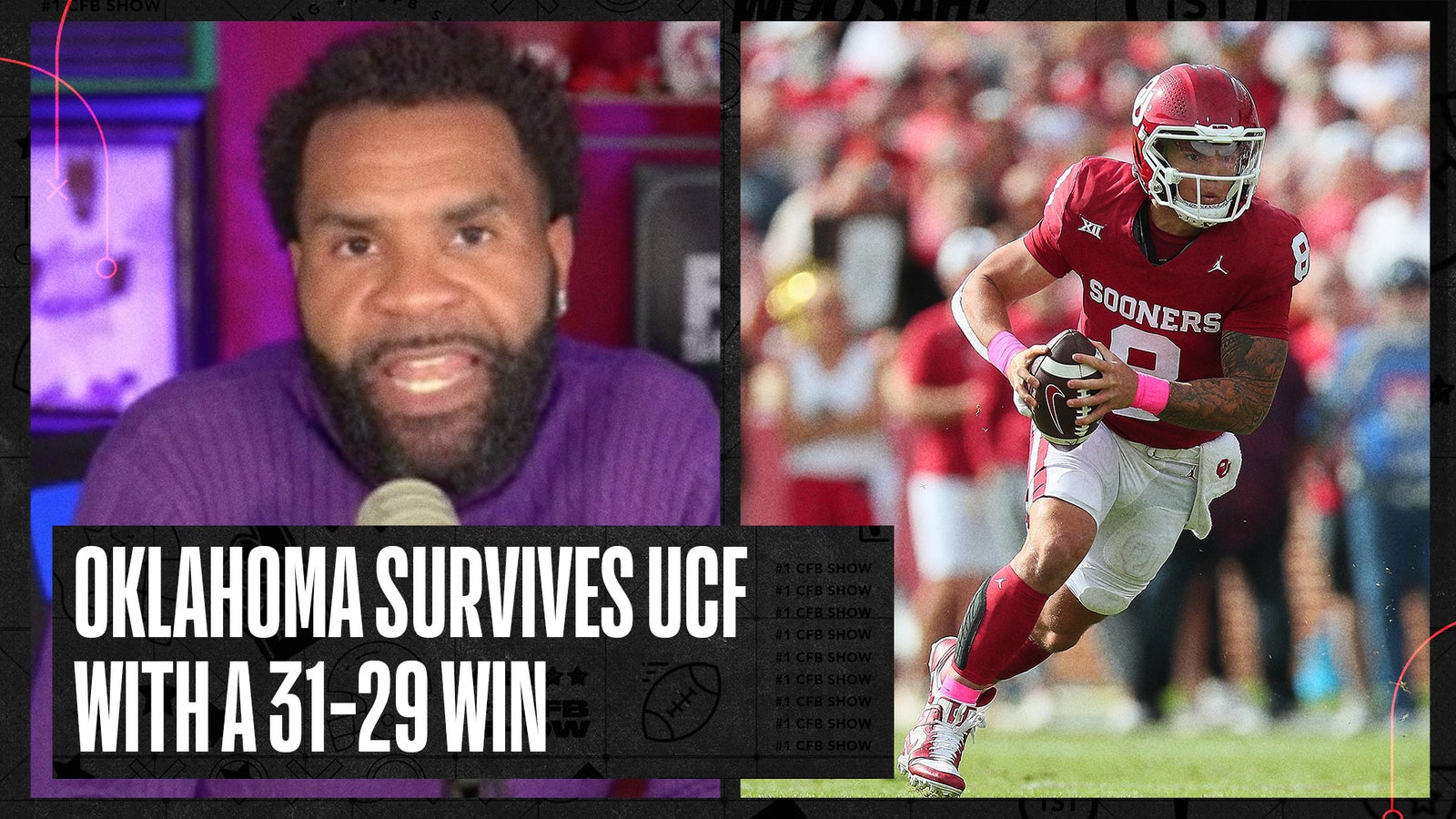 In addition to Kansas' issues, upcoming opponent Oklahoma State is second-to-last in the Big 12 defensively, and no amount of improvement over the past few weeks will let you forget they also lost to South Alabama in Stillwater not too long ago. Throw in West Virginia sliding back to the pack, BYU's lack of consistency and a TCU squad that has regressed significantly from a year ago, and it would be disappointing if Oklahoma hasn't clinched a spot in the league's championship game before Thanksgiving.
On top of this, chief rival Texas has lost quarterback Quinn Ewers for several weeks with yet another shoulder injury.
Then there's that little aspect of the Playoff out there looming, too, with the selection committee set to meet next week to give us our first true read of how Oklahoma stacks up nationally. Plenty of the advanced metrics give a boost to the Sooners' résumé, and the non-conference win over an SMU team that could win the AAC won't hurt.
There's still a lot of football to be played and plenty of undefeated teams still ahead in the rankings, but the possibility of reaching the CFP is a worthwhile topic of discussion. While No. 5 Washington still has to play tough games against three or four top-25 opponents, and No. 4 Florida State still has a pair of rivalry games to navigate down the stretch, Oklahoma just might have an easily attainable trip to either the Sugar or Rose Bowl.
Get into the final four and anything can happen in this parity-filled season in which even reigning champions Georgia and big bully Michigan look either beatable or untested.
Are the Sooners up for it all? The Big 12 is winnable for a team ahead of schedule under its second-year head coach. Accomplish that and bigger things could be in store.
But first, it starts this week against Kansas in a game that will reveal as much about Oklahoma's mettle as it does about its status as a contender.
HOW TO WATCH 'BIG NOON KICKOFF' THIS SATURDAY
10 a.m.-Noon ET: "Big Noon Kickoff" pregame show on FOX
Noon ET: Oklahoma at Kansas on FOX and the FOX Sports app
First and 10
1. The first salvo of the Big Ten East round-robin took place on Big Noon Saturday in Columbus, and it was every bit the defensive-minded affair that was expected coming in between Ohio State and Penn State. The difference was a simple one: Marvin Harrison Jr. suited up for the home team.
As much as one player defined the line between winning and losing, the coaches involved may have been the bigger storyline to emerge from the Horseshoe. For the Buckeyes, defensive coordinator Jim Knowles advanced his case for the Broyles Award after another master class in confusing a young quarterback. As for James Franklin, the conversation about his upside is bound to crop up again after he slipped to 4-15 against Ohio State and Michigan (and a further 3-16 against top 10 teams). There's little question that he gives the Nittany Lions a high floor, but the Big Ten isn't getting any easier, and he hasn't showcased the ability to take a good team and make it great.
Marvin Harrison Jr. shines in Ohio State's win over Penn State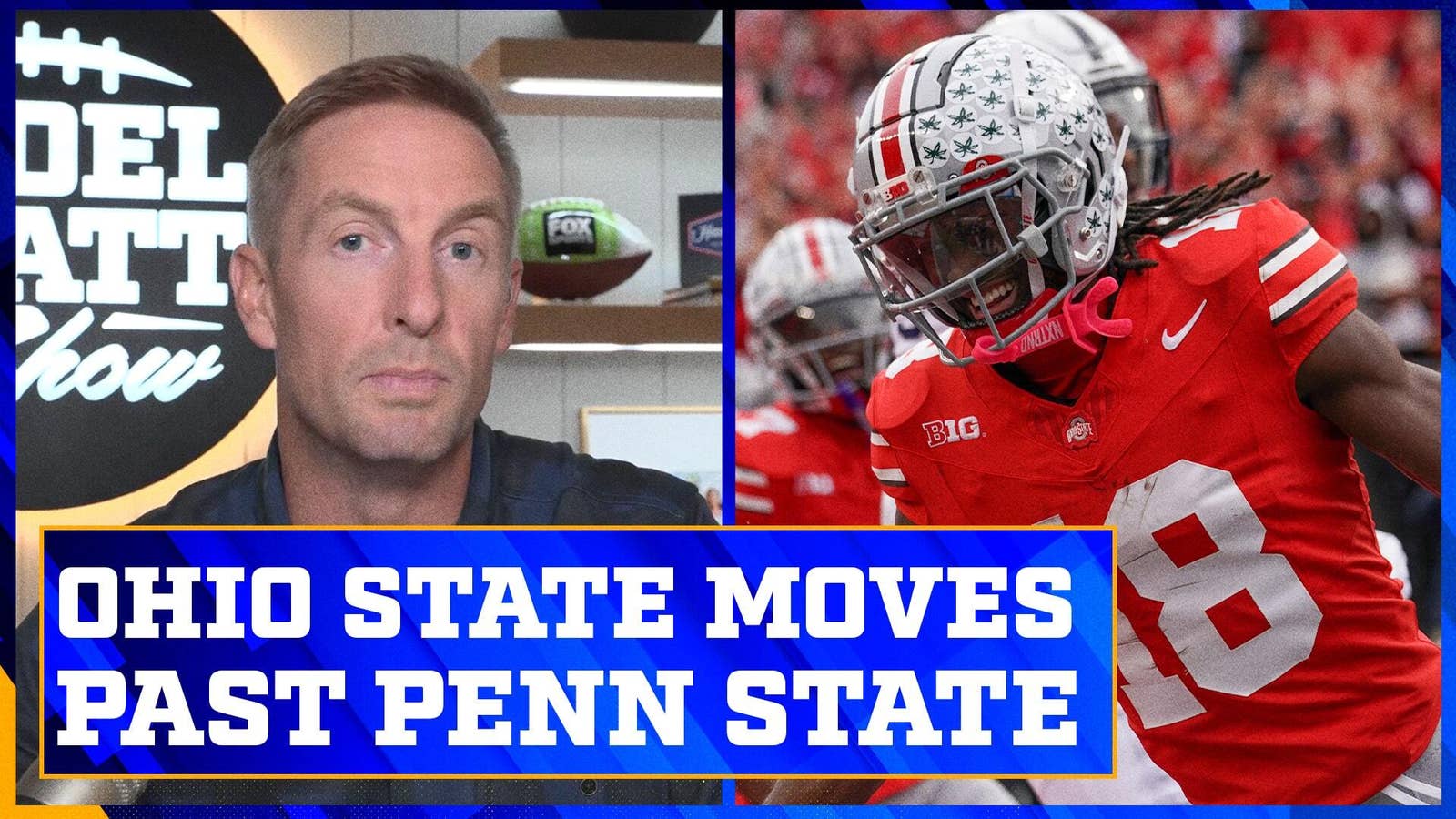 2. Coaches always harp on eliminating distractions, but it seems like Michigan is piling them up week by week, with the latest being an NCAA investigation into potential in-person scouting by a staff member. Despite that, the team itself hardly seemed to notice as it trounced Michigan State to the point where it might be a new low point in the rivalry. If that blown lead to Rutgers didn't signal that the Spartans had waived the white flag, the performance against Michigan certainly did.
3. The four new Big 12 teams are now 2-12 against the league's existing 10 members, with not a single road triumph among them. One of those two wins came via a Houston Hail Mary over West Virginia as time expired, and the lone convincing victory came Saturday when BYU beat Texas Tech, 27-14. It's not the beginning any of the programs had in mind, but is a reminder that the transition to a higher level of play can be a long one.
4. Hats off to Tony Elliott and Virginia for the upset of the weekend, going into Chapel Hill to knock off previously undefeated North Carolina — the Hoos' first-ever top-10 win on the road. That entire program has been through so much in the past year that it was a great moment to see them finally break through and notch a big victory.
5. After blowing a double-digit fourth-quarter lead to a freshman QB making his first start and losing in double-overtime to Miami, it's clear that this offseason is the most pivotal in Dabo Swinney's coaching career. The way he built his program worked in the past, but college football has changed, leaving the Tigers in the middle of the pack in the ACC (if that).
6. At the beginning of the year, many wondered how Deion Sanders would handle losing a lot more than he was used to after taking over at Colorado. Perhaps the question would have been better directed to Lincoln Riley, who was constantly yelling at the officials in USC's loss to Utah. Throw in preventing any players from speaking with the media after Saturday's game, and a promising season going off the rails is being compounded by the direction their head coach is providing.
Can USC and Lincoln Riley bounce back?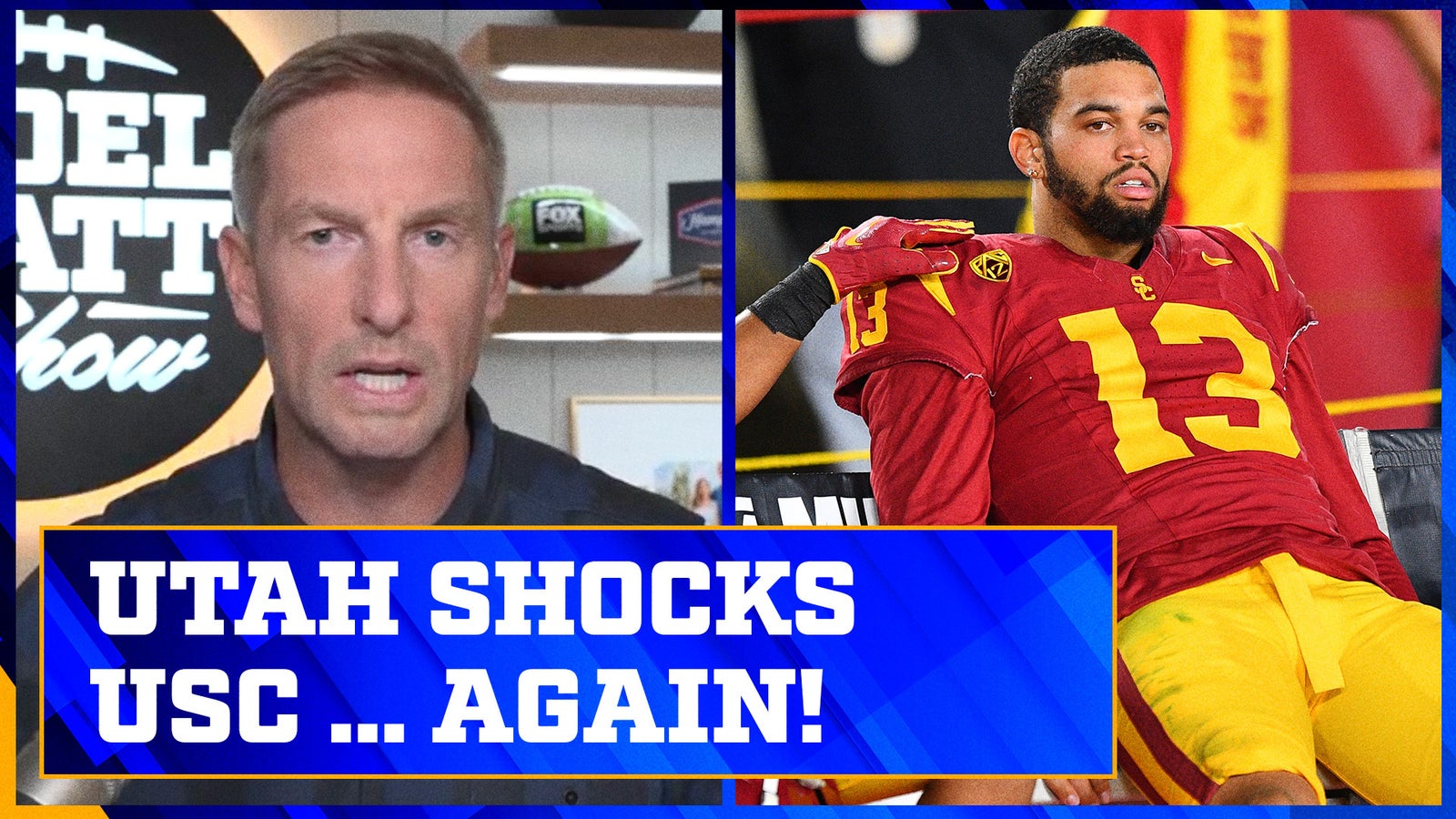 7. As one of the greatest coaches of all time in any sport, Nick Saban has churned out excellent coaching jobs over the years. Yet this year's Crimson Tide might be one of his best jobs yet. This is far from a group that is just going to 'wow' you like the Tua Tagovailoa/Mac Jones years, but they're leaning into this rough-and-tumble identity. It's very reminiscent of the 2014 team quarterbacked by Blake Sims that lost early, won a bunch of close SEC games and ultimately made the College Football Playoff.
8. The Sun Belt is having yet another great season, and it's been some of the surprises that have helped make a tough league that much better in 2023. James Madison is ranked and looking like one of the best in the Group of 5, while a week after getting the first poll votes in program history, Georgia State beat Louisiana for the first time ever. The Panthers are now 6-1 off a great job by Shawn Elliott.
9. The three longest conference losing streaks all came to an end this past week. New Mexico thumped Hawaii to end a 14-game Mountain West skid, while Nevada beat San Diego State to end a 10-game slide in league play. Out East in the middle of the week, FIU beat Sam Houston State to end an eight-game streak in CUSA play. Arizona State now has the longest losing streak, with the closer-than-expected game at Washington being the team's eighth Pac-12 loss in a row.
10. Your under-the-radar coach of the year candidates may be on a collision course next month. Making the trek to Annapolis, Air Force and Troy Calhoun nearly posted their first shutout of Navy since 1975, settling for a 17-6 win that was far more of a drubbing than such a score would indicate. Later in the evening, UNLV used two field goals with under 90 seconds left in the game to beat Colorado State and move to 6-1 for the first time in 39 years. How long ago was that? Randall Cunningham beat a Pacific program that hasn't been in existence for nearly three decades.
Saturday Superlatives
Best Player: Ollie Gordon II, Oklahoma State
Team of the Week: Virginia
Coach of the Week: Nick Saban
Hot Seat of the Week: Dabo Swinney
Heisman Five: 1. Michael Penix Jr. (Washington), 2. Marvin Harrison Jr. (Ohio State), 3. Jayden Daniels (LSU), 4. J.J. McCarthy (Michigan), 5. Dillon Gabriel (Oklahoma)
Tweet of the Week
Quote of the Week
Play of the Week
Super 16
My ballot going into Week 8 in the FWAA/NFF Super 16 Poll:
Michigan

Florida State

Ohio State

Washington

Georgia

Oregon

Oklahoma

Texas

Alabama

Penn State

Oregon State

Ole Miss

Utah

LSU

Missouri

Tulane
Just missed the cut: Air Force
Best of the rest: Notre Dame, North Carolina, UCLA, Duke, Louisville, James Madison, Fresno State, USC
Do you want more great stories delivered right to you? Here's how you can create or log in to your FOX Sports account, follow your favorite leagues, teams and players and receive a personalized newsletter in your inbox daily.
Pre-Snap Reads
Oklahoma at Kansas (Saturday, Noon ET on FOX)
The close call against UCF is sure to wake up the Sooners and also serve as a decent warm-up act for all the motions and crossing patterns that the Jayhawks are going to throw out for this Big Noon Saturday meeting. Brent Venables' team has been playing down to their competition at times and will do so again here in another close, back-and-forth affair. Kansas +10
Oregon at Utah (3:30 p.m. ET on FOX)
Had Kyle Whittingham not ruled out Cam Rising for the season on Saturday, this was setting up for him to make a triumphant return against a top–10 opponent. The Utes will benefit from being at home, but at some point, the smoke and mirrors will allow an opponent to run through them. Oregon -6
Georgia vs. Florida (3:30 p.m. ET)
As much as Billy Napier needed to avoid bad losses to the likes of Vandy and South Carolina, he also needs big wins. Georgia is the superior team, but something says we get something strange brewing down in Duval. The Gators will keep it close or pull the upset outright. Florida +13
Ohio State at Wisconsin (7:30 p.m. ET)
Think there will be a Luke Fickell storyline or two coming into this game? The Badgers barely survived Illinois and now have to face off against one of the best defenses in the country. The Buckeyes will have a letdown hangover for a half but then pull away to win convincingly. OSU -14
UNLV at Fresno State (10:30 p.m. ET on FS1)
Who had the Rebels and Bulldogs vying for a berth in the MWC title game in this one? Nobody, that's who — including the two head coaches. Still, two very good stories collide as the home side sneaks out a win in the fourth quarter. UNLV +9
Bryan Fischer is a college football writer for FOX Sports. He has been covering college athletics for nearly two decades at outlets such as NBC Sports, CBS Sports, Yahoo! Sports and NFL.com among others. Follow him on Twitter at @BryanDFischer.
---
COLLEGE FOOTBALL trending
---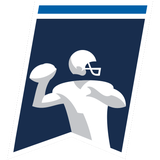 Get more from College Football Follow your favorites to get information about games, news and more
---