China's Luckin sells 5.4 million Moutai alcohol-infused lattes in a day
2/2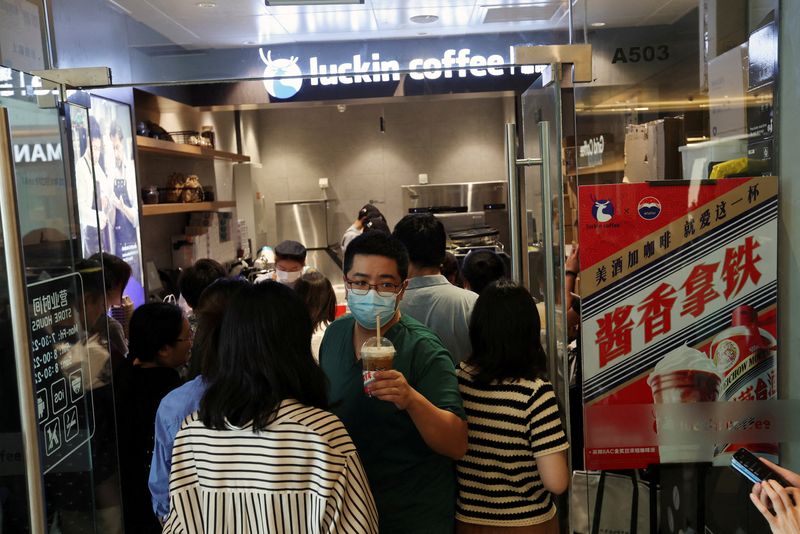 © Reuters. FILE PHOTO: A customer walks out of a Luckin Coffee store next to an advertisement promoting a Kweichow Moutai liquor latte, in Beijing, China, September 4, 2023. REUTERS/Florence Lo/File Photo
2/2
BEIJING (Reuters) – Luckin Coffee (OTC:) said on Tuesday that it sold more than 5.42 million cups of the alcohol-infused latte it rolled out with Kweichow Moutai on the first day of its launch, setting a new sales record for the Chinese coffee chain.
Luckin said sales of the single item on Monday topped 100 million yuan ($13.72 million). It far outsold the company's previous hits, such as a cheese latte that sold 1.31 million cups on its launch day, and a coconut cloud latte that sold 660,000 cups.
The 38 yuan ($5.23) "sauce-flavoured latte", which Luckin discounted to 19 yuan on the first day of sales, took Chinese social media by storm and the drink sold out many shops in Beijing and Shanghai within hours.
Moutai, known as the national liquor of China, is a potent, colourless spirit that is usually served at banquets in China. Drinkers say the flavour and aroma of Kweichow Moutai's version are similar to soy sauce.
The companies said the latte's alcohol content was lower than 0.5% of its volume.
($1 = 7.2901 renminbi)