China's troubled property sector to face more debt defaults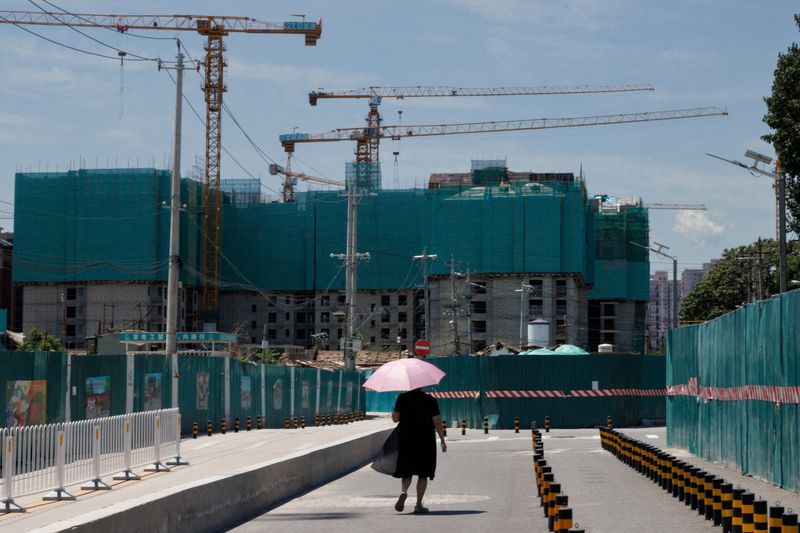 © Reuters. FILE PHOTO: A woman walks near a construction site of apartment buildings in Beijing, China, July 15, 2022. REUTERS/Thomas Peter/File Photo
By Xie Yu
HONG KONG (Reuters) – More debt defaults are likely to emerge in China's property sector as troubled developers struggle with a weak home sales outlook, while fund raising remains challenging, according to credit analysts.
A massive $124.5 billion worth of bonds are now in default in the entire $175 billion China property dollar bond sector, according to the latest calculations by research company CreditSights, which calculated the country's once biggest private developer Country Garden's entire dollar bond as defaulted due to the cross-default clause.
Counting October, there is a total of $60.5 billion worth of Chinese property bonds due in the next 6 months, with offshore bonds taking up at least one third of it, according to Dealogic data.
Country Garden's international bondholders are now seeking urgent talks with the company.
Strains have also shown in other companies. State-backed Sino-Ocean Group is to hold a meeting of bondholders on Friday, and proposed to extend the grace period for the company to repay bonds' interest due this week to next Thursday, a filing by the company to the Hong Kong Exchange said late on Thursday.
It cited operational difficulties as the reason for needing to delay the payment.
The company said it was also prepared to formulate a reasonable debt repayment plan if it fails to repay bonds as they are due.
Another major developer Gemdale has since Tuesday seen its bonds slide after the resignation of its chairman sparked fears that it too may be in financial trouble.
Dalian Wanda Group has started negotiations on a proposal to avoid repaying about 30 billion yuan ($4.11 billion) if it fails to complete a initial public offering (IPO) plan this year, Bloomberg News reported on Thursday.
"For property developers who have yet to default on debts, the outlook remains bleak, as we haven't seen a turnaround by the industry with sales numbers remaining weak," said Ting Meng, a credit analyst at ANZ Bank China.
China's new home prices fell for the third straight month in September, official data showed on Thursday, dashing hopes of a turnaround in demand during a traditionally peak home buying period despite efforts to revive the crisis-hit property sector.
Ricky Tsang, an analyst with S&P Global Ratings, said apart from the weak cash flow from home sales, fund raising for developers, particularly the private ones, remains tight.
"Developers who are most in need of financing are struggling to find qualified assets, in most cases shopping malls or office buildings, as pledges to issue guaranteed bonds," Tsang said.