Coach handbag maker Tapestry cuts 2024 sales view on slowing demand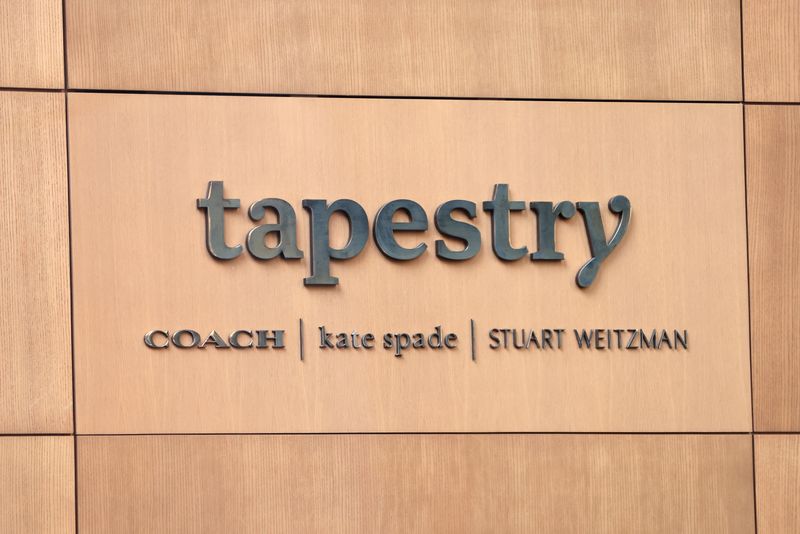 © Reuters. FILE PHOTO: A signage is seen in the offices of Tapestry, Inc., in Manhattan, New York, U.S., November 19, 2021. REUTERS/Andrew Kelly
(Reuters) – Coach parent Tapestry (NYSE:), which agreed to buy rival Capri in August, cut its annual sales forecast on Thursday and missed first-quarter estimates, taking a hit from weak demand for its luxury handbags and shoes in North America.
Its sales of shoulder bags, apparel and footwear, seen as "accessible luxury", has struggled as stubborn inflaton and rising borrowing costs in the United States strain family budgets.
The company said revenue in North America was in line with prior year, citing a "difficult consumer demand environment", while sales in Greater China grew 9%.
The company is in the middle of a $8.5 billion buyout of Michael Kors owner Capri, as they position to compete for a bigger share of the global luxury market by bringing more affordable luxury brands Stuart Weitzman, Jimmy Choo and Versace labels under one roof.
Tapestry now expects 2024 revenue in the range of $6.7 billion compared to a prior forecast of close to $6.9 billion sales.
Its net sales were flat at $1.51 billion in the quarter ended Sept. 30. Analysts on average had expected $1.54 billion, according to LSEG data.