ARLINGTON, Texas — Cristian Javier stood patiently at the entrance to the press conference room inside Globe Life Field. As usual, the Astros hurler was stone-faced when his catcher, Martín Maldonado, marched up to him. Maldonado smiled big, but Javier didn't return the favor. It's not in the right-hander's nature to show emotion — not even with his teammates.
So, Maldonado put his index and middle fingers together and lifted them to the left side of Javier's neck. As Maldonado jokingly checked Javier's pulse, with the former still smiling and the latter still not, Maldonado said "tranquilo," which means calm in Spanish.
"There's no moment too big for him," Maldonado said. "That guy, you don't see any blood going through his veins. He's the right guy for us."
Maybe it was his slow pulse. Maybe it was his previous success in October. Maybe it was his 11 swings and misses Wednesday against the Rangers, the most for an Astro in this American League Championship Series. Whatever Javier's secret sauce involves, his postseason magic worked again in a critical Game 3 that his teammates called "do-or-die." Javier, so cold-blooded that his nickname is "El Reptil," kept Texas' powerful offense at bay long enough for the Astros to storm ahead and hold on.
Houston's 8-5 win cut its series deficit in half. Even so, there is still enormous pressure on the Astros to make up ground. The Rangers lead the ALCS 2-1 with two more home games remaining (Game 4 is Thursday at 8:03 p.m. ET on FS1). Just like Houston's regular season, nothing about this situation is comfortable. The defending champions cannot afford to curtail their sense of urgency now.
"This team doesn't quit," manager Dusty Baker said of his 'Stros. "We know that the Rangers don't quit either. And it makes for a good series."
Robberies and run-saving catches do, as well.
After Leody Taveras reached well over the center-field wall to deny Yordan Álvarez his seventh home run of this postseason, it was time for veteran outfielder Michael Brantley to turn back the clock. Down 5-2, the Rangers were threatening to make a comeback in the bottom of the sixth when headline-grabbing rookie Evan Carter notched a two-out double to knock Javier out of the game. Then, Adolis García jumped on Hector Neris' sixth pitch and lined it to the left-center gap. In came Brantley from left field, sprinting and tumbling to take a run-scoring hit away from García and the Rangers.
Astros' Michael Brantley robs Rangers' Adolis García of extra bases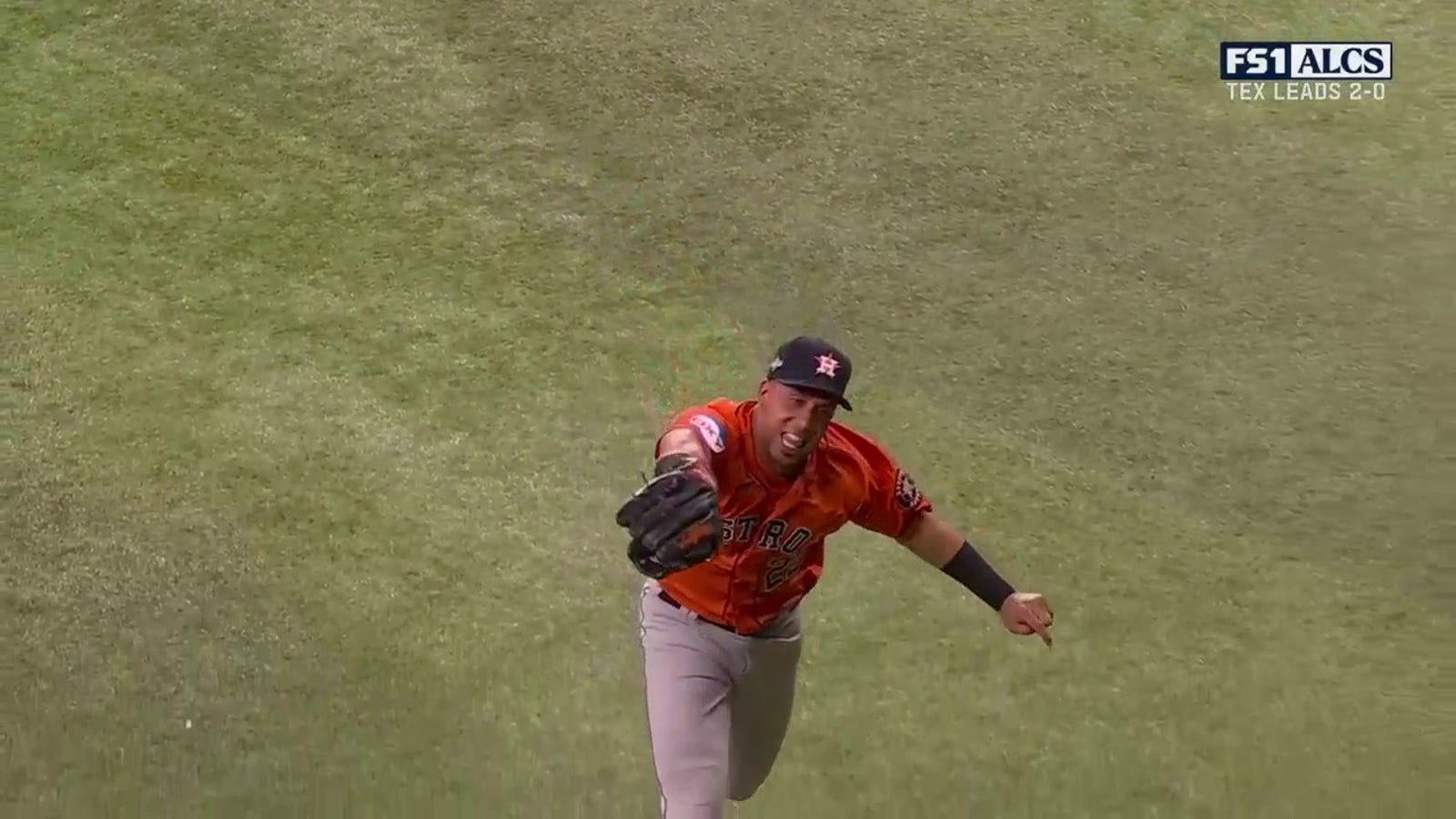 That was the game. While Taveres' home-run robbery gave the Rangers hope, the 36-year-old Brantley instantly took it back. These days, Brantley doesn't get many chances to make plays like that. In August, he returned from a 14-month layoff due to shoulder surgery, and missed some time again in September with soreness in the same shoulder. Now, Brantley is fighting for time in the field with Álvarez and Chas McCormick.
"He's like a big brother to us," Altuve said of Brantley. "We all know as a team how hard he works every day to feel good and play and help the team. We're happy for him that he's in the lineup, and also happy that he made that big play."
Brantley's dazzling catch also allowed Javier to finish his night with just two runs allowed. Javier surrendered a total three hits, the first coming after he'd retired 14 Rangers. He now owns the lowest opponent batting average (.071) in a four-start span in postseason history. While the Astros would prefer to shield their eyes from Javier's regular-season results (10-5, 4.56 ERA, 1.265 WHIP, 162 innings), all of his playoff starts have been nothing short of spectacular.
'MLB on FOX' crew recap Astros' Game 3 win over Rangers in ALCS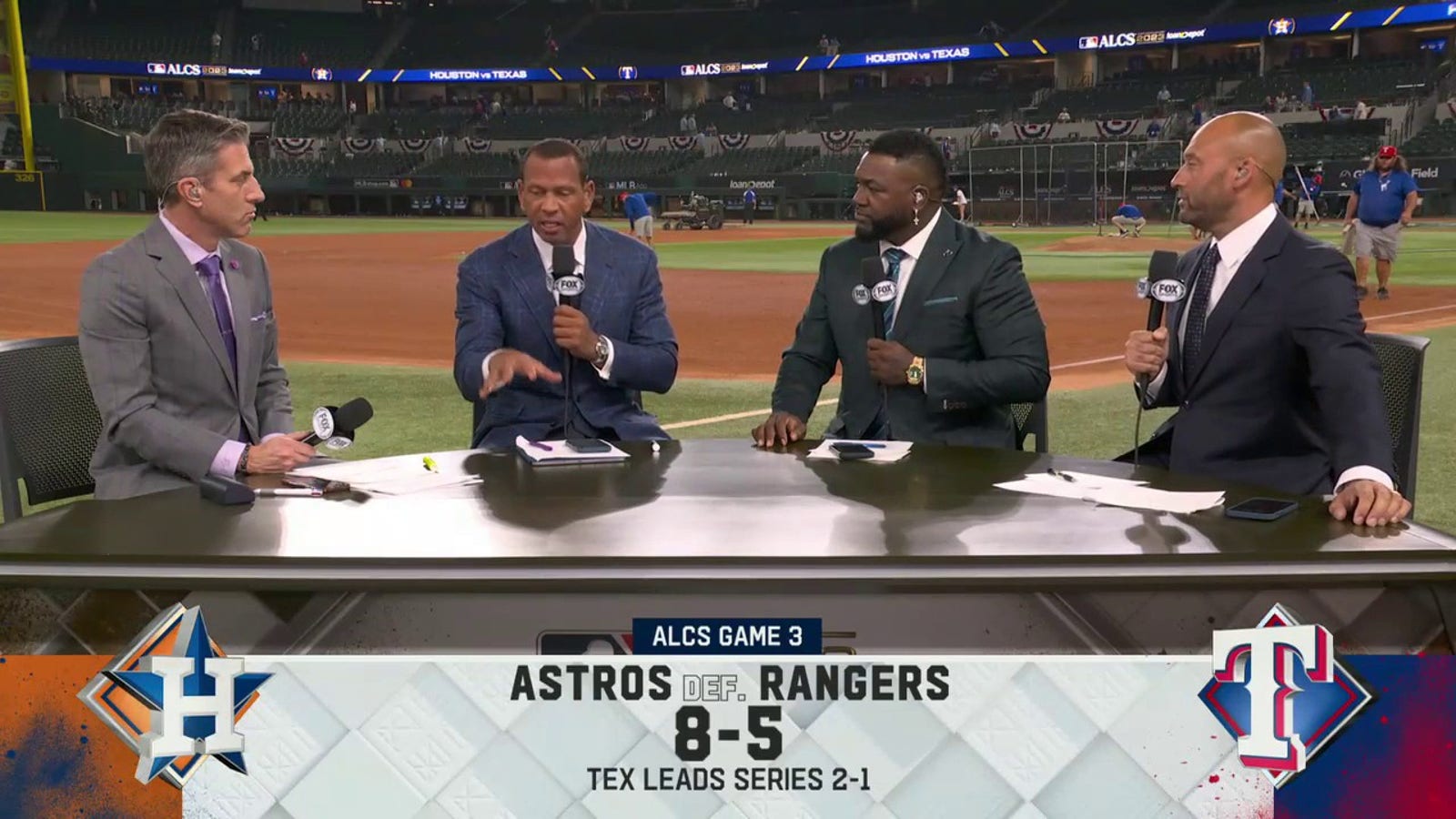 In last year's Fall Classic, Javier got the ball for Game 4 at Citizens Bank Park with the Phillies leading the series, 2-1. With Houston's back against the wall, Javier responded by throwing a no-hitter through six shutout frames. That night, the Astros pitching staff combined to no-hit the Phillies, a significant momentum shift in the World Series initiated by Javier's start. Last week, with his club tied 1-1 in the ALDS with the Twins, Javier again got the ball on the road and hurled five scoreless innings, leading the Astros to victory.
Wednesday night at Globe Life Field featured more of the same from the 26-year-old righty, who was staring down another scoreless outing until Josh Jung homered in the fifth inning. That snapped Javier's scoreless streak at 20.1, the longest mark to begin a postseason career as a starter since Hall of Famer Christy Mathewson (28 IPs, 1905-11). The Astros, of course, just needed a win in Game 3 after dropping the first two at home.
"I really didn't feel any pressure," Javier said afterward. "I was just trying to stay calm and trying to stay focused and trying to stay locked into the game."
The bright lights of October again proved to be no match for the steely El Reptil, who assured that he loves his nickname. Javier said he relates to reptiles, and that his favorite vertebrate is a crocodile.
"Crocodiles seem like they're calm," Javier said. "But when they get in the water they can get aggressive."
Seeming calm but having underlying destructiveness also summarizes this Astros squad — when they're on the road. Houston was widely expected to perform better away from Minute Maid Park, including by its own players. They jumped on Max Scherzer, who made his first start since going on the injured list with a shoulder injury in September, and forced him off the mound after just four innings. Plenty of damage was done — Scherzer coughed up five earned runs on five hits, including a home run to José Altuve — across just 63 pitches. This was certainly not the version of Scherzer the Rangers wanted, but it is perhaps the one to expect.
José Altuve smashes solo home run to extend Astros' lead over Rangers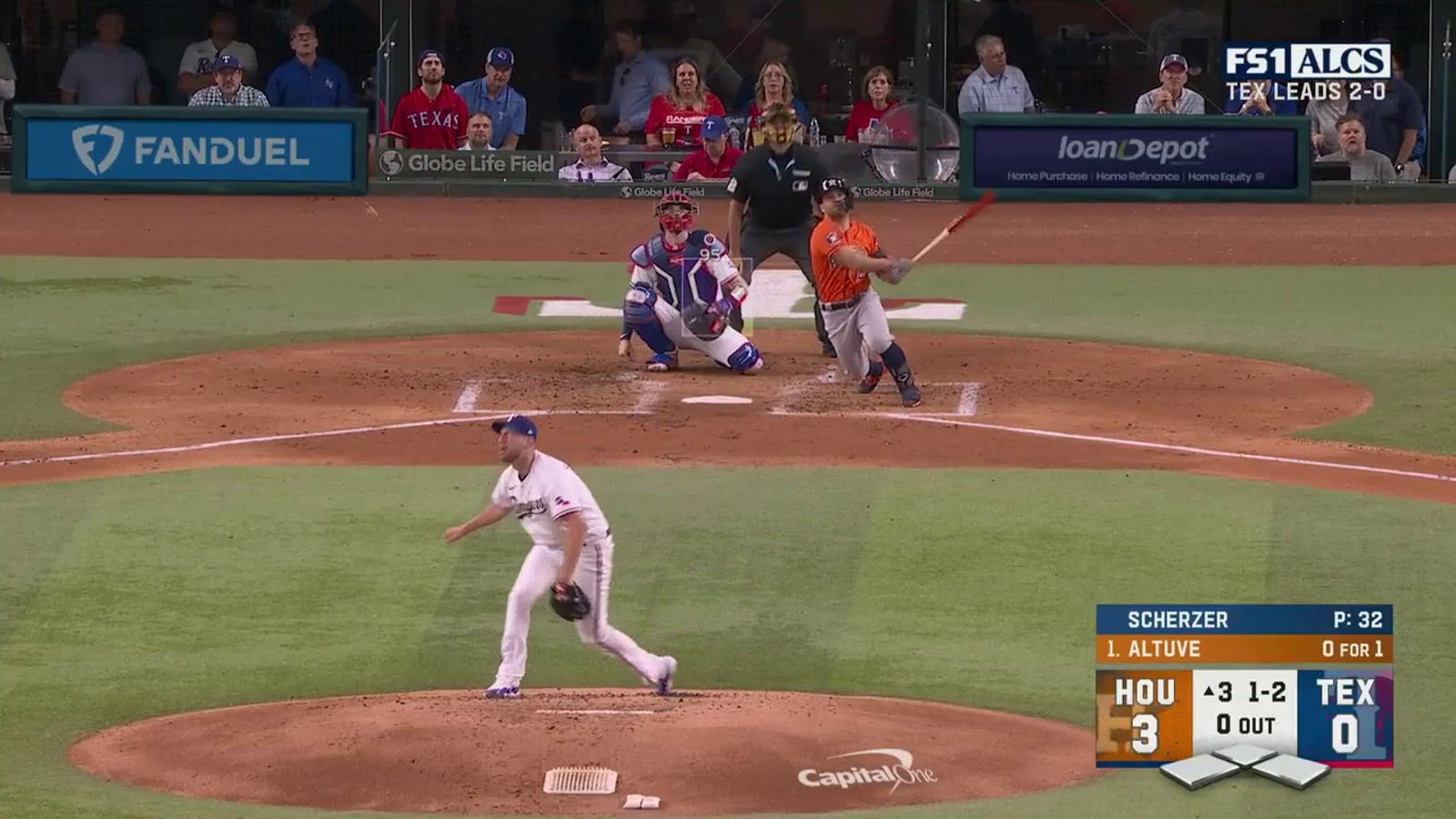 For the third straight year, and for the third different team, Scherzer has disappointed in the postseason. The veteran right-hander has allowed 14 earned runs in his last 13 playoff innings pitched for the Dodgers, the Mets and, now, the Rangers. He's given up six home runs in that span.
Afterward, multiple Astros players said Scherzer's stuff has clearly declined. Though facing him was once a distressing idea, now opposing hitters admit they're comfortable in the box against the three-time Cy Young winner. His fastball, in particular, has lost its ride, players said. Houston's manager had no issue being forthright about Scherzer's performance.
"Max is not really sharp with his fastball yet, so hopefully we can tack on a few more," Baker noted during an in-game interview.
The Astros feasted off Scherzer on Sept. 6 in Arlington, when he surrendered seven earned runs, including three home runs, in just three innings. The sight of his once-imposing figure on the mound was welcomed by Houston in Game 3. If the series extends long enough that Scherzer's turn is up again, Rangers skipper Bruce Bochy might have a dilemma on his hands. A possible silver lining for the future Hall of Famer is that the start would come in Houston.
But that's a matter for later. For now, the road-juggernaut Astros are doing what they do best.
"I asked the team in spring training to be the best road team," Baker said. "Maybe I should have asked them to be the best road and home team. They usually give me what I ask for."
Deesha Thosar is an MLB writer for FOX Sports. She previously covered the Mets as a beat reporter for the New York Daily News. The daughter of Indian immigrants, Deesha grew up on Long Island and now lives in Queens. Follow her on Twitter at @DeeshaThosar.
---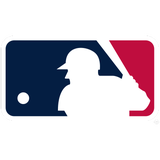 Get more from Major League Baseball Follow your favorites to get information about games, news and more
---