DoJ may challenge Thoma Bravo deal to take ForgeRock private – Politico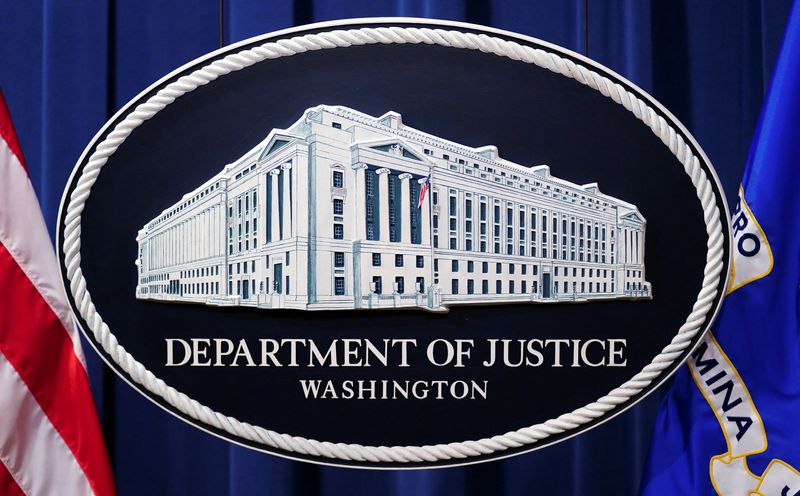 © Reuters. FILE PHOTO: A U.S. Justice Department logo or seal showing Justice Department headquarters, known as "Main Justice," is seen behind the podium in the Department's headquarters briefing room before a news conference with the Attorney General in Washington,
(Reuters) – The U.S. Department of Justice (DOJ) is nearing a decision on whether to challenge private equity firm Thoma Bravo's $2.3 billion buyout deal for ForgeRock Inc, Politico reported on Monday, citing four people with direct knowledge of the matter.
The development comes months after ForgeRock said it had received notice from the DOJ demanding more information related to the go-private deal.
"We look forward to completing the review process with the Department of Justice and partnering with Thoma Bravo," ForgeRock told Reuters on Monday.
The DOJ declined to comment when contacted by Reuters.
San Francisco-based ForgeRock provides identity and access management solutions for consumers, workforce and internet of things devices.
Thoma Bravo, which agreed to buy ForgeRock in October, invested in several software firms last year taking advantage of falling valuations, as a result of a broader equities selloff, triggered by high inflation and a tightening monetary policy.
The move comes at a time when distributed workforce and increased cyberattacks on businesses during the pandemic have boosted demand for digital security solutions, helping drive growth for companies like ForgeRock.