Exclusive-Head of engineering for Trump's Truth Social app resigns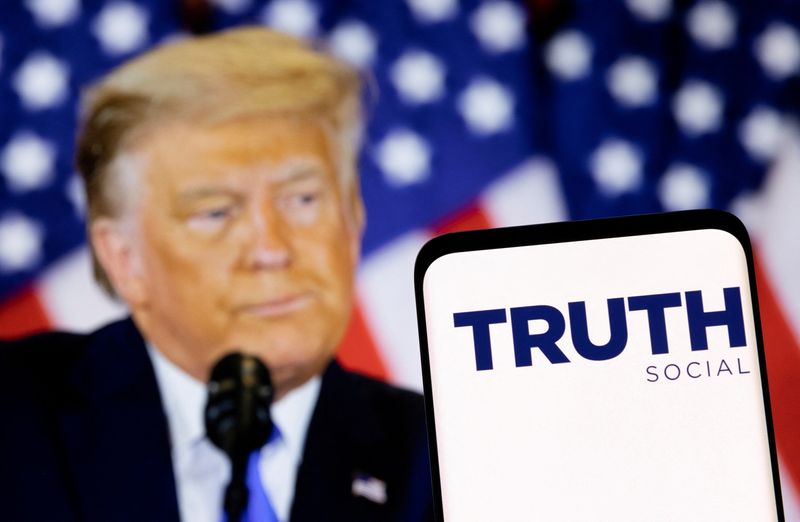 © Reuters. The Truth social network logo is seen on a smartphone in front of a display of former U.S. President Donald Trump in this picture illustration taken February 21, 2022. REUTERS/Dado Ruvic/Illustration/File Photo
By Helen Coster
NEW YORK (Reuters) – The head of engineering for the company that operates former U.S. President Donald Trump's Truth Social app told Reuters on Monday he had resigned, in a blow for the venture.
Alex Gleason's departure comes amid a period of prolonged uncertainty for Trump Media & Technology Group (TMTG), which launched Truth Social as a way for Trump to connect with his base after he was cut off from major social media platforms after the Jan. 6, 2021, attack on the U.S. Capitol by his followers.
Gleason is the founder of Soapbox Technology, which provides open-source technology for "decentralized" social media platforms that operate on independently-run servers and provide an alternative to Twitter and Facebook (NASDAQ:).
Gleason said in an interview that he is leaving TMTG to work on Soapbox full-time, developing technology for connecting multiple decentralized platforms.
TMTG hired Gleason in January 2022 to adapt Soapbox's technology for its own needs, eventually using it as the front-end technology – which users see and interact with – for the Truth Social app.
A representative for TMTG did not respond to a request for comment about Gleason's departure.
Truth Social has struggled to show strong growth in the number of users since its February 2022 launch.
Since then, Trump has been reinstated on the more widely-used platforms from which he was ousted, including Facebook and Twitter, and Truth Social's user base has remained tiny compared to the growth targets TMTG laid out in November 2021, when it told investors the app would reach 56 million users by 2024 and 81 million by 2026.
Truth Social has an estimated 607,000 monthly users, according to data from Similarweb (NYSE:).
Trump had 5.71 million followers on Truth Social as of July 17, compared to the more than 88 million followers he had on Twitter when the platform suspended him.
TMTG had in October 2021 announced a deal to go public by merging with blank-check firm Digital World Acquisition Corp (DWAC) but the merger has been in doubt as investigations by the Justice Department and the U.S. securities regulator have delayed its closing.
A filing earlier this month showed that DWAC has reached an agreement with the staff of the Securities and Exchange Commission, though it was not yet definitive and the terms were subject to the SEC's approval.