Exclusive-MoonLake Immunotherapeutics explores sale-sources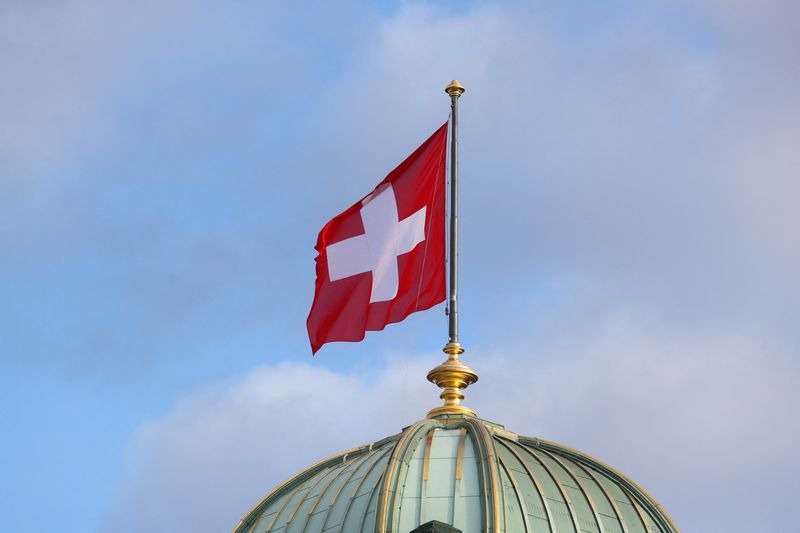 © Reuters. FILE PHOTO: The flag of Switzerland flies on the dome of the Parliament Building (Bundeshaus), in Bern, Switzerland October 28, 2020. REUTERS/Arnd Wiegmann/File Photo
By David Carnevali
(Reuters) -MoonLake Immunotherapeutics, a developer of an antibody-derived treatment for inflammatory skin conditions, is exploring a sale, according to people familiar with the matter.
The company is working with an investment bank and is having early-stage conversations with drugmakers interested in a potential acquisition, the sources said.
The sources added that no deal is certain and asked not to be identified because the matter is confidential. Spokespeople for MoonLake, which is based in Zug, Switzerland, and is listed on the Nasdaq stock exchange in New York, did not respond immediately to a request for comment.
MoonLake's shares ended trading up 8.4% at $54.27 on the news on Friday, giving the company a market value of $3.3 billion.
Immunology-focused companies have been coveted acquisition targets, as highlighted by recent deals such as Merck & Co's $10.8 billion acquisition of Prometheus BioSciences Inc and Eli Lilly (NYSE:)'s $2.4 billion purchase of Dice Therapeutics.
MoonLake said on June 25 that new clinical trial data showed its treatment for a skin condition known as hidradenitis suppurativa performed well in a late-stage trial, making it more likely that it will secure regulatory approval. Days later, the company announced it had raised $400 million through a stock sale to further fund the development of the medicine, which goes by the scientific name of Sonelokimab.
The antibody-derived drug acts as an inhibitor of inflammatory pathways by targeting hard-to-reach tissues. MoonLake is testing Sonelokimab for the treatment of other inflammatory conditions, including psoriatic arthritis and psoriasis.
If successful, MoonLake would encroach on a market dominated by bigger peers such as Novartis AG and AbbVie Inc (NYSE:). AbbVie's Humira generates around $1 billion annually for the treatment of hidradenitis suppurativa, according to Citigroup (NYSE:) analysts.
MoonLake was formed in 2021, when Merck KGaA licensed Sonelokimab, which it had developed through the first stage of its clinical development, to a newly created company.
In 2022, MoonLake went public through a merger with a special purpose acquisition company, which helped it raise more than $200 million in cash. Its share price has increased fivefold since its market debut.