Futures slide as 10-yr Treasury yield hits 5%; Big Tech earnings in focus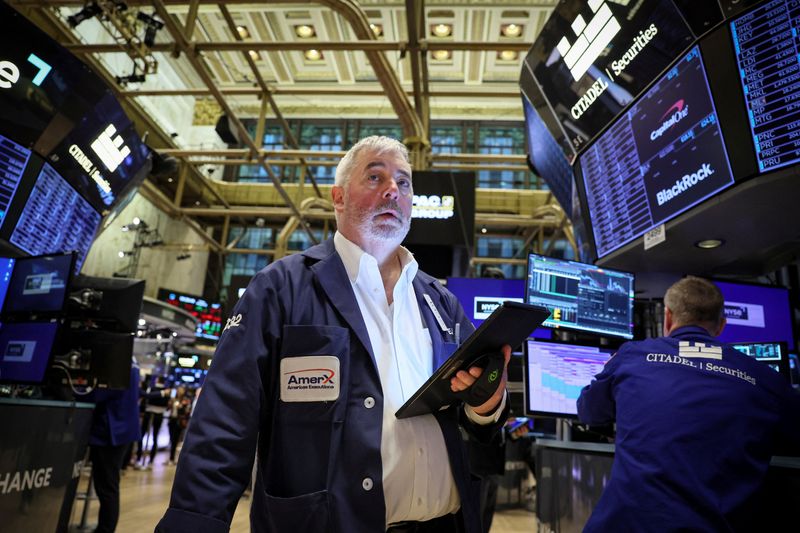 © Reuters. FILE PHOTO: Traders work on the floor of the New York Stock Exchange (NYSE) in New York City, U.S., October 20, 2023. REUTERS/Brendan McDermid/File photo
By Shubham Batra and Shashwat Chauhan
(Reuters) – Futures tracking Wall Street's main stock indexes slumped on Monday as yields on the benchmark U.S. 10-year Treasury note hit a crucially watched 5% mark, sparking a selloff in megacap stocks.
The yield on the note touched the July 2007 milestone that it briefly attempted to scale last week. It was last at 5.0144%.
"When investors can earn a 5% annual return on safe assets such as government bonds, they are less likely to take chances on riskier plays," Marios Hadjikyriacos, senior investment analyst at forex broker XM, said in a note.
"Beyond providing an attractive alternative to equities, higher bond yields also make it more costly for businesses to take on debt, limiting the scope for expansion and ultimately earnings growth."
Megacaps including Apple (NASDAQ:), Microsoft (NASDAQ:), Alphabet (NASDAQ:), Nvidia (NASDAQ:), Meta Platforms (NASDAQ:) and Amazon.com (NASDAQ:) slid between 0.6% and 1.5% in premarket trading.
Focus will also remain on a busy week of earnings, with four of the 'Magnificent Seven' stocks reporting later this week whose gains have powered the higher in 2023 while the rest of the indexes lagged.
Chipmaker Intel (NASDAQ:), oil major Exxon Mobil (NYSE:), General Motors (NYSE:) are some of the other companies reporting quarterly results this week.
Of the 86 companies in the S&P 500 that have reported earnings so far in the third quarter, 78% have been above analyst estimates, according to the LSEG data. Overall, third-quarter earnings are likely to grow 1% year-on-year.
Meanwhile, Israel bombarded Gaza with air strikes overnight, with Prime Minister Benjamin Netanyahu convening a meeting of his top generals and his war cabinet to assess the escalating conflict.
These rising tensions, along with surging bond yields on higher rates expectations, pulled Wall Street lower last week, with the S&P 500 falling 1.26% and the Cboe Volatility index closing at its highest since March 24.
The benchmark stock index is down 8% from late July, when it hit its highest for the year, though still up 10% year-to-date.
U.S. GDP print will be closely monitored by investors in the week amid expectations that the economy grew at a robust 4.2% in the third quarter, which might warrant tighter monetary policy.
Federal Reserve Chair Jerome Powell will be giving brief introductory remarks at an event on Wednesday but it is unlikely he would speak on monetary policy since the blackout period for the Federal Open Market Committee (FOMC) kicked in on Saturday.
The week will end with the release of the personal consumption expenditure (PCE) price index – the Fed's preferred inflation gauge – for September.
At 6:00 a.m. ET, were down 224 points, or 0.67%, were down 31.5 points, or 0.74%, and were down 129.75 points, or 0.88%.
Salesforce (NYSE:) dipped 2.3% as Piper Sandler cut its rating on the stock to "neutral" from "overweight", while pharmacy chain operator Walgreens Boots Alliance (NASDAQ:) added 3.1% after J.P. Morgan upgraded the stock to "overweight".
Chevron (NYSE:) fell 2.9% after the energy major said it will buy smaller rival Hess Corp (NYSE:) in a $53 billion all-stock deal. The latter was up 2.3%.