Giants make priorities crystal-clear with extensions — and in Barkley's case, lack thereof

Ralph Vacchiano
NFC East Reporter
EAST RUTHERFORD, N.J. — Joe Schoen was happy to hand out $367.5 million in contracts this offseason to just three players, and he believes they'll be worth every penny. He said Daniel Jones, Dexter Lawrence and Andrew Thomas "earned" their paydays. He praised them for being great players, hard workers and "pros".
The Giants GM had similar praise for Saquon Barkley, calling him "a very good player" and "a good teammate." He even admitted the Giants were "a better football team with Saquon here."
The words were nice, but Schoen's actions with the Giants' checkbook have spoken louder. Some players are worth a major financial investment.
Barkley, apparently, is not.
Fair or not, that couldn't have been clearer on Wednesday as Barkley began his sixth NFL training camp, hours after he gave up any plans for a holdout after contract negotiations collapsed and signed a renegotiated franchise tag that maybe could earn him $11 million this year. As he was signing that tag — and presumably swallowing his pride — the Giants were finalizing a five-year, $117.5 million contract extension with Thomas, their left tackle, that included a record $67 million guaranteed.
The Giants aren't cheap. They gave Jones, their quarterback, a four-year, $160 million deal with $82 million guaranteed. They gave Lawrence, their star defensive tackle, a four-year, $90 million deal with $46.5 million guaranteed. Over and over this offseason they've shown the money, and their willingness to spend it, is there.
Just not for the 26-year-old Barkley. Spending big money on him — or any running back, really — isn't the kind of long-term investment this front office wants to make. And no matter what they say, no matter how much they insist they wanted to get a deal done with him, it's hard to imagine that next offseason — when he's a year older and has taken a few hundred more hits — that their philosophy on running backs Is going to change.
How will Saquon Barkley's new deal and ongoing situation impact Giants?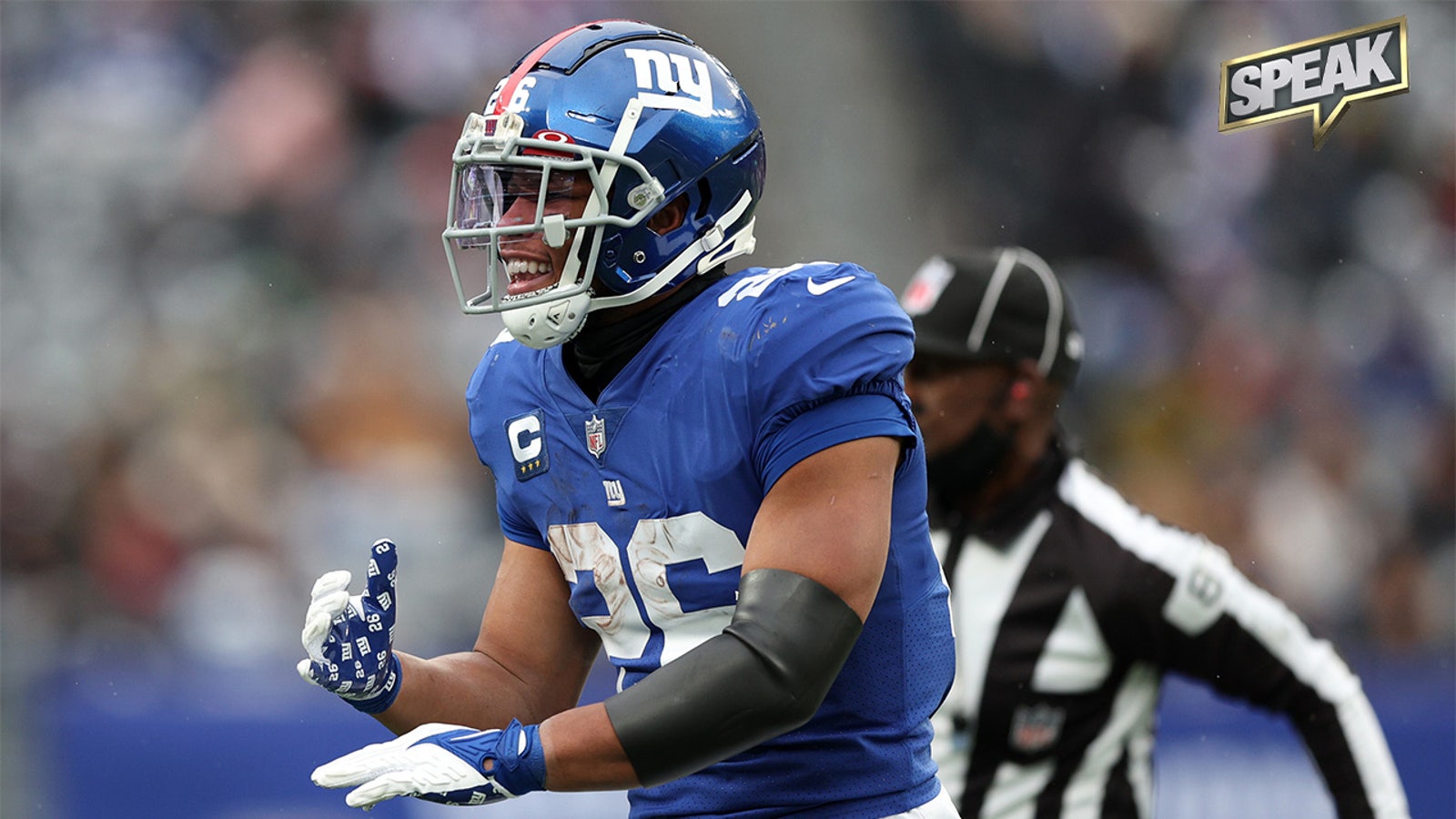 "We talked for over 9 ½ months," Schoen said. "We came to a landing spot and they came to a landing spot and we couldn't bridge the game. That's OK."
"You don't spend 9 ½ months on this if you don't want to get something done."
There is no doubt that Schoen and the Giants value Barkley — to some extent. Schoen even made it clear that even when contract talks were going nowhere, they weren't listening when teams would call to see if he was available in a trade.
"We never had a conversation about trading Saquon Barkley," Schoen insisted. "Never."
They did, very sincerely, want Barkley back. But really only for this season, maybe one more, and definitely only under their terms. They valued him and recognized his importance to the franchise, but only to a point. Because in those 9 ½ months of talks, they came within what one source said was "a couple of million dollars" of each other. And while Barkley wanted a big payday, his asking price paled in comparison to that of Jones, Lawrence and Thomas. The guarantee he was looking for (approximately $22 million) was only a third of what Thomas got.
So if the Giants wanted to sign him to a long-term deal, they wouldn't have needed to stretch much to get there. They didn't. And that says a lot.
"Ultimately all of us want all of us to get paid $100 million," said receiver Darius Slayton. "But the reality of football is that there are certain positions valued more by the teams and the owners."
One of those, of course, is left tackle, which is why no one will question the investment in Thomas, who has become one of best players at that position. Still, the timing of it certainly had to catch Barkley's attention. Thomas, 24, is two years younger than Barkley. He was also two years away from becoming a free agent. And just like Barkley, Thomas has battled injuries through his first four seasons. In fact, when he was asked why he was willing to sign a contract extension so early, he cited the need for financial security "with my history of ankle injuries."
Despite that history, Thomas was a priority for the Giants because, Schoen said "He played at a high level and he's our type of guy." So they were willing to overlook any risk, embrace the player he's become and stretch to make a deal that Schoen said "gives him the chance to be a Giant for the rest of his career.
Saquon Barkley or Daniel Jones: who's more valuable to New York Giants?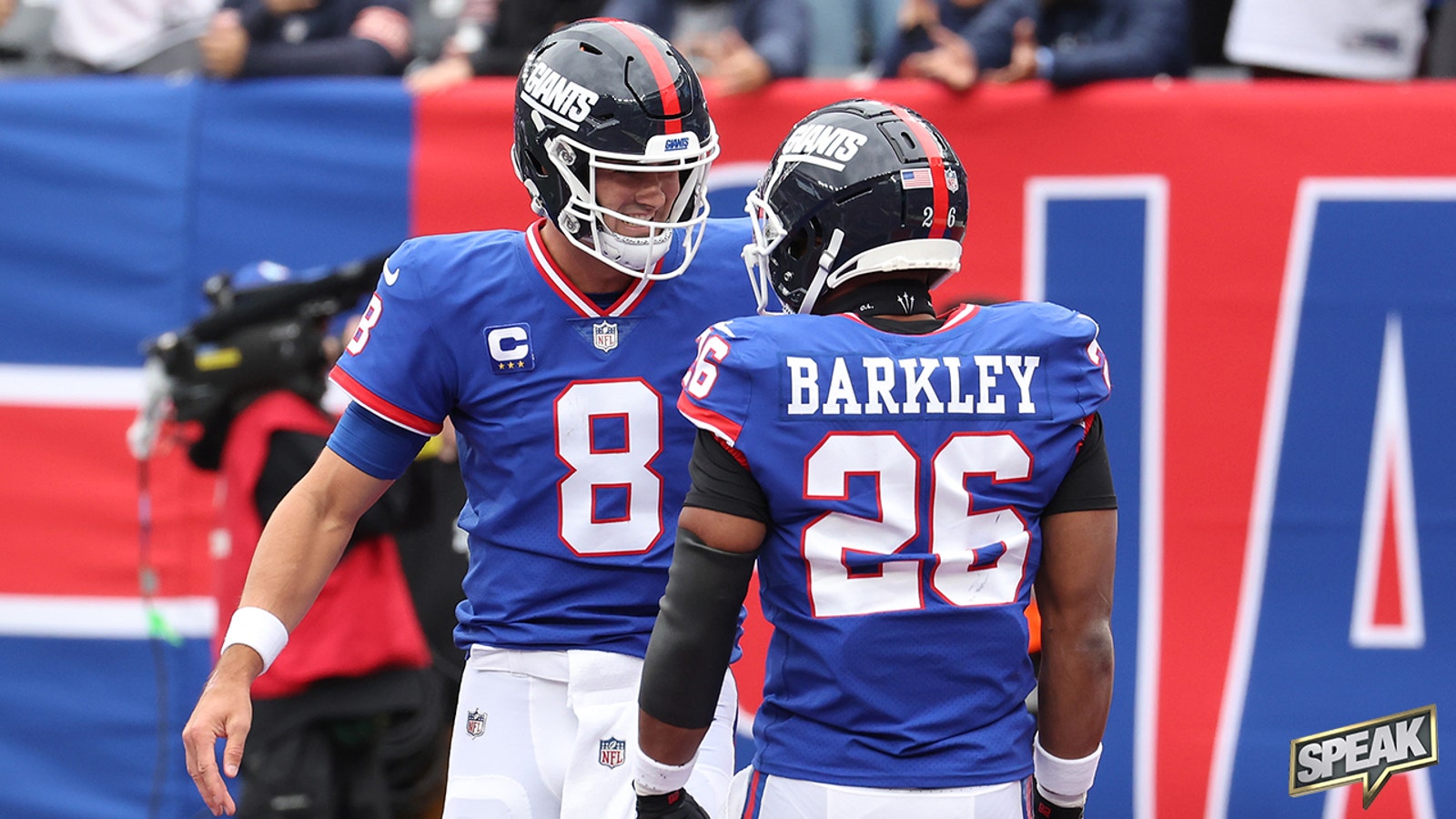 "But tackles are also playing a long time," Schoen said. "It gives him a chance late, 31 years old, to get another bite at the apple if he's still playing at a high level."
The same is true, obviously, for quarterbacks and defensive tackles, which is why the Giants were willing to stretch and be aggressive to get deals done with Jones and Lawrence. And the same is obviously not true for running backs, who tend to have very short shelf lives in the league.
In other words, when Schoen looks into the Giants' future, he sees Jones, Lawrence and Thomas as part of the foundation — not just for another year or two, but possibly a lot longer than that. And after watching them in action for a year, it was important for him to secure that future. He made it a priority to lock up players who would be part of the Giants' young core.
"Yeah, I think a lot of those guys earned it off of the way they played in 2022," he said. "Evaluating those guys, and they played well, getting to know them as people and how they work, they're pros in every sense of the word. So, after being around for a year, all those guys have earned what they've gotten and look forward for them being here for a long time."
What about Barkley?
Schoen artfully dodged any questions about his future with the Giants, which probably said it all. No matter what the GM says, it's clear that as valuable as Barkley is to the franchise, he's not considered part of that future core anymore, the way he was under GM Dave Gettleman, the man who drafted him second overall in 2018. Under this regime, Barkley could have a career year, hit all the benchmarks in his contract, and earn every dollar of the $900,000 in incentives he got in his little contract, and he still might not walk away with a lucrative, long-term deal.
Fair or not, that's Barkley's new reality. Right or wrong, it's the way this Giants regime does business. Not every player is worth the expense. Not every player can earn a big contract. And sometimes it doesn't even matter how valuable a player is to the team.
And if Barkley wasn't sure of that before, he surely is now. The Giants are doing what they can to set up their long-term future — a future that probably won't include him.
Ralph Vacchiano is the NFC East reporter for FOX Sports, covering the Washington Commanders, Philadelphia Eagles and New York Giants. He spent the previous six years covering the Giants and Jets for SNY TV in New York, and before that, 16 years covering the Giants and the NFL for the New York Daily News. Follow him Twitter at @RalphVacchiano.
FOLLOW
Follow your favorites to personalize your FOX Sports experience
---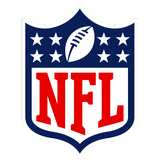 Get more from National Football League Follow your favorites to get information about games, news and more
---