Goldman Sachs lifts Europe Inc's 2023 profit growth forecast to 3%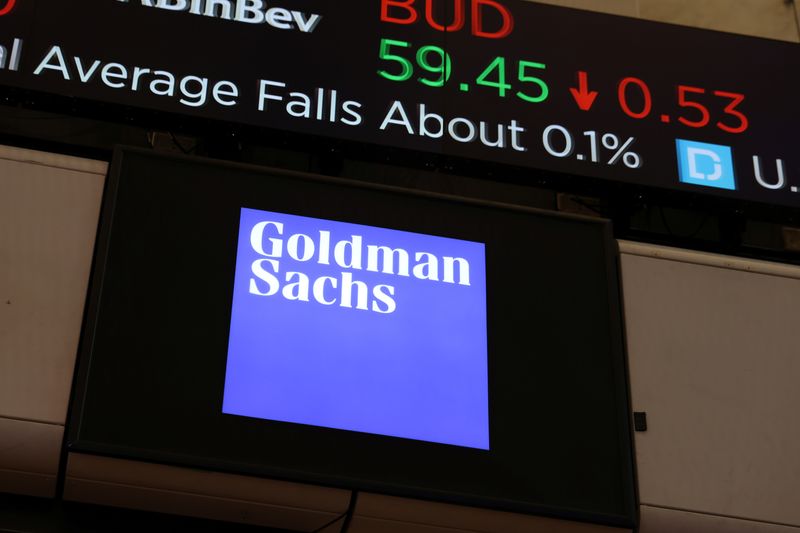 © Reuters. FILE PHOTO: The logo for Goldman Sachs is seen on the trading floor at the New York Stock Exchange (NYSE) in New York City, New York, U.S., November 17, 2021. REUTERS/Andrew Kelly/File Photo
(Reuters) – Goldman Sachs said on Tuesday it expects earnings for companies in the pan-European index to grow 3% in 2023, compared with its prior projection of no growth, on the back of higher oil prices.
Benchmark futures have risen 6% since the conflict in the Middle East began earlier this month, and trade around $89 a barrel. Analysts at the brokerage expect Brent to end the year at $88 a barrel.
According to Goldman Sachs, higher oil prices will feed into higher revenues, benefiting commodity-related sectors — for which analysts at the brokerage expect positive earnings upgrades.
Shares of European oil majors BP (NYSE:), Shell (LON:) and TotalEnergies (EPA:) have gained between 4.5% and 7% since the conflict began. [O/R]
Europe's oil and gas sector hit nine-year highs on Monday, and leapt almost 7% since Oct. 6. The sector is up 8.3% so far this year, ahead of the STOXX 600's 6% gain during the period.
Adjusting for inflation, however, Goldman Sachs expects earnings in Europe to fall 2% this year. Cost of debt due to rising bond yields also poses a threat to profits, it said. [GVD/EUR]
"We estimate that a 100-basis-point rise in the cost of debt would knock 3 percentage points off (STOXX 600's) EPS (earnings per share)," said Lilia Peytavin, portfolio strategist at Goldman Sachs.
For the next year, Goldman Sachs forecasts earnings growth of 7%, versus 5% estimated previously, on anticipation of oil prices hitting $100 per barrel by end-2024.
Through 2025, Goldman expects European and U.S. companies' profits to grow at 5% annually from current levels, but only 2% in real terms for Europe in the same period.