Hawaii Fire Death Toll Hits 99, May Double, Warns Governor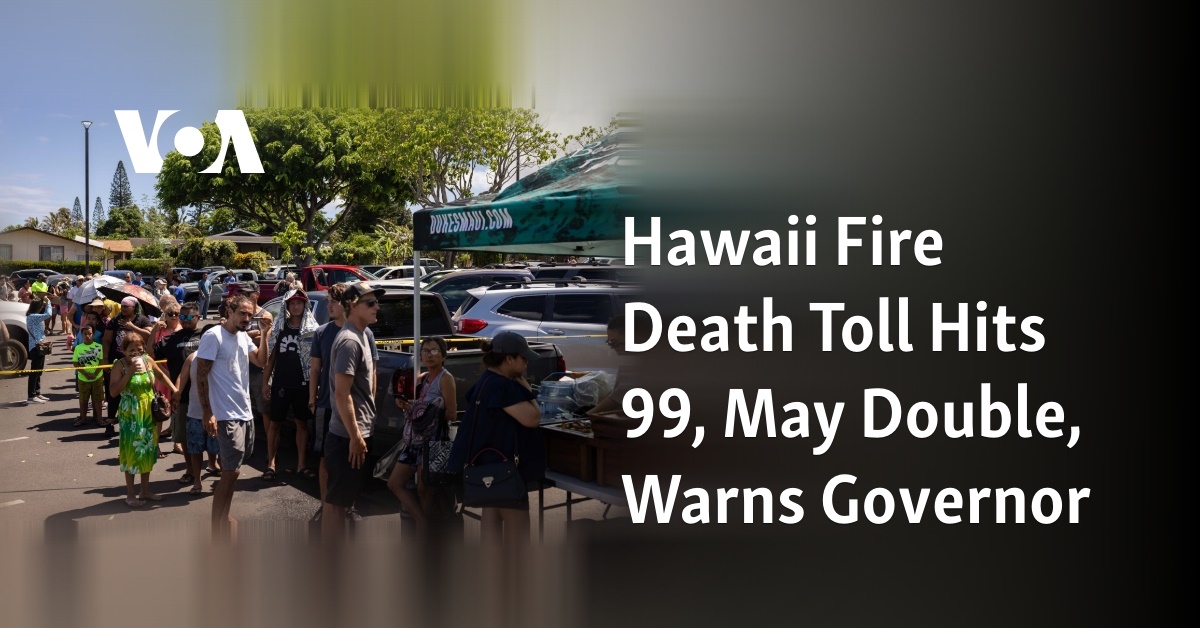 Kahului, Hawaii —
The death toll in Hawaii's wildfires rose to 99 and could double over the next 10 days, the state's governor said Monday, as emergency personnel painstakingly scoured the incinerated landscape for more human remains.
Last week's inferno on the island of Maui is already the deadliest U.S. wildfire in a century, with only a quarter of the ruins of the devastated town of Lahaina searched for victims so far.
Gov. Josh Green said more fatalities are certain, as emergency responders with cadaver dogs work their way through hundreds of homes and burned-out vehicles.
"There are 99 fatalities that are confirmed," he told a press conference Monday.
Speaking to CNN earlier, Green warned that "over the course of the next 10 days, this number could double."
The historic coastal town of Lahaina was almost totally destroyed by the fast-moving blaze last week, with survivors saying there had been no warnings.
The intensity of the fire and scale of the destruction have made identification of human remains difficult, with some corpses disintegrating as they are uncovered by searchers.
Only three of the 99 victims recovered so far could be identified by their fingerprints, said Maui Police Chief John Pelletier.
Police are encouraging those with missing relatives to give DNA samples that might speed up the process.
Around 25% of Lahaina had been searched, with that expected to rise to 90% by this weekend, said Pelletier.
Jeremy Greenberg, a Federal Emergency Management Agency director, said search conditions were "extraordinarily difficult to work through."
Officials warned of the dangers of unstable buildings and potential airborne toxic chemicals in the area, and said one arrest for trespassing had been made.
Until last week, the town was a bustling tourist hub, packed with shops and restaurants.
Now, "there's nothing to see except full devastation," said Green, who has visited the smoldering streets of rubble and ash multiple times.
Around 1,300 people remain unaccounted for, although delays restoring cell phone communications have made it difficult for residents who fled to reconnect.
"Our hearts will break beyond repair, perhaps, if that means that many more dead. None of us think that, but we are prepared for many tragic stories," Green told CBS.
'Abysmal'
The wildfire is the deadliest in the United States since 1918, when 453 people died in Minnesota and Wisconsin, according to the nonprofit National Fire Protection Association.
Questions are being asked about authorities' preparedness and response to the catastrophe.
Some fire hydrants ran dry in the early stages of the wildfire.
A class-action lawsuit has been filed against Hawaiian Electric, the state's biggest power firm, claiming the company "inexcusably kept their power lines energized during forecasted high fire danger conditions."
Hawaiian Electric CEO Shelee Kimura said the company does not shut off power during fire conditions — as is sometimes done in California — in part as electricity is needed for water pumps.
Blackouts during storms also cause risks and hardships for vulnerable people including the elderly, she said.
The cause of the fire has not yet been determined.
Whatever sparked the terrifying inferno, a collision of circumstances — including a churning hurricane off the coast — meant that it spread very quickly.
Maui suffered numerous power outages during the crisis, preventing many residents from receiving emergency alerts on their cell phones.
No sirens sounded, and many people in Lahaina learned about the blaze from neighbors running down the street or seeing it for themselves.
Attempts to allow residents back into Lahaina descended into chaos Monday, as a placard system identifying those permitted to travel was suspended after barely an hour.
"The miscommunication is abysmal — people are very angry and frustrated, and this is getting worse," said Stephen Van Bueren, 42, a local church pastor who waited for more than an hour to get a placard, without success.
Rehousing
Maui's fires follow other extreme weather events in North America this summer, with record-breaking wildfires still burning across Canada and a major heat wave baking the U.S. southwest.
Europe and parts of Asia have also endured soaring temperatures, with major fires and floods wreaking havoc.
Scientists say human-caused global warming is exacerbating natural hazards, making them both more likely and more deadly.
In Lahaina, a few thousand buildings were damaged or destroyed as the fire tore through the town, according to official estimates, wreaking more than $5 billion in damage.
Hundreds of hotel rooms are being made available for free to victims, with Airbnb vacation homes being repurposed as longer-term rehousing, available for at least 36 weeks, said Green.
Officials on Monday downplayed fears about more incoming adverse weather.
Tropical Storm Greg is expected to pass a few hundred miles south of Maui later this week.