Inside Mookie Betts' slugging spree and drive 'to become a Hall of Famer'

SEATTLE — Every decision Mookie Betts makes is leading to one specific objective, one ultimate desire that supersedes any fleeting thoughts of passivity, pushing him to pursue opportunities and take chances he might not otherwise.
"I think my goal now is to become a Hall of Famer," Betts told FOX Sports earlier this week. "And whatever that consists of, that's what I'm trying to do. The rings, being a team guy, asserting myself a little bit, kind of embracing the platform, all those types of things I think will be what help me get to that end goal."
It is with that goal in mind that Betts continues to venture into new territory.
Off the field, he has started his own YouTube channel to provide backstage access to his life, a podcast to help athletes display their personalities and a media company he hopes will inspire. On the field, he has added shortstop to his résumé while launching homers at a rate previously unseen in his 10-year career.
On Monday, he will appear in his first Home Run Derby.
It's an opportunity that Betts deserved — his 26 home runs at the break are tied for the third-most in Major League Baseball this season — but one he never seriously considered before. Even now, it's not something he's particularly keen on doing. An assist from his wife, Brianna, convinced him of the benefits. The same day the league called him to gauge his interest in the event, Betts sought her advice. He understands the importance of using his platform on a national stage, but she brought up another item, as well.
"Her point was really good," Betts said. "She's like, 'You want to do everything in the game. You don't want to look back in 20 years, be like, damn, I wish I would've done it.'"
It might be the last time he competes in the event — unless, years down the road, his newborn son, Kaj, wants to see him do it again — but there's no better time than the present. He is showcasing his preternatural power at a record-setting pace.
Standing 5-foot-9, not quite 180 pounds, Betts sports the third-highest slugging percentage in baseball behind only Shohei Ohtani and Ronald Acuña Jr. His 10 home runs to lead off a game this year are the most ever in a season by a Dodgers player and the most in a first half by any player in MLB history. No other leadoff hitter has more than five this year.
He is on pace to shatter Alfonso Soriano's single-season records for home runs by a leadoff hitter (39) and to lead off a game (13), all the more important for a Dodgers team that has found itself in the unusual position of chasing a division leader.
"Where we're at, where we've been, he's been a little bit more motivated to … I wouldn't say put us on his back, but spark us," manager Dave Roberts said. "And there's no better way to spark us than that first at-bat. There's been no one better in the game."
Dodgers' Mookie Betts smacks solo homer to strike first against the Angels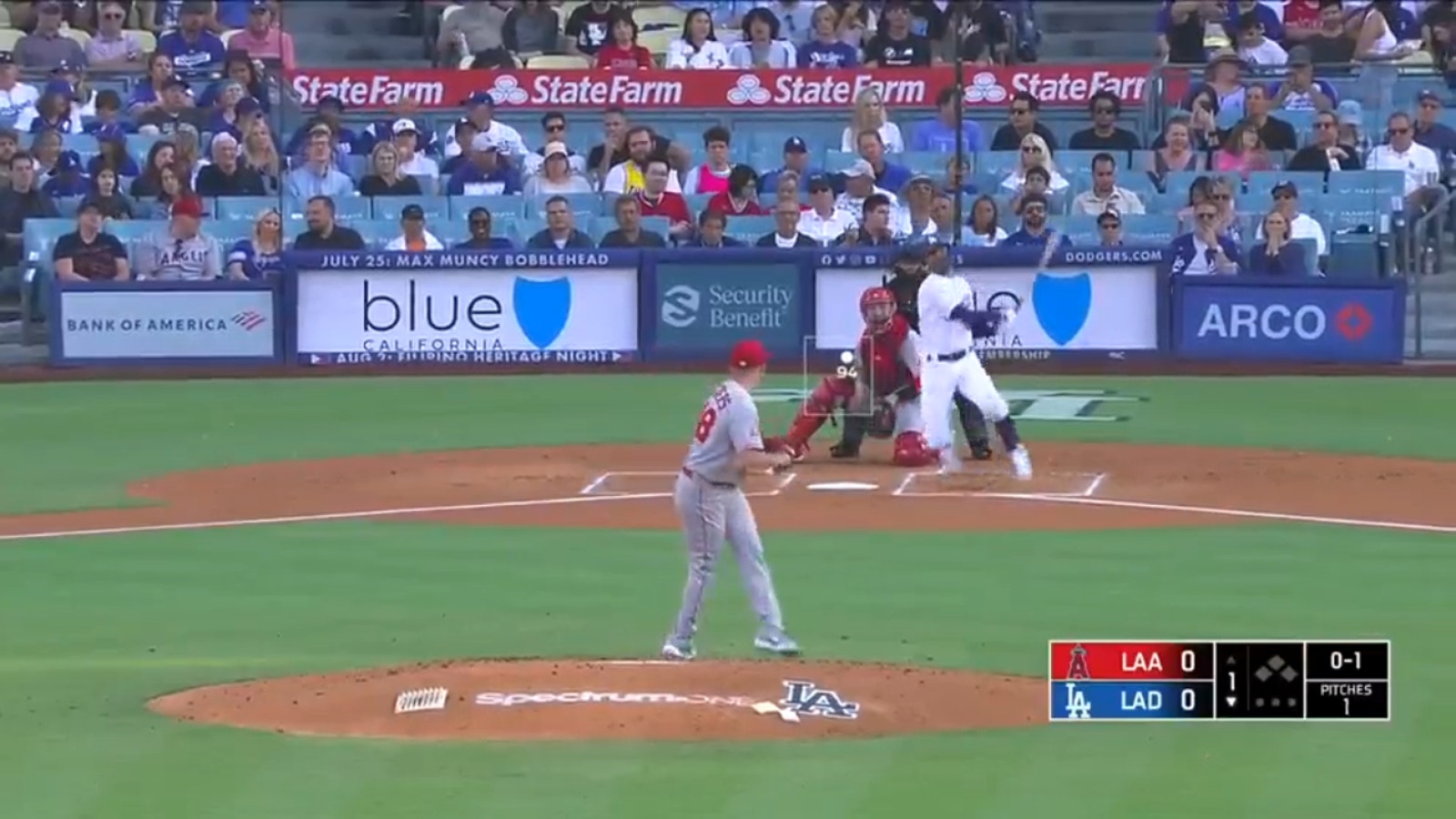 Clayton McCullough, the Dodgers' first-base coach and the man who will pitch to Betts at the Home Run Derby, marvels at the efficiency in the swing that allows Betts to do the unthinkable for a player his size.
At 30 years old, Betts is hitting the ball harder on average than at any point in his career.
"There's not a lot of wasted energy," McCullough said. "I get amazed when I'm standing over there and he clicks one, and as soon as it hits his bat, it's like off a trampoline. It just explodes. You're like, 'Holy cow.' For it to come off that type of velocity and trajectory, for someone that is, you know, he's a normal looking dude, to see it, you're like, 'Wow.'"
But slugging .586 — the highest mark Betts has posted since his 2018 MVP season with the Red Sox — requires more than efficient movement.
Betts showed up to camp this year "beefed up" — as the former vegan put it — particularly compared to last season, when he launched a career-high 35 homers despite at one point dropping to 167 pounds. He came in this year at 178 and has only lost a couple of pounds through the course of the season.
The decision to bulk up was prompted by a visit to Driveline Baseball. The data-driven performance facility is known more for its work optimizing pitchers, but this winter the Dodgers' hitting coaches took a contingent of players to the site to see if anything might be gained from the experience. While bat speed was a focus for all, Betts was also told he needed to get stronger.
Add on the fact that Betts was also playing in the World Baseball Classic, and Dodgers hitting coach Aaron Bates saw a player motivated to get ready for the year earlier than usual.
"He's so talented and athletic that I think a lot of times he'll come into spring in pretty good shape but not ready in the very beginning," Bates said. "He works his way through it and obviously has that luxury and is established. This year, he had to be ready to go from day one, so I think he started his program a little bit sooner.
"I think it's all kind of like a landslide effect to be able to carry that into the season and get off to a better start as far as power. Then it's kind of downhill from there as far maintaining those speeds and maintaining the bat speed."
To do that, Betts learned new methods.
Dodgers hitting coach Robert Van Scoyoc began Betts on a bat speed program that the seven-time All-Star believes could be playing a role in his power surge. As part of the program, hitters will swing bats with differently distributed weights — some loaded in the barrel, some loaded in the handle; some heavier, some lighter — as Betts showcased on his YouTube page in a workout at Dodger Stadium this offseason.
Bates said the speed of Betts' swing is now more in line with his 2018 MVP season. Beyond hitting 57% better than league average, Betts is now barreling baseballs at a 12.8% clip, almost double that of the MLB average and his highest mark in five years.
"I think that's been working," Betts said. "I think my swing's faster."
He has also been considerably more selective this year, leading to his highest walk rate as a Dodger and the second-lowest chase percentage among all qualified batters.
Betts has a harder time explaining those facts, just as he struggles to explain the reason for his tremendous production specifically when leading off a game. As good as he's been overall this year (.276/.379/.586), he is slashing .342/.395/.823 with 18 extra-base hits as the Dodgers' first batter of a game.
"S–t, I don't know," Betts said. "That at-bat is the same as my fourth, to me, you know what I'm saying? Just irony, I guess, that it's beginning of the game. I don't do anything different. I prepare and do everything the same."
Of course, not everything is the same. He can no longer roll out of bed at noon and go straight to the field, the way he did at one point in Boston. Betts now has two kids to care for after welcoming his baby boy to the world on April 18.
Two days after Kaj was born, Betts was activated off the paternity list. He rushed to make it as a seventh-inning replacement at Wrigley Field, then started a double play in his first career major-league action at shortstop. The former middle infield prospect described the experience as "a dream come true."
Betts has now started 19 games at second base and 12 at shortstop this year, both career highs. While the six-time Gold Glove Award-winning right fielder won't publicly admit that the fun he's having defensively might be translating to his uptick in offensive production, those around him believe it.
"I think that great players are always looking for a challenge," Roberts said. "Whether it's a contract, whether it's to play for the Hall of Fame, whether it's for Mookie in this particular case a challenge to play a different position — knowing that he's already dominated right field and can do that on a regular basis — there's something that sort of keeps his interest, and that's a good thing for all of us."
As a right fielder, Betts has an .874 OPS this year. At second base and shortstop, his OPS is over 1.000.
"I do think playing infield helps his body because he's not running all the way across the field," Bates said. "Just different movements — infield, outfield — I'm not going to say one of them is harder on his body, but he thinks of it that way. In his words, he plays second base or shortstop, it's a little easier for him in that sense."
All combined, Betts is putting up numbers he hasn't since 2018, the same year he first became teammates with J.D. Martinez. By that point, Martinez had already revived his career through the help of Van Scoyoc and was open to imparting some of that wisdom to Betts. The two quickly realized they were kindred spirits, looking at the game in a similar light.
"I loved his mindset," Betts said. "After like two weeks, I feel like we became best friends."
With Martinez's help, and a better understanding of what made his swing work, Betts' offensive profile began to change. He started launching the ball unlike ever before. After slugging over .500 just once during his first four major-league seasons, Betts led the majors with a .640 slugging percentage in 2018; Martinez was right behind him at .629. After winning a World Series together that year, the two stayed in close contact, sometimes sharing video of their swings to examine.
Now, they're both All-Stars starters as Dodgers, putting up their best numbers since their first act together five years ago.
"That's my boy," Betts said. "He'll check in every now and then to make sure my swing's good, but other than that, it's really just playing with my boy."
The comfort of friends, the excitement of the infield, the speed of his swing and the added weight have all led Betts to Seattle, where he'll get a chance to demonstrate his power on Monday night. McCullough, whose only previous experience pitching at a Home Run Derby came in the Midwest League more than a decade ago, has used this week to try to prepare. He wants to throw Betts down and in so the diminutive slugger can elevate to the pull side.
Betts, though, won't be putting too much pressure on himself to perform.
He knows whatever happens Monday night won't impact his chase for another ring, or his Hall of Fame chances, or his ability to succeed in life after baseball, whenever that time comes. He is thinking about all of those things, with every project he takes on and every decision he makes.
"I've got, what, nine years left? Ten years left?" Betts said. "I don't want to wait until I'm done before I start to work on the next chapter."
By then, he might also have a few more trophies on the mantle — and a spot in Cooperstown calling.
"I have that end goal in mind," Betts said. "And however I get there is how I get there."
Rowan Kavner covers the Dodgers and NL West for FOX Sports. He previously was the Dodgers' editor of digital and print publications. Follow him on Twitter at @RowanKavner.
---
MLB trending



MLB odds: Shohei Ohtani, Matt Olson favorites to win home run crown

MLB Draft 2023: What to know about every first-round pick

MLB Power Rankings: Are surging Dodgers, Reds real contenders?




2023 MLB All-Star Week schedule: How to watch, channels, times, dates

Senga, Cobb, Kimbrel, Burnes, López added to rosters for MLB All-Star Game

2023 Home Run Derby: Participants, bracket, how to watch, start time




New York Yankees reportedly hire Sean Casey as next hitting coach

2023 MLB All-Star Game: Rosters, starters, voting results, lineups

2023 MLB mock draft 2.0: Shakeup at top between LSU duo Paul Skenes, Dylan Crews
---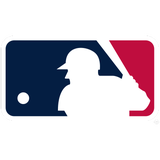 Get more from Major League Baseball Follow your favorites to get information about games, news and more
---