Bryan Fischer
College Football Writer
The most-viewed image of Ohio State this past weekend was not the Buckeyes rolling some overmatched opponent or a highlight reel play from Marvin Harrison Jr., but rather that of coach Ryan Day letting it loose on Lou Holtz for approximately the 400th time.
Given that the scarlet and gray was off this past weekend, those remarks from OSU's head coach in the wake of an almost cathartic victory over Notre Dame were replayed on nearly every show that covers college football and will be until they take the field for Saturday's "Big Noon Kickoff" game against 5-0 Maryland.
HOW TO WATCH 'BIG NOON KICKOFF' THIS SATURDAY
10 a.m.-Noon ET: "Big Noon Kickoff" pregame show on FOX
Noon ET: Maryland at Ohio State on FOX and the FOX Sports app
Such a focus on that one postgame moment not only does the team itself a disservice to the effort it put in to beat Notre Dame, but also overshadows something inescapable — and frankly strange — to say about the program that has become the standard in the Big Ten for the past two decades: the Buckeyes (4-0) are vulnerable.
No, we're not just talking about the big elephant in the room in regard to the team up North. It's at the point nearly halfway through the season where questioning if Ohio State is the third-best team in the Big Ten East isn't just a message board fantasy, but something rooted in reality.
The Buckeyes' primary area of concern lies on Day's side of the ball. After averaging at least 40 points per game in each of the last six years, OSU currently sits 38th in the country in scoring offense. Top tailback TreVeyon Henderson is 43rd in FBS in yards per carry, and the offensive line has been concerning given the talent on hand.
[2023 Heisman Trophy odds: Caleb Williams favored to win award … again]
Starting quarterback Kyle McCord is about to appear in his second straight game in which his opponent is the more efficient signal-caller (a far cry from the recent days of C.J. Stroud). He's even tied with the likes of Northwestern's Ben Bryant and Michigan State's Noah Kim in touchdown passes. Even wilder is the fact that the Buckeyes have as many 30-plus-yard plays as Navy, Bowling Green, Louisiana-Monroe and Virginia (nine on the season).
Even Harrison Jr., still the best receiver in the country no matter the numbers, has been notably absent as a focal point. He has just 17 receptions while running mate Emeka Egbuka isn't much more prolific with 19. Each has three touchdowns, none of which have come against Power 5 opposition.
Joel Klatt reacts to Ohio State's stunning victory over Notre Dame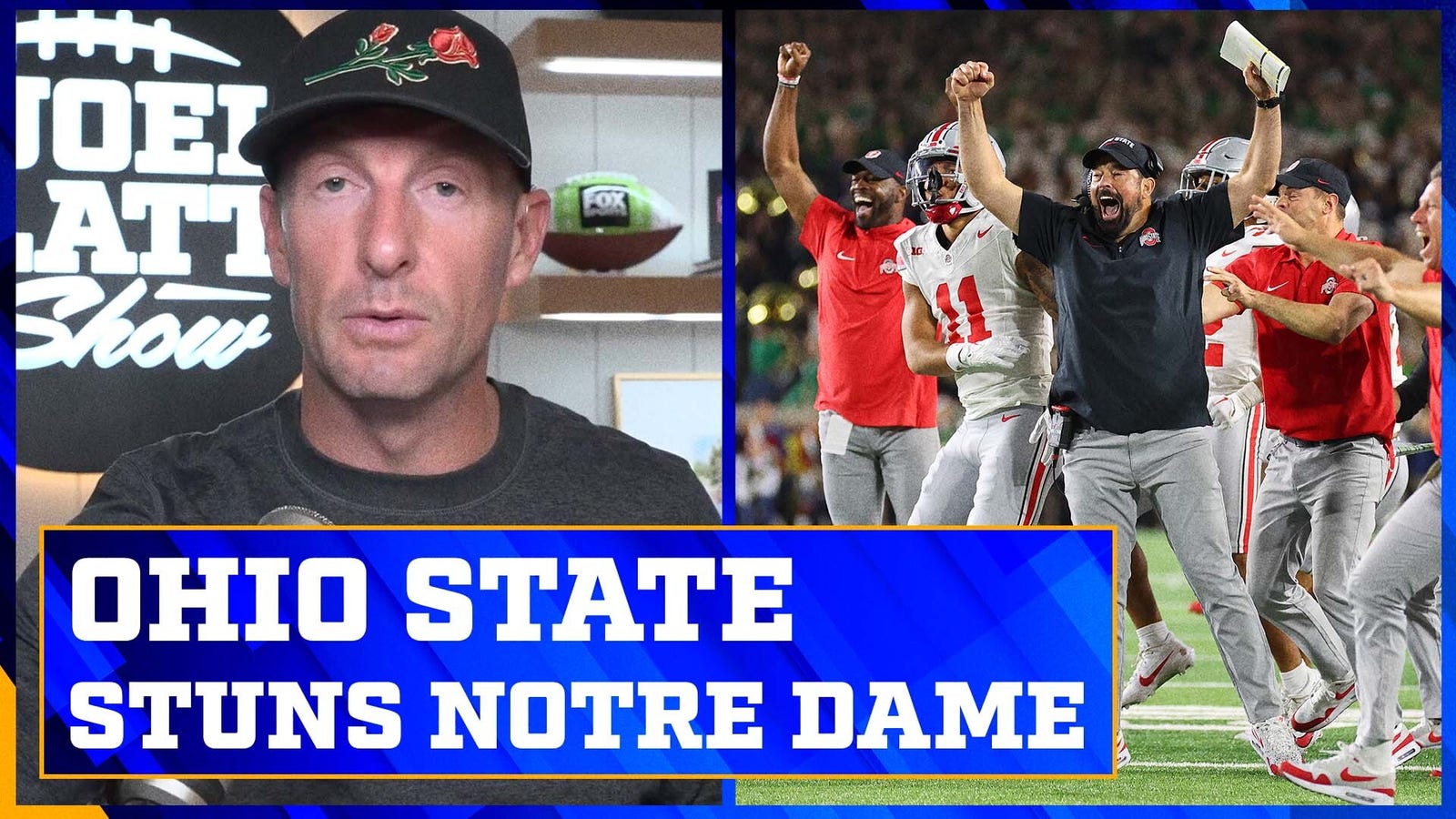 That's not to say the sky is falling Columbus. The team is second in scoring defense and is one of three teams — all in the Big Ten East — that is allowing fewer than 10 points per game. It has given up just four touchdowns coming into the week and has held opponents to just 3.1 yards per carry.
Jim Knowles' defense could stand to get to the passer more (five sacks total, third-fewest in FBS) and find more turnovers (also five), but when you allow fewer big plays than any team in the country, that can be acceptable. J.T. Tuimoloau continues to have a knack for making a big play during key situations, and the rest of the back end has played solid.
[College football Week 6 Odds]
Still, they've only convincingly looked solid for four quarters against Western Kentucky and had sluggish outings against both Indiana and Youngstown State. These are penthouse problems for a group ranked in the top five and a regular College Football Playoff contender, but that's the standard that's been set inside the building — one the team has not lived up to just yet.
This leads to the pressing question going into Saturday: Can Maryland take advantage of this dip in form?
The Terps, fresh off their most complete performance to date — a 44-17 demolition of the Hoosiers — have won every game by at least two scores, and have been aiming for a moment like this on the big stage.
Quarterback Taulia Tagovailoa appears healthy and has started the year strong, ranking in the top 15 in passing yards and touchdowns (13) while turning it over just three times. His receiving corps has been excellent, and tailback Roman Hemby is one of the better-kept secrets outside the conference.
"I do say that the 2023 me understands that to win in the Big Ten, good teams don't beat themselves," Maryland head coach Mike Locksley said at Big Ten Media Days over the summer. "It's going to be really important if we want to take the next step, which is to compete for a Big Ten championship, it's going to start with us and by us."
Locksley has recruited well and believes this is a team primed for more than just making a bowl game. The defense is better than past editions, and the offense has enough weapons to give any team fits. The program is 5-0 for the first time since 2001 and dallied with potential upsets of the division's 'big three' programs before.
Ohio State, however, is as susceptible as it's been in recent memory and will only improve from here. The off week is bound to help, as it will to play at the Horseshoe. The move away from divisions next year means this could be as good a time as any for Maryland to rise up and take advantage of the moment.
This isn't a case of two ships passing in the night or a changing of the guard. But it is a potential moment in the afternoon sun for one program and a chance to leave a new lasting image for another.
AP Top 25 reaction: Oregon jumps USC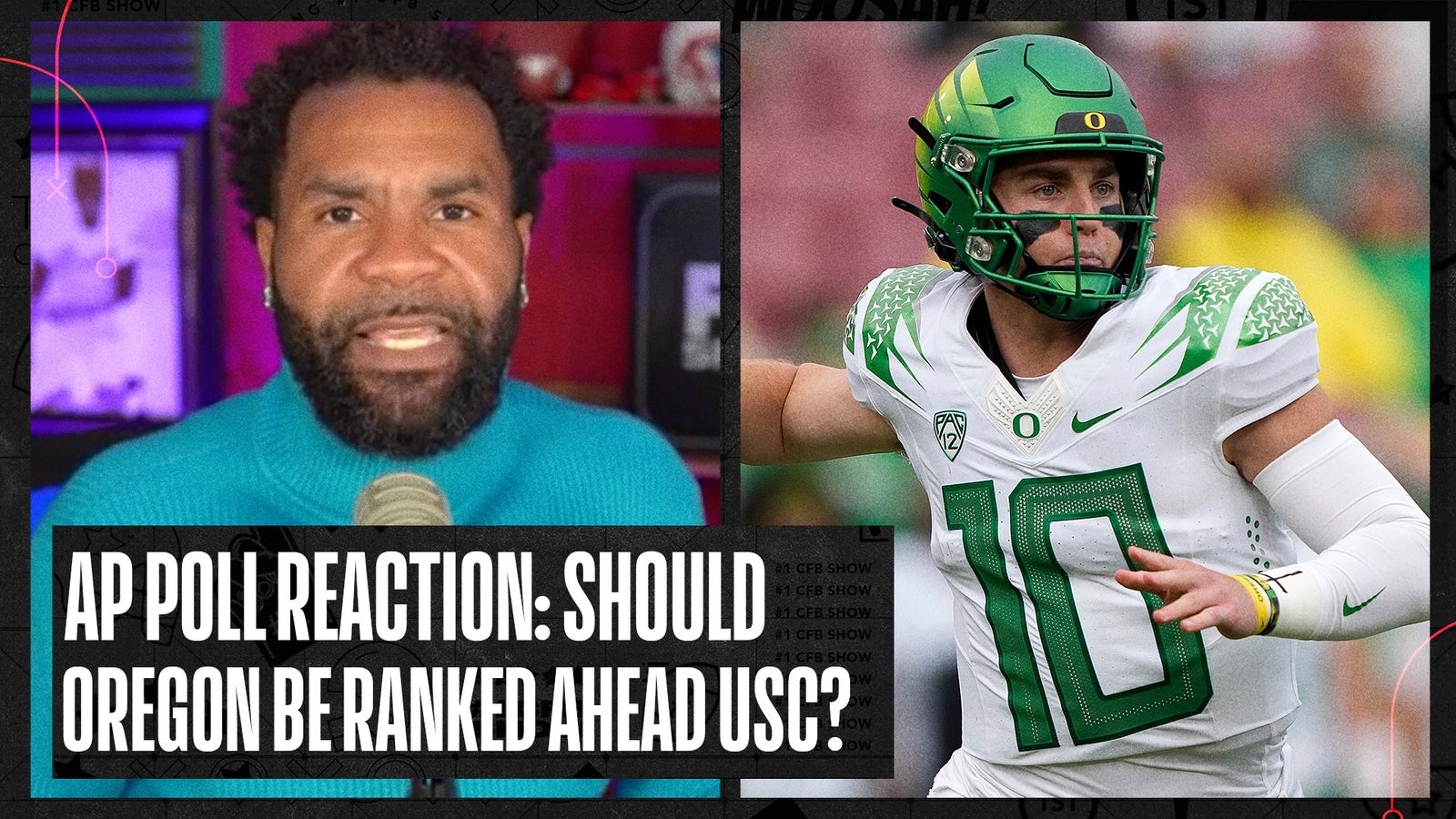 First and 10
1. Are we headed for a repeat in history?
This is the final year of the College Football Playoff in its current, four-team format. As we sit here having freshly ripped off another month on the desk calendar to unveil October, it's becoming entirely conceivable that we can wind up with the very same four teams in the final dance as we did back in 2014. It would be not only a full circle, but quite the journey to get there that few could have seen coming as recently as a few weeks ago.
How about Florida State, a flawed but potentially very good team that runs through a down ACC undefeated after an overtime win over Clemson? Seen that before.
An Oregon side that could hypothetically also have the Heisman Trophy winner and a nice young head coach taking his team to the playoff in his second season? Check.
An Alabama side that does not have great quarterback play and is piecing together an offense behind a highly touted ex-QB-turned-OC? It's growing increasingly possible, especially in light of the SEC being down and reigning champion Georgia looking mighty vulnerable. It's not out of the realm of possibility Nick Saban's crew could face Missouri in the SEC title game either.
Or how about an Ohio State squad that has some good running backs, stud receivers, questions at quarterback, and an intense head coach who has started to show a different side publicly?
An eerie set of coincidences or the college football gods aligning to come back around to where it first began? With a title game that is also taking place in the great state of Texas, nothing can be overlooked.
Michigan and Texas headline Joel Klatt's Top 10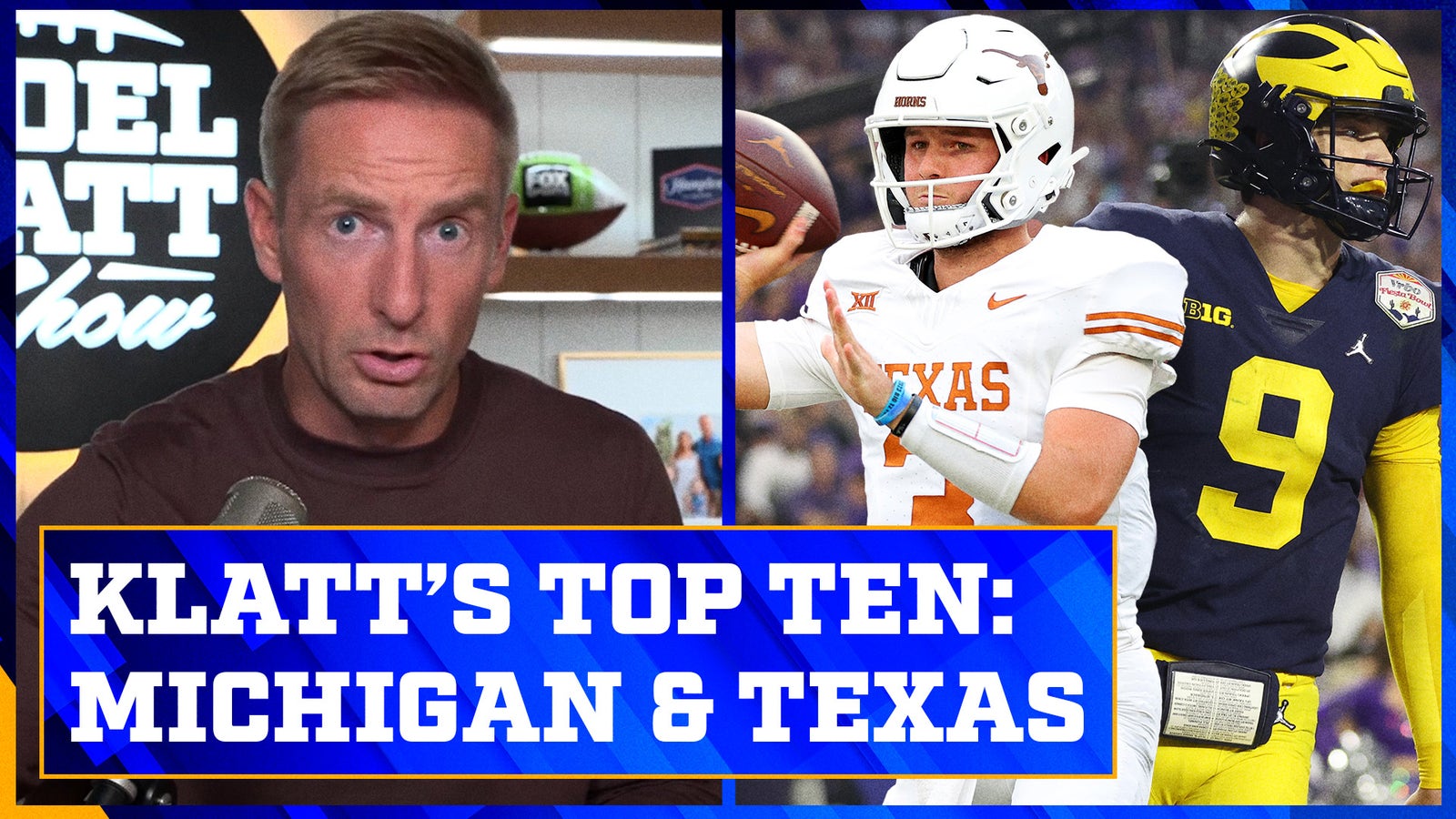 2. You can check out plenty of coverage surrounding USC's narrow escape from Boulder after the Trojans held on to a 48-41 win over Colorado, including how the Trojans are putting too much on quarterback Caleb Williams' shoulders, and what exactly are the Buffs after five games?
But here's a thought after patrolling the sidelines of Folsom Field during a really fun Big Noon Saturday: could CU be the most sought-after bowl team in the history of recent college football?
It's possible, should the Buffs eventually hit the six-win mark later this season. Nearly a dozen bowl reps were on hand to see the game in person Saturday, and the amount of infighting some of them will do over the coming months as the Buffs inch closer to the postseason is going to be fascinating to follow. Keep in mind that the program has only made two bowls since joining the Pac-12, and one of those came during the 2020 COVID-impacted campaign.
We know Deion Sanders brings attention and bonanza ratings, and that he can sell plenty of tickets, especially with a success-starved fan base in tow. Depending on how many of the conference's teams wind up in the New Year's Six, this season could see Colorado as the apple of every bowl's eyes.
As much as George Kliavkoff's office is dealing with other matters, they have quite an opportunity here even if Colorado just sneaks into the postseason at 6-6. The conference tie-ins would point to several key destinations, perhaps none more interesting than the Las Vegas Bowl. Not only would that potentially match up the Buffs against an SEC team (the storylines would write themselves if it that would mean Texas A&M), but Las Vegas is the site of this year's Super Bowl, too.
Another option is the Holiday Bowl, which is currently involved in a contentious lawsuit with the Pac-12 and UCLA. In lieu of the $3 million the organization has been aiming to get paid, could the soon-to-be Pac-2 offer up the prospect of Colorado against an ACC team like, say Clemson? Who would veto Dabo and Prime doing multiple press conferences and petting the whales together at SeaWorld?
Colorado still has a long way to go before such talk can truly commence, but it's fun to think about with the program ahead of schedule and primed to keep things interesting the rest of the year.
Should USC be concerned after holding off Colorado?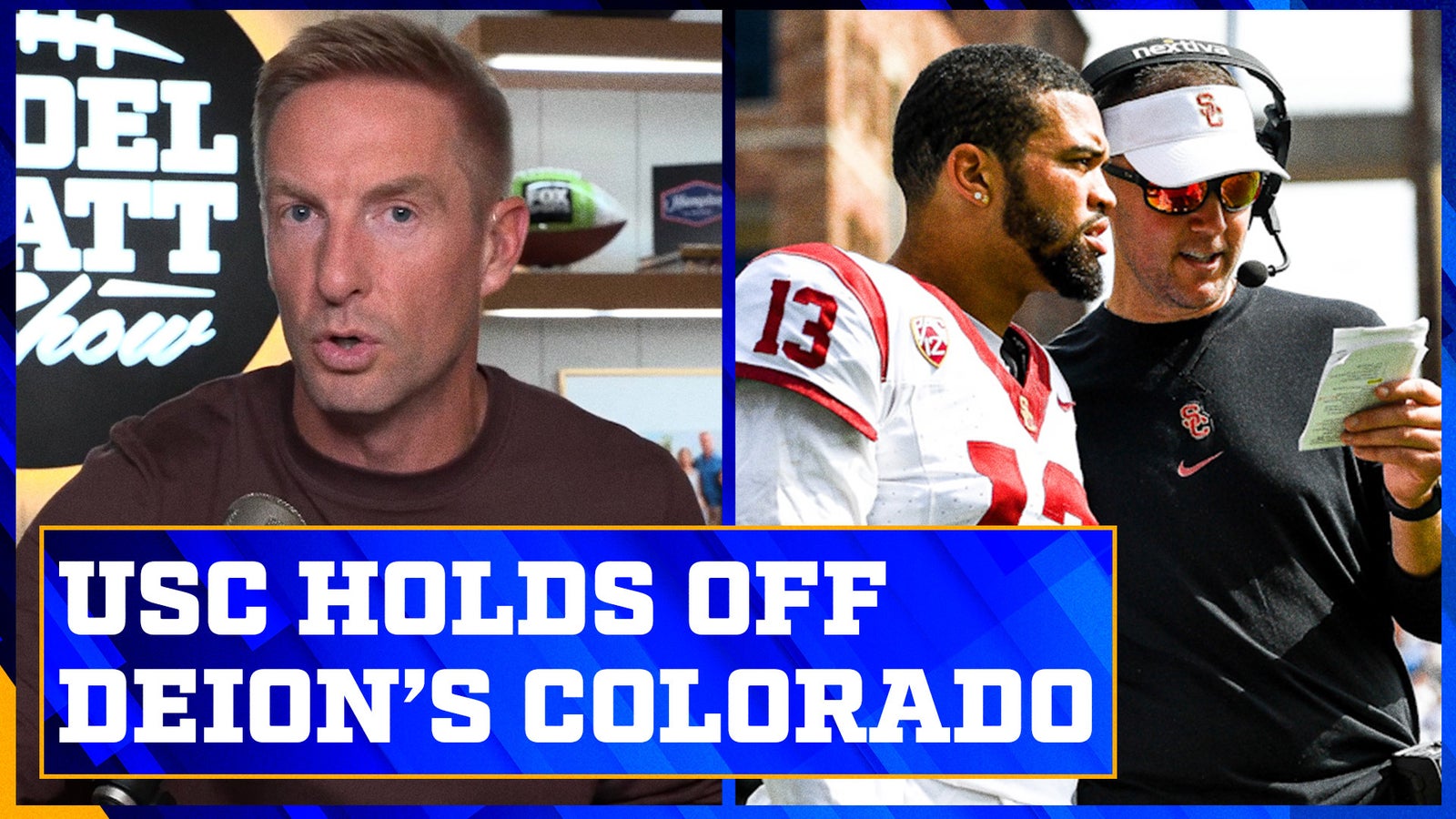 3. The nation's longest winning streak sure got tested on Saturday, as top-ranked Georgia was pushed to the brink by Auburn during its first road trip of the year.
Two things were abundantly clear in this one: the juju that occurs on the Plains against highly ranked teams is always a factor, even if the Tigers can't throw a pass to save their lives and the Bulldogs continue to play with their food through an uninspired start.
For long stretches against Auburn and South Carolina, Georgia has simply not played well. It's not even about this team's potential, it's about what you're seeing between the lines, and it just hasn't clicked like it has in the past. There have been a few flashes of that killer instinct, but it's certainly not as consistent as you would have hoped for a program that has a rare shot at history.
Far more difficult tests lie ahead, but as we approach Week 6, it sure would be hard to truly consider this a top-five Georgia side based on what they've shown against a very weak slate.
4. One silver lining for the SEC champs is that the league itself looks to be as down as it has been in maybe a decade. There are still some interesting stories out of the middle class, though.
Take Kentucky (5-0), which looks to be the Bulldogs' biggest threat in the East. Ray Davis was fantastic in bullying Florida into submission and epitomized the toughness that Mark Stoops has instilled into his program. Devin Leary still hasn't had a breakout game since arriving from N.C. State, but the quarterback hasn't needed to. The Wildcats travel to Georgia this week, but even if they drop that result, they could still make a run to Atlanta with Tennessee (off a bye), Missouri and Alabama all coming to Lexington.
Mizzou has also been surprisingly solid to enter the polls at 5-0 with quality wins over Kansas State and Memphis in their pocket. LSU is wounded and coming to Faurot Field (as do Tennessee and Florida) and they get Georgia in Athens after an off week — remember they nearly pulled the upset a year ago against a far superior set of Bulldogs.
In the West, it was a solid weekend for bounce-backs, as Ole Miss cashed the checks they were writing before the loss to Alabama by beating LSU. The game, which resembled a Big 12 shootout of yesteryear, vaults to near the top of the wins Lane Kiffin has had in Oxford. What kind of ceiling the Rebels ultimately have probably comes in early November when they get Texas A&M and UGA back-to-back, but a 10-win season and quality postseason destination look a lot more likely now than they did leaving Tuscaloosa.
Joel Klatt explains why he's concerned for Georgia
5. They say the NFL is a week-to-week kind of league, and the results bear that out seemingly every Sunday. The college game certainly isn't quite to that level, but the swings can be just as notable given the age range of most of the players involved. That's why it was so interesting to see Notre Dame go from an absolutely gutting loss at home on the doorstep of their end zone to a truly cathartic drive for the ages to beat Duke a week later.
The game would not win any awards for watchability, but it was compelling and showed the Irish's resilience to bow up when the moment called for it.
It also underscored why you go and get a Sam Hartman out of the transfer portal. His scramble on fourth-and-16 to set up Audric Estime's game-winning run proved why the veteran signal-caller (who knows a thing or two about winning in the Carolinas) was such a valuable get. Things don't get any easier with the schedule ahead, but Notre Dame can use this as momentum to keep on winning and work their way back into the Playoff conversation down the road.
6. Neal Brown tried to tell us.
The West Virginia head coach was pretty much universally pegged as having the hottest seat in the country coming into the year, and his Mountaineers were a popular choice to finish last in the league. He tried to tell us not to buy into such a narrative, however.
"The positive is that the media has not been, as far as predicting the Big 12, has not been successful in recent years, so I think that bodes well for us," said Brown at media days in July. "Looking forward to proving everybody wrong on that front. We won't finish there."
At 2-0 in the conference and 4-1 overall, nobody in Morgantown is complaining — certainly not with four winnable games before traveling to Oklahoma in mid-November.
Speaking of feeling relief from the fan base, few coaches in the Big 12 needed a win more than Dave Aranda at Baylor. When the Bears went down 35-7 to UCF in the third quarter, many watching along on FS1 probably could have been forgiven for changing the channel. Yet BU seemed to flip some sort of switch because it produced 29 unanswered points and the biggest comeback in school history. As fun as it was for the folks from Waco however, that was also the kind of game that is going to give Gus Malzahn a few extra gray hairs.
7. The annual Red River game between Texas and Oklahoma was always shaping up to be one of October's best games, but it sure feels like the importance keeps growing for this final meeting at the Cotton Bowl as Big 12 members.
Despite being in some tricky look-ahead spots, both the Longhorns and Sooners took care of business with relative ease and only added to some of their impressive season-long numbers. UT has as good a claim as any to be ranked No. 1 right now. Running a top-25 caliber team like Kansas out of the building was a nice show of progress for a program that often trips itself up in such situations.
The same was true in Norman, where Oklahoma continued to look improved on both sides of the ball and saw signal-caller Dillon Gabriel have his most complete outing of the year (366 yards and five total touchdowns). The defensive improvement under Brent Venables in Year 2 has been a huge story, but Gabriel playing like he has is what will really give the Sooners a shot down in Dallas.
Texas Longhorns are looking dangerous!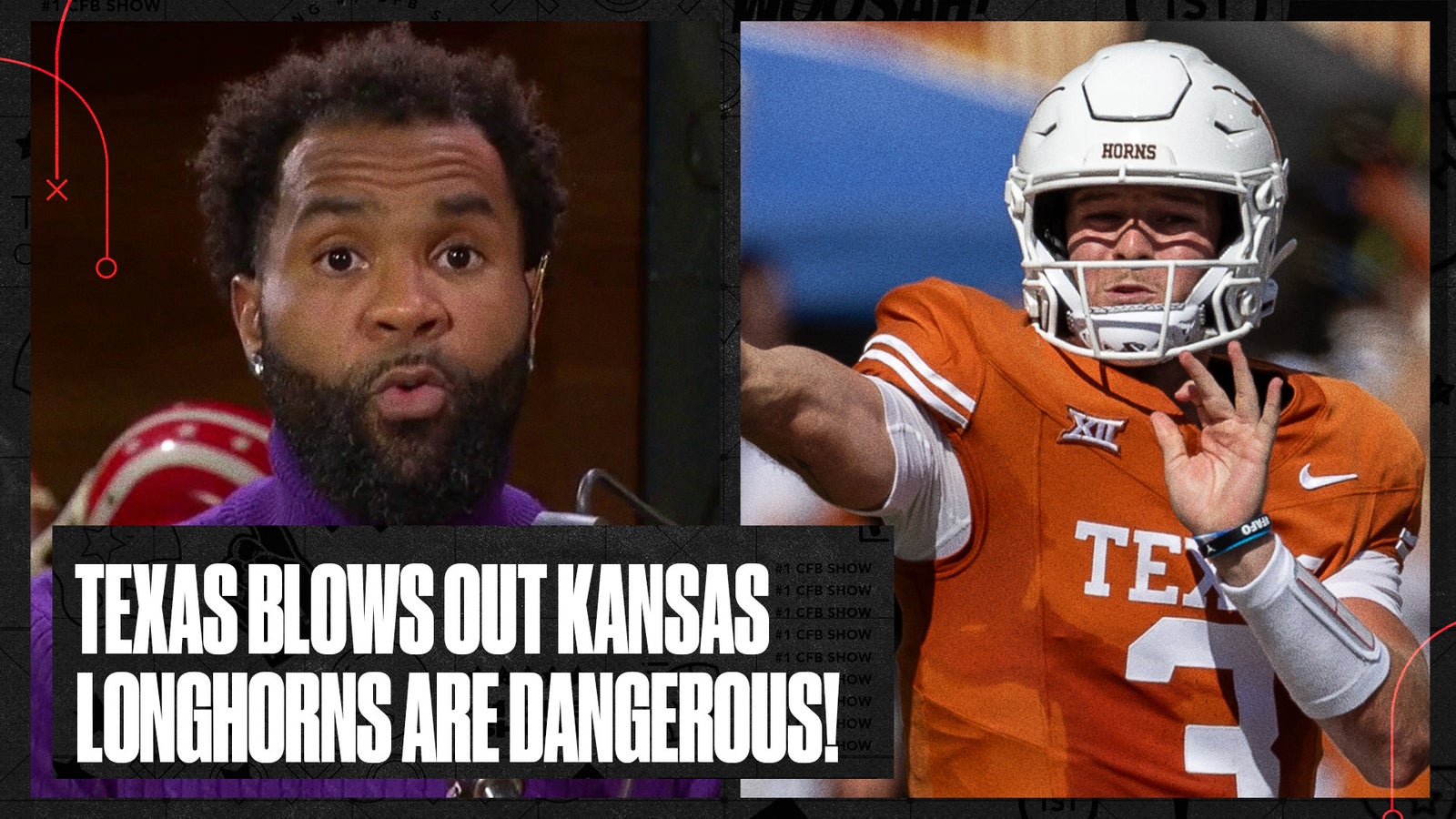 8. The most underrated conference title race that has heated up after this weekend? It may wind up being the Sun Belt, which continues to look like a strong contender for the Group of 5 bid yet again.
James Madison remains ineligible to make it to the title game, but that hasn't seemed to matter for Curt Cignetti & Co. as they continue to set a new standard for FCS teams moving up a level. A win on Saturday over a tough South Alabama squad moved the Dukes to 13-3 overall since joining FBS and 8-2 in league play. Marshall also remained unblemished this weekend by beating Old Dominion, while fellow East Division foes Appalachian State (thanks to a 54-yard walk-off field goal against ULM) and Georgia Southern still don't have a conference loss ahead of some key matchups in the near term.
In the Sun Belt West, the biggest surprise continues to be Texas State. The Bobcats got on a lot of people's radars by topping Baylor in the opener, but G.J. Kinnie's team has kept it rolling and just put up 50 on Southern Miss. They host Troy in a few weeks and that game could wind up deciding who has the inside track to host the title game down the road.
9. Artificial intelligence has exploded in popularity in the lexicon lately, and there were a few times during Iowa's 26-16 win over Michigan State when I wondered if some AI bot could legitimately find more offensive success for the Hawkeyes than embattled offensive coordinator Brian Ferentz. While you do have to tip your hat for getting a double-digit win after losing starting quarterback Cade McNamara to a serious injury, every single series this team has oscillates between the viewer equivalent of a root canal and that grinding sound on a chalkboard. There's just no rhythm whatsoever and the lack of rushing success is starting to be an even bigger red flag for the program than the fabled drive for 325 discussion ever was. It's a good thing Cooper DeJean is around to help save the day with 70-yard punt returns, but nothing ever feels easy with this group — a reoccurring story for much of the past decade.
10. Let Washington uncharacteristically struggling to put away an Arizona team playing its backup quarterback be a reminder that there's no such thing as a bad road win in conference play. That feels truer than ever in the Pac-12 given how tricky it can be going to places like Tucson when it's still hot and dry out — or Corvallis for any sort of midweek night game. Even Oregon struggled for a quarter and a half out on the Farm before pulling away this week to underscore that point.
Play of the Weekend
It didn't count because the comeback fell short, but is this the best fourth-down conversion ever?
Double-Take from Week 5
Desperately need an oral history of Cam Newton's outfit here.
Saturday Superlatives
Best Player: Ray Davis, Kentucky
Team of the Week: Baylor
Coach of the Week: Lane Kiffin
Hot Seat of the Week: Gus Malzahn, UCF
Heisman Five: 1. Caleb Williams (USC), 2. Michael Penix Jr. (Washington), 3. Cam Ward (Washington State), 4. Bo Nix (Oregon), 5. Travis Hunter (Colorado)/Brock Bowers (Georgia)
Tweet of the Week
Super 16
My ballot going into Week 6 in the FWAA/NFF Super 16 poll:
Texas

Florida State

Penn State

Washington

Michigan

Georgia

Oregon

Ohio State

USC

Miami

Notre Dame

Alabama

Washington State

North Carolina

Ole Miss

Oklahoma
Just missed the cut: Missouri
Best of the rest: Tennessee, Louisville, Texas A&M, Oregon State, Fresno State, Duke, Kentucky, Maryland
Do you want more great stories delivered right to you? Here's how you can create or log in to your FOX Sports account, follow your favorite leagues, teams and players and receive a personalized newsletter in your inbox daily.
Pre-Snap Reads
Maryland at Ohio State (Saturday, Noon ET on FOX)
If the Buckeyes were playing on the road and didn't have the extra week of rest, it would be tempting to call for the upset. The Terps will make this one a 60-minute fight, but Marvin Harrison Jr. winds up being the difference late. Maryland +18.5
Oklahoma vs. Texas (Noon ET)
Go ahead and flip a coin, because this is always — last year aside — a tension convention for much of the fourth quarter. In a low-scoring Red River Shootout, the lean remains with the burnt orange mostly for the edge they have in the trenches. Texas -5.5
Washington State at UCLA (3 p.m. ET)
Is this the Cougars' final trip to the Rose Bowl for ages to come? It's going to be interesting to see how emotions play into this one as the Pac-2 champion rolls into Pasadena … only to find an offense stymied by that Bruins pass rush in a nailbiter that comes down to the final two minutes. UCLA -3
Alabama at Texas A&M (3:30 p.m. ET)
Does anybody really have a read on how good and/or mediocre the Aggies and the Tide are? Talent-wise there's no question that this is a compelling matchup, but both quarterbacks aren't the best in terms of holding onto the ball, and it's a series where we've seen some absolutely jaw-dropping plays to swing momentum. Trust in Nick Saban, but not with a ton of conviction. Alabama -3.5
Kentucky at Georgia (7 p.m. ET)
The Wildcats have authored a nice story so far in 2023, but the close call against Auburn probably woke Kirby Smart's team up to a degree Kentucky won't be in this one at all after halftime. Georgia -15
Fresno State at Wyoming (8 p.m. ET on FOX)
Have to love the battle for the Mountain West getting the big glow–up on broadcast TV for a really compelling contest between two teams that already have Power 5 wins in their back pocket. The Bulldogs haven't quite looked fully in sync the last few weeks, so a night game in Laramie is a recipe for a loss. Wyoming +5.5
Bryan Fischer is a college football writer for FOX Sports. He has been covering college athletics for nearly two decades at outlets such as NBC Sports, CBS Sports, Yahoo! Sports and NFL.com among others. Follow him on Twitter at @BryanDFischer.
---
COLLEGE FOOTBALL trending
---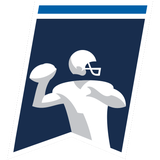 Get more from College Football Follow your favorites to get information about games, news and more
---