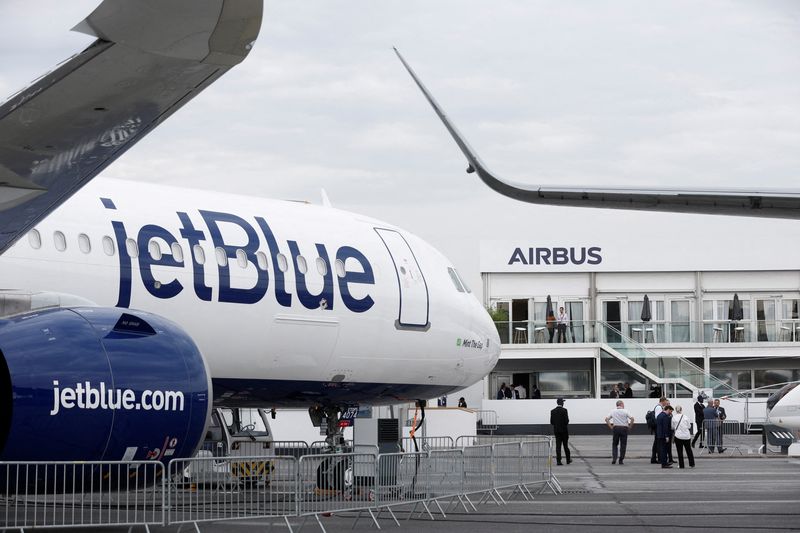 © Reuters. FILE PHOTO: JetBlue Airbus A321LR is displayed at the 54th International Paris Air Show at Le Bourget Airport near Paris, France, June 20, 2023. REUTERS/Benoit Tessier/File Photo
By Rajesh Kumar Singh and David Shepardson
CHICAGO (Reuters) -JetBlue Airways Corp, seeking to protect its merger with Spirit Airlines (NYSE:), said on Wednesday it will follow a U.S. judge's order in May that it end an alliance with American Airlines (NASDAQ:) Group.
The New York-based carrier said while it "strongly" disagrees, it will not appeal the court's ruling and has informed American of its decision to terminate the three-year-old alliance that allowed the two carriers to coordinate flights and pool revenue.
American, however, said it still planned to appeal the ruling.
JetBlue said terminating its alliance with American renders "entirely moot" the U.S. Justice Department objection that led DOJ to file suit to block its merger deal with Spirit, a "legacy carrier."
The "Northeast Alliance" between JetBlue and American helped the Texas-based carrier compete in the New York market, where it had been losing money. American ceded domestic capacity out of New York to JetBlue, which allowed American to move away from unprofitable routes while maintaining a presence in New York.
The alliance also allowed American to feed traffic to its global partners who fly into the region.
American has yet to spell out plans for the capacity it gave to JetBlue. The carrier could now be forced to rebuild its capacity or cut international flights out of the region.
On May 19, U.S. District Judge Leo Sorokin in Boston ordered JetBlue and American to end the partnership, saying it "substantially" diminished competition in the domestic market. American is the largest U.S. airline by fleet size and low-cost carrier JetBlue is sixth largest.
The U.S. Justice Department sued in 2021 to undo the Northeast Alliance, which was announced the previous year. It called it a "de facto merger" of American and JetBlue operations in Boston and New York that removed incentives to compete and would end up costing consumers an additional $700 million a year to fly out of the region's busy airports.
Separately, the Justice Department, joined by four states, filed a suit in March aimed at stopping JetBlue from buying discount rival Spirit, saying the planned $3.8 billion merger "will lead to higher fares and fewer seats, harming millions of consumers on hundreds of routes." The suit is set for trial in October.
JetBlue said its decision to dissolve the Northeast Alliance should prompt the Justice Department "to reconsider and support our plan to bring a national low-fare competitor to the Big Four."