Johnson Next Republican to Try to Win House Speaker Role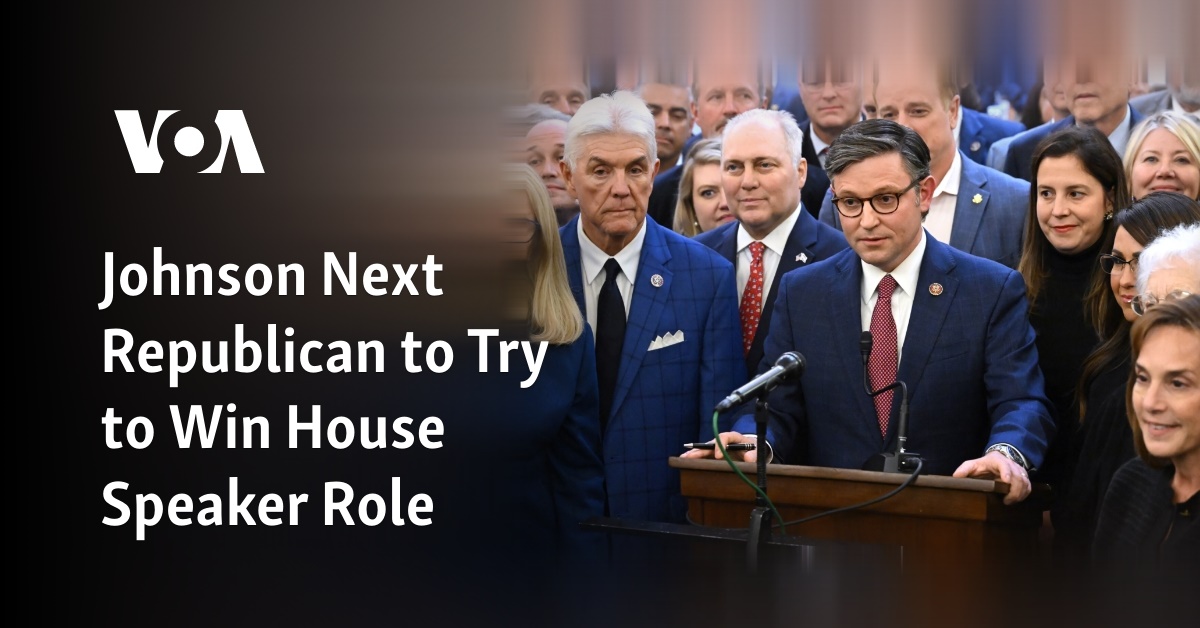 Another Republican in the U.S. House of Representatives may seek a floor vote Wednesday to try to become the chamber's next speaker, after lawmakers struggled for three weeks to fill one of the top leadership roles in the U.S. government.
Republicans meeting in a closed-door session late Tuesday picked Representative Mike Johnson as their latest House speaker candidate, and the fourth since Representative Kevin McCarthy was ousted from the job.
Johnson is a lawmaker from the state of Louisiana who rallied Republicans around former President Donald Trump's legal effort to overturn the results of the 2020 election.
He received 128 votes Tuesday night to beat other candidates. McCarthy, who was not a declared candidate, came in second place with 43 votes.
It was unclear if Johnson would be able to muster the support of most of the Republicans in the House, something the three previous candidates to replace McCarthy have been unable to do.
Republicans hold a slim 221-212 majority, and with Democrats united behind House Democratic Leader Hakeem Jeffries, any Republican candidate can only lose a few Republican votes and still achieve the simple majority threshold to win the speaker role.
Republicans moved on to Johnson after another candidate, Representative Tom Emmer, withdrew his candidacy earlier Tuesday.
Emmer had outlasted eight other candidates in rounds of secret balloting. The 62-year-old Emmer has served as majority whip, one of the top leadership posts in the House Republican Conference, since earlier this year.
Former President Donald Trump posted on his Truth Social media platform early Tuesday afternoon that he did not know Emmer well and referred to him as a RINO – a term meaning Republican in Name Only.
"The Republican Party cannot take that chance, because that's not where the America First Voters are. Voting for a Globalist RINO like Tom Emmer would be a tragic mistake!" Trump posted.
As many as 20 Republican House lawmakers said they would not vote for Emmer, leading to his withdrawal.
The role of speaker of the House has been vacant since October 3 when eight Republicans joined with all 212 House Democrats to make McCarthy the first-ever speaker to be removed from his position.
A right-wing faction of the Republican Party was displeased with McCarthy for passing a short-term measure funding the government to keep it open past a September 30 deadline with Democratic legislators' help.
Since McCarthy's ouster, House Republicans have been unsuccessful in coalescing around a replacement. They first nominated Representative Steve Scalise of the southern state of Louisiana, who was not able to secure the needed votes.
The Republican caucus next gave its nod to Representative Jim Jordan of the Midwestern state of Ohio. Jordan is a conservative firebrand and staunch supporter of Trump.
But Jordan also failed to gain a 217-vote majority in the House, falling well short on a first vote in the full House and then losing ground on two subsequent ballots.
The Republican infighting has left the role of speaker unfilled, leaving the House unable to respond to crucial budget matters. A Nov. 17 deadline looms for budget issues to be resolved or a partial government shutdown will go into effect.
The speaker of the U.S. House of Representatives is second in the line of presidential succession.