Joshua Dobbs rallies Vikings to improbable win over Falcons days after joining team

Greg Auman
NFC South Reporter
ATLANTA — Joshua Dobbs is unique among NFL quarterbacks.
He spent five years as a backup with the Steelers without starting a game, without throwing a single touchdown. This time a year ago, he had 43 career passing yards in six seasons.
When the Vikings traded for him Tuesday, it marked his fifth NFL team in 11 months, and Minnesota gave up the smallest of currencies to get him, swapping late-round draft picks with the Cardinals to add Dobbs in the wake of Kirk Cousins' season-ending Achilles injury.
Even then, Minnesota started rookie Jaren Hall, a fifth-round pick from BYU, on Sunday simply because he'd been in the offense for six months while Dobbs had joined the team four days earlier. Hall got the first-team reps in practice, the Vikings so busy trying to get one quarterback ready for Sunday that they had precious little practice snaps for a second.
But Dobbs is unique in another way: He graduated from Tennessee with a 4.0 GPA and a degree in aerospace engineering. That is to say that something as complex as an NFL playbook, meant to be digested over weeks if not months, is easy reading.
It's literally not rocket science for him.
"It'd be like if you were taking AP Spanish all year, and you showed up Wednesday and someone told you you had an AP French exam on Sunday," Dobbs said. "You've got to execute, and somebody's going to talk to you in Spanish and translate it to French."
Late in the first quarter, the rookie Hall took a nasty hit at the goal line and then got knocked back, hitting his helmet on the turf, and he sustained a concussion and was done for the day after one quarter.
In came Dobbs, with his 1-9 record as an NFL starter, thrust into action far sooner than he could possibly prepare for. He took a few snaps on the sidelines with center Garrett Bradbury, simply because he hadn't ever done so before. For many of his receivers (most of whom he didn't know by last name, much less first name), the only time he had thrown them passes was in pregame warmups.
"This was learn as you go, hair's on fire, hold onto your seat," Dobbs said of his cram session learning this week and Sunday.
Josh Dobbs leads Vikings on game-winning drive vs. Falcons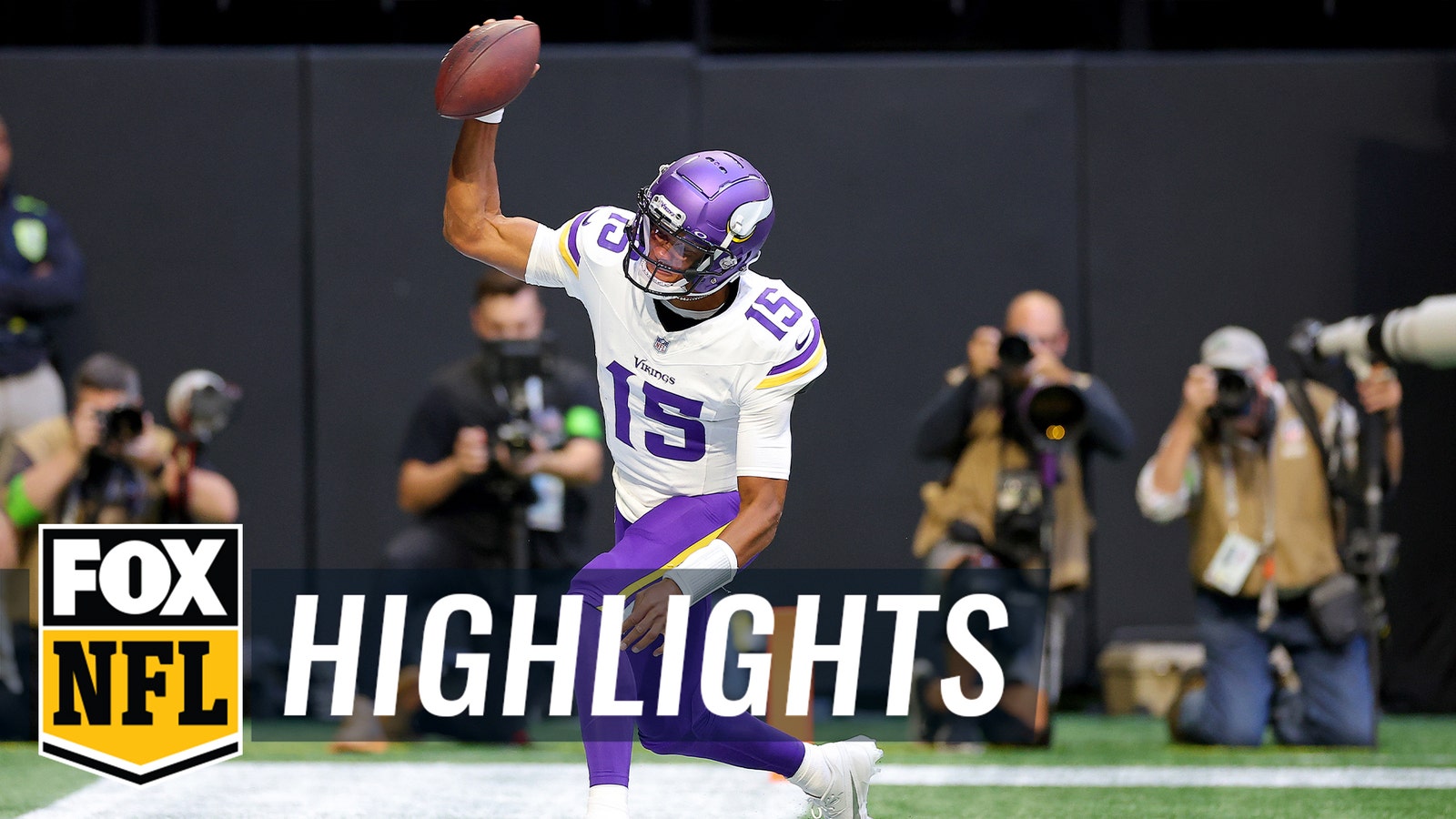 His first two drives were as you might expect. The first started at the 7-yard line, and two plays later, he was sacked for a safety. His next drive resulted in a sack and fumble that Atlanta recovered and returned to the 1-yard line.
Minnesota was missing more than just Cousins. Pro Bowl tackle Christian Darrisaw was a late scratch due to a groin injury sustained in practice, and star receiver Justin Jefferson remained on injured reserve with an injury of his own. Receiver K.J. Osborn would leave the game with a concussion; running back Cam Akers would leave with an Achilles injury.
But the Vikings defense held the Falcons at the goal line, limiting them to a field goal and an 11-3 lead. And Dobbs responded — the catch Osborn was injured on converted a third-and-9, and Dobbs converted a third-and-11 with a pass to receiver Jordan Addison. Facing a third-and-10 at the Falcons' 13, he eluded a blitzing defensive back, running back to the 32-yard line to escape the sack and then up the sidelines, diving for a first down at the 2. Two plays later, he threw to running back Alexander Mattison to cut the Atlanta lead to 11-10 just before halftime.
But Dobbs was hit as he threw on the opening drive of the second half and the Falcons intercepted it. That put them at the Minnesota 30, but the defense again stepped up, limiting them to a 14-10 lead, and Minnesota answered with a field goal. Could this last?
Atlanta's next drive saw tight end Jonnu Smith break loose for a 60-yard touchdown. Dobbs answered again, converting a third-and-18, then scrambling 18 yards for a touchdown, then throwing for a two-point conversion to tie the game at 21-21. Asked if he knew that Dobbs was such an elusive quarterback, tackle Brian O'Neill was honest.
Falcons' Jonnu Smith slips past defense for a 60-yard TD vs. Vikings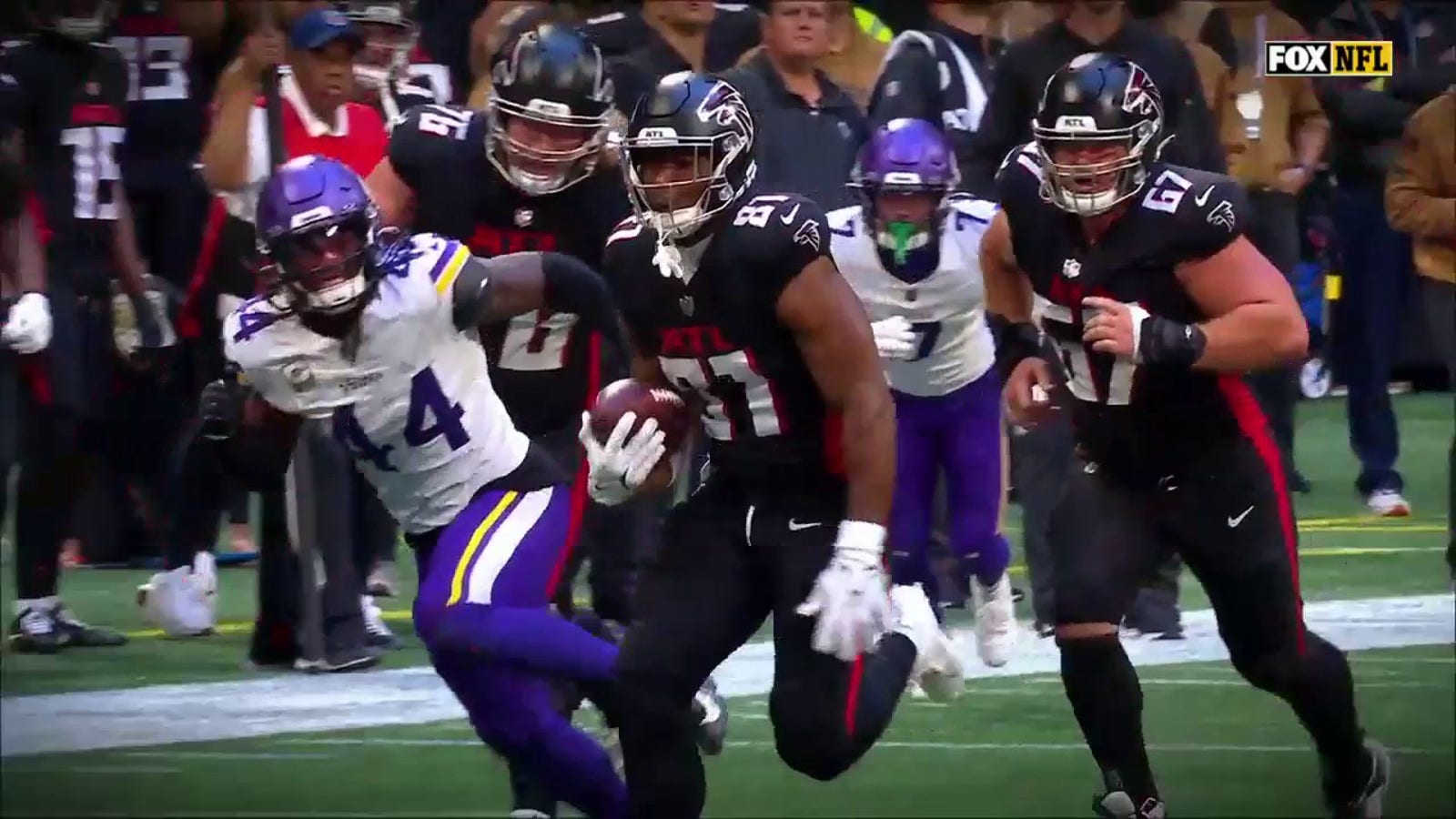 "I didn't know anything about what kind of guy he was," he said. "I introduced myself to him on Thursday, and we were in the huddle with him Sunday. The first time we heard his cadence was on the sidelines."
A Vikings interception set up a short field and a field goal for the lead, and it would stay 24-21 for most of the fourth quarter, but the Falcons rallied late behind running back Tyler Allgeier, who rushed six times for 42 yards and a 5-yard touchdown for a 28-24 lead with 2:08 left.
Dobbs still had more magic left for his new team. Addison made a brilliant sideline toe-tap catch for a 24-yard gain to the Atlanta 37, but three plays later, they faced a fourth-and-7. The Falcons had him for a sack, but he slipped away, outrunning two diving defenders and getting not only the first down, but 22 yards to the 12.
"We saw all day, I was able to use my feet as a weapon," said Dobbs, who rushed for a game-high 66 yards. "It's a gotta-have-it situation, whatever it takes. For a second, I thought I was going to score once I got the first down, then I thought it was smart to step out of bounds, save a timeout."
One more third down, and he found receiver Brandon Powell for a 4-yard touchdown and a 31-28 lead with 20 seconds to go.
Dobbs finished with three touchdowns in three quarters, throwing for 158 and two scores and rushing for another. The Vikings are 5-4 and very much in the playoff hunt, despite a slow start to the season and losing Cousins for the year.
"I don't know that I've ever been a part of one like that," coach Kevin O'Connell said. "These are the days that cement why you believe what you believe as a coach. I'll quite honestly remember this one for a really long time, mainly for those guys, the adversity, the response."
Dobbs, born in raised in nearby Alpharetta, has parachuted in like this before. Four days before Christmas last year, when the Titans lost quarterback Ryan Tannehill to injury, they signed Dobbs and made him their starter over a draft pick. He lost both his starts, throwing a single touchdown in each, and the Titans missed the playoffs and moved on from him. He signed with the Browns in March, and they traded him to Arizona just before the season started, but Dobbs threw for 10 touchdowns and ran for three more, still only enough to salvage one win in eight starts.
Josh Dobbs reflects on being traded to Vikings and leading them to a win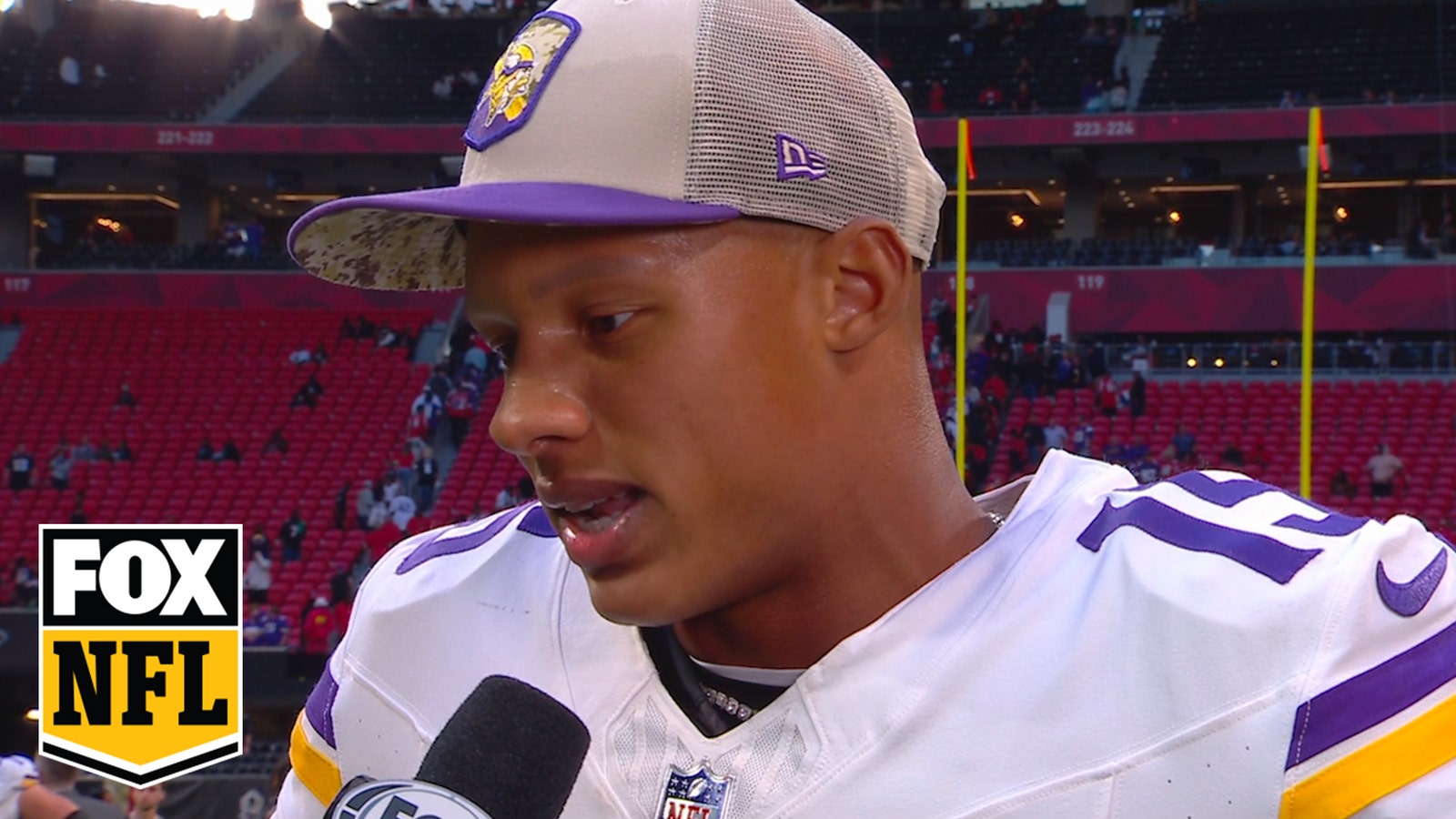 [Want great stories delivered right to your inbox? Create or log in to your FOX Sports account, follow leagues, teams and players to receive a personalized newsletter daily.]
This was a relief win for Dobbs, coming off the bench, and when Taylor Heinicke's Hail Mary dropped incomplete as time expired, that was the way Dobbs felt about an amazing debut with a team he'd joined only four days earlier.
"Relief, that's probably the biggest thing," Dobbs said. "But then excitement. Excitement to get a team win, given the circumstances. And excitement for the future. I'm excited to see how we continue to build on this. We've got a home game next week in Minnesota, so we enjoy it, and then cheers for the next one."
The Vikings are still chasing the Lions, and will host another 5-4 team in the Saints next week, but O'Connell gave every player in the locker room a game ball, especially his new quarterback.
"I would not discount Josh Dobbs and his ability to come in and do something I don't think many quarterbacks in our league can do," he said. "We asked a lot of him, and had spectacular performances around him, but this is a win that hopefully we can build on."
Greg Auman is FOX Sports' NFC South reporter, covering the Buccaneers, Falcons, Panthers and Saints. He is in his 10th season covering the Bucs and the NFL full-time, having spent time at the Tampa Bay Times and The Athletic. You can follow him on Twitter at @gregauman.
---
NFL trending



2023 NFL Defense Rankings: Team Pass and Rush Stats

Bears, Montez Sweat agree to 4-year, $105M extension

Cowboys-Eagles preview: Analysis, predictions on the weekend's best NFL game




Jets QB Aaron Rodgers at Breeders' Cup: 'The goal for me is to come back this year'

'Bear Bets': The Group Chat's favorite bets for Cowboys-Eagles, Dolphins-Chiefs

Kansas City Chiefs vs. Miami Dolphins: Prediction, odds, picks




Chiefs' Travis Kelce: We have 'every piece' to be great

NFL Week 9 odds, predictions, best bets, including Chiefs, Bengals to win big

2023 Top 10 NFL quarterbacks: Ranking the best QBs after Patrick Mahomes
---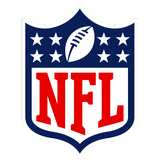 Get more from National Football League Follow your favorites to get information about games, news and more
---