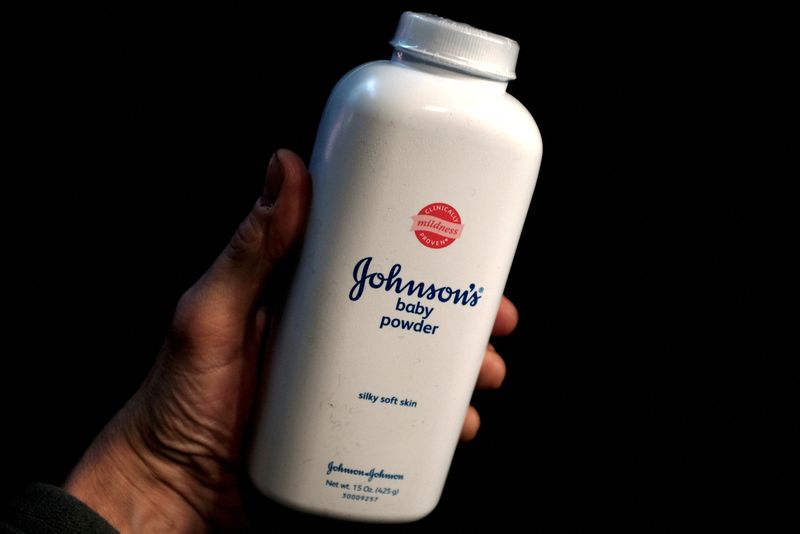 © Reuters. FILE PHOTO: A bottle of Johnson and Johnson Baby Powder is seen in a photo illustration taken in New York, February 24, 2016. REUTERS/Mike Segar/Illustration/File Photo
By Brendan Pierson
(Reuters) – Lawyers for a California man who says he developed a rare cancer from exposure to asbestos in Johnson & Johnson (NYSE:)'s talc-based baby powder on Monday urged a jury to order the company to pay heavy punitive damages, calling its conduct negligent and "despicable."
"A reasonably careful corporation would not sell a product that allowed carcinogens to be applied to babies," Joseph Satterley, a lawyer for Emory Hernandez Valadez, said in a closing argument at the end of a six-week trial in Alameda County Superior Court in California.
J&J has consistently denied that its now-discontinued talc baby powder contains asbestos or causes cancer.
Satterley asked jurors to award Hernandez punitive damages about nine times greater than so-called compensatory damages, which include $3.8 million for his medical costs as well as damages for pain and suffering. Satterley said the pain and suffering damages should be much larger than the medical costs.
The U.S. Supreme Court has found that punitive damages should generally be no more than nine times compensatory damages, and that a higher ratio can be reduced on appeal as excessive.
J&J's lawyers told the jury Monday that there was no evidence presented at the trial linking Hernandez's cancer to talc, and that the company had always gone out of its way to test its talc and ensure its safety.
"What is remarkable from a party that has the burden of proof is that they didn't test any bottle (he) claims to have used" for asbestos, attorney Allison Brown said.
When the plaintiff's doctors looked for asbestos in his body, she said, "they found none – not one fiber of asbestos."
The jury is expected to begin deliberating Tuesday.
Hernandez, 24, said in his lawsuit that he developed mesothelioma in the tissue around his heart as a result of exposure to J&J's talc products beginning when he was a baby.
Tens of thousands of plaintiffs have sued, alleging that J&J's baby powder and other talc products sometimes contained asbestos and caused ovarian cancer and mesothelioma. J&J has said its talc products are safe and do not contain asbestos, which has been linked to mesothelioma.
J&J subsidiary LTL Management in April filed for bankruptcy in Trenton, New Jersey, proposing to pay $8.9 billion to settle more than 38,000 lawsuits and prevent new cases from coming forward. It was the company's second attempt to resolve talc claims in bankruptcy, after a federal appeals court rejected an earlier bid.
Most litigation has been halted during bankruptcy proceedings, but U.S. Chief Bankruptcy Judge Michael Kaplan, who is overseeing LTL's Chapter 11, let Hernandez's trial proceed because he is expected to live only a short time.
Asbestos plaintiffs are seeking to have LTL's latest bankruptcy filing dismissed. They have argued the filing was brought in bad faith to insulate the company from litigation.
J&J and LTL have argued that bankruptcy delivers settlement payouts to plaintiffs more fairly, efficiently and equitably than trial courts, which they have likened to a "lottery" in which some litigants get large awards and others nothing.
J&J said in bankruptcy court filings that the costs of its talc-related verdicts, settlements and legal fees have reached about $4.5 billion.