Joel Klatt
College Football Analyst
We are now four weeks into the 2023 college football season and there are a number of teams that I consider to be "above-the-line" teams, or in other words … legitimate national championship contenders.
First off, this is great for the sport of college football. There have been years in the past where at the end of September, I felt like there were two or maybe three teams that actually had what it takes to compete for a national title. This year, it's way more than that, and I am here for it.
The reason there is more parity this year is a combination of more teams being good and fewer teams being great. And ultimately, that makes for a more entertaining season and finish to the year.
With that said, I am going to take a look at the teams that I believe are "above the line," and others that fall just "below the line."
Above the line
Georgia Bulldogs
This is the most obvious one, not because I think they're a great team this year, but it's obvious. Georgia is the most obvious team because it's going to be the toughest out in the country. This is a team that, from a roster standpoint, is as good as any out there. Kirby Smart's team has the ability to continue to get better the entire season because they are not going to be tested. This team isn't going to be required to be at its best until possibly the SEC Championship Game. Even then, this is probably the easiest SEC Championship Game to win in the last decade, at least at this point in the year. This seems to be a very top-heavy conference with Georgia at the top. My question to you would be: Are there any other teams in the SEC that are above the line?
Washington Huskies
I was higher than most on Washington to begin the season and I continue to be higher than most on Washington now. The Huskies are the scariest team in the country for everyone else. This team is easily one of the two or three best teams in the country. They've got a quarterback that would get my Heisman Trophy vote right now. Michael Penix Jr. has been the best player in college football. Not a lot of people have been watching because they haven't had great opponents, but the opponents they have faced, they have destroyed. They have the best passing game in college football.
I'm very proud of the fact that before the season began, I was on this train. Washington's incredible. When you look at the game logs, you'll notice that when Penix leaves the game, the Huskies have leads like 52-12, 41-0, 49-19 and 36-10. Penix has thrown 10 passes in the fourth quarter because Washington doesn't need him to play.
Washington's housing everyone, and who can score with the Huskies? Maybe USC or Texas. I don't know about anyone else.
Kalen DeBoer is also an underrated coach. He's gone 94-11 in his career as a college head coach with prior stops at Sioux Falls and Fresno State. He knows what he's doing, and it's why people are sorely mistaken if they don't think Washington is for real.
Texas Longhorns
Texas is an obvious one for me, but it's not because of what the quarterback has done or what the Longhorns did at Alabama, which helps. It's not just because of Steve Sarkisian and the way he calls plays, although that helps. It's not just Xavier Worthy and some of the talent this team has on the positions on the outside, although that helps.
Do you know why Texas is real? It's because they are real at the line of scrimmage. The Longhorns' defense is consistent and consistently good. Texas can run the ball. They went out against Alabama, which I think has a really good defense, and ended the game in the last seven minutes. That's what makes Texas real. This reminds me of the 2004 and 2005 Texas teams more than what we've seen in the last decade.
Michigan Wolverines
Michigan is an obvious one, too. While the Wolverines might not have the top-end talent that other above-the-line teams have, they do have one of the deepest rosters in college football when it comes to blue-chip players. Rinse and repeat what I just said about Texas and apply it to Michigan's play at the line of scrimmage. This team is a boa constrictor. It might not always be pretty, and sometimes it's a little bit slow. But once it wraps itself around you, it's over. Michigan is totally comfortable with being in tied games in the third quarter because this team knows that eventually, it's a wrap. The only time I get nervous for Michigan is when the team gets outside of being the boa constrictor. When that happens, they get into a game like they did against TCU, and they start to turn the ball over and get out of their mentality.
Georgia and Michigan land in Joel Klatt's above-the-line teams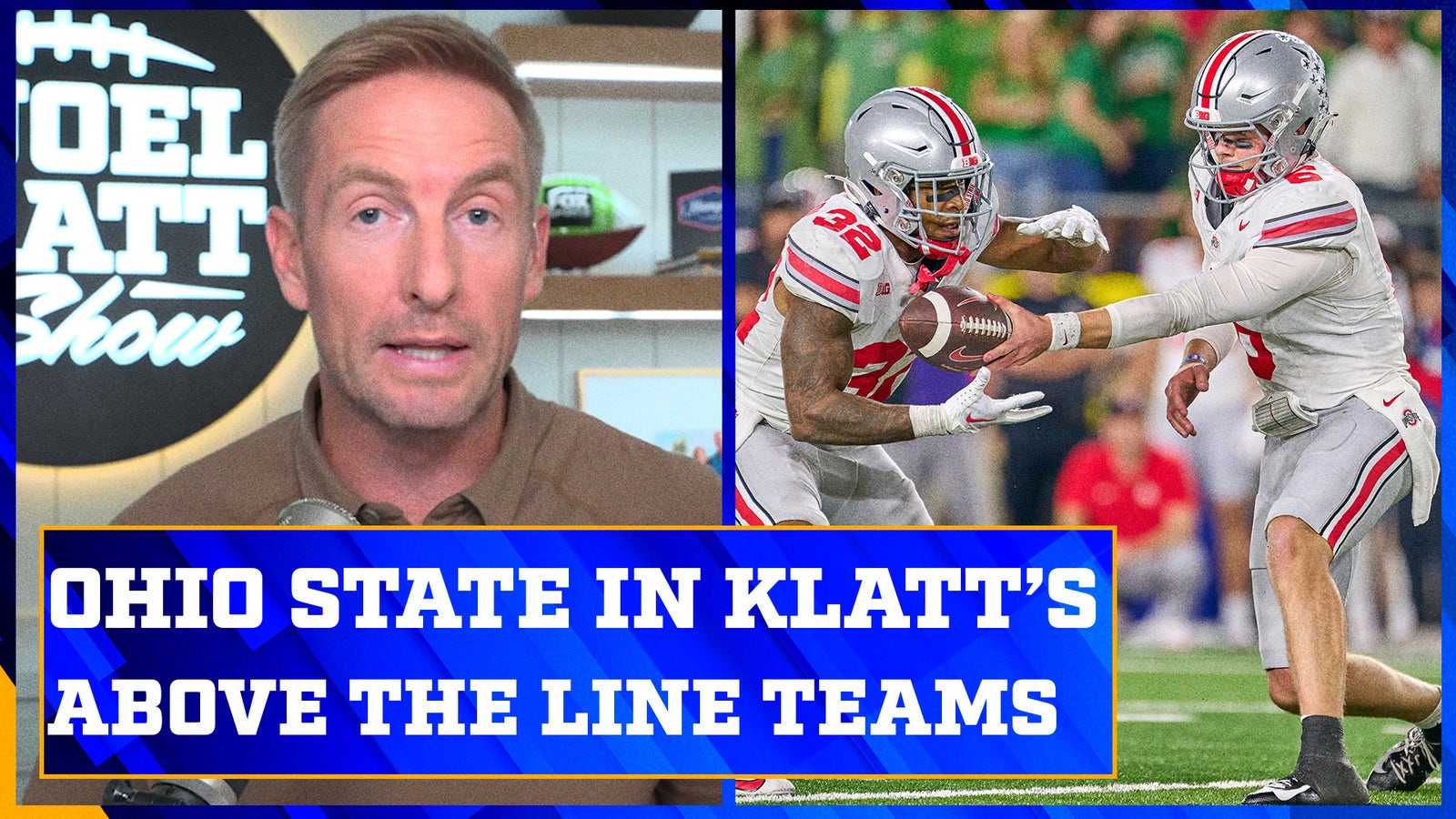 Ohio State Buckeyes
The next obvious above-the-line team is Ohio State, especially after that win at Notre Dame. I feel better about OSU now. I know the Buckeyes have a borderline star at quarterback in Kyle McCord. You don't do what he did in the last 1:26 in that game unless if you're an absolute dude. He made some great throws. You can question Notre Dame all you want for its end of game strategy, but Ohio State still had to make plays and McCord made them. He made some incredible throws.
Ohio State's toughness was tested, too. The Buckeyes played a team that tried to use the Michigan blueprint in their home stadium, in an electric environment, and with a quarterback that made his 50th college career start. Doesn't that give it a lot of confidence going forward?
Oregon Ducks
Oregon almost made it into that top tier. I can't find a lot of faults with this team. I think the reason I didn't move them into the top tier is because of my confidence in Washington and the tough nature of the Pac-12. I don't know if the Pac-12 can get two teams into the playoff. It's nothing to do with Oregon. I love Oregon. Dan Lanning believes in his team, and that should tell all of us something because Dan Lanning knows what success looks like. He helped build Georgia, which is the standard in college football.
This is an improved defense from a year ago, and this team has great speed. Yes, it takes great defense and great play at the line of scrimmage to win national championships, but having elite speed makes it hard on opposing teams. They have a great QB, and they can run the football. I love Oregon.
Penn State Nittany Lions
I love Penn State. It's a real national championship contender. Every week that goes by, Drew Allar gets more confidence, their defense continues to play with more length, athleticism and aggressiveness, and their run game gets better and more physical. That's a really good team. The only reason why this team isn't in the "obvious" category is because we haven't seen them play at the same level of Michigan and Ohio State over the last couple of years. They will have to do that to win their own division.
So, the same thing that applied to Oregon applies to Penn State. There's just a little bit more of a question mark because of who they have left on their schedule. I think Penn State is much more suited to match up with Ohio State than it is with Michigan. The team's size upfront, or lack thereof, would worry me a little bit when facing Michigan.
USC Trojans
USC is real. While Michael Penix has played better than any quarterback in the country this season, the best player is still Caleb Williams. He's done nothing to disappoint this year. He's been absolutely flawless so far. He's been able to control and manipulate the game with his feet, eyes and mind while throwing accurately down the field from the pocket. So, USC is set there.
Defensively, USC ranks third in the country in sacks. The Trojans gave up some yards against Arizona State last week, but USC is doing things better than it did a year ago defensively. Remember, this team lived on turnovers last year. The Trojans have still gotten turnovers this season, but it's different because they have been able to generate pressure. That pressure is sustainable because this unit has been able to do it without blitzing. USC ranks in the top 10 in the country in pressure rate and No. 1 in quarterback pressure rate.
Utah Utes
You can tell me all you want about Utah barely beating UCLA, that it's a defensive-oriented team and it can't score a lot of points, but Utah is 4-0 without its starting quarterback and the majority of its defensive line out, beating Florida as well to start the season. Not many teams could do that. Utah is just better, and it's going to get better and better once it gets healthy. So, right now, does Utah have a top end that suggests it's a national championship team? Maybe not. But it's still above the line. Utah's defense was incredible on Saturday against UCLA, too. This team went out there and slammed the door shut with their pass rush late in that game.
Florida State Seminoles
Florida State has earned being in this spot. The Seminoles have a résumé that can be categorized as one of, if not the most impressive in college football. But it's a little bit more résumé than substance, which is fine, FSU can continue to get better. I think FSU is a legitimate title contender. So, this might feel like a slight, but it's not. You have to evaluate with some level of realism that FSU was outgained by 100 yards against Boston College recently and escaped with a win. FSU was also outgained by 100 yards against Clemson and it escaped with a win. So, while its résumé is really good, there are some caution lights.
I love Keon Coleman and Jordan Travis is playing really good football. But we still have to see if Florida State can turn those caution lights off.
Below the line
Notre Dame Fighting Irish
Notre Dame was my first team out of the "above-the-line" group, but I had to draw the line in front of it. As positively as I feel about Notre Dame coming out of the game against Ohio State, it had that game right there for the taking, and it still lost. All of the ghosts are still there for Notre Dame. They still haven't done it. They still haven't beaten Ohio State since the 1930s. You had an inexperienced quarterback on the other side, its best player was hobbled, and you had a four-point lead with 1:26 left in front of your home crowd. You had it all. You've got to win the game.
Oklahoma Sooners
I was impressed with Oklahoma when I called the Sooners game on Saturday. It was my next team in consideration for the top 10. The Sooners' defense has been excellent so far this year, and that was a major question for them entering the season. Oklahoma gave up over 30 points and 450 yards per game last season. While the stats say its defense is much-improved, we still have to see this team go up against better competition. I still don't feel like Oklahoma has played a great offense yet, and I felt during that game on Saturday that Cincinnati was a couple of mistakes away from having the lead.
I like what the Sooners do offensively. Their wide receivers are their best players. Their offensive line has to get better though in the run game. They also need to find a running back to emerge as their guy in order to allow the run game to reach its potential. I don't think Dillon Gabriel has the highest ceiling in the world. I like him, and he gets the ball out quickly, but he needs to show me he can attack downfield with those weapons he has on the outside with more efficiency.
Alabama Crimson Tide
Alabama is a really good football team. It's like that prospect in the NFL Draft that might not have a high ceiling, but has a really high floor. That's what kind of team this is. It's not a top-end team this year. Nick Saban's team is still really good and will probably play for the SEC Championship. While it has a path, I don't think Alabama is legitimate.
I think, in order to beat some of the above-the-line teams, you might need to score 24 or 28 points. Heck, you might need 35 points to beat Washington. Do you trust Alabama to score 35 points against anybody? I don't with what it has at quarterback.
Notre Dame and Alabama land in Joel Klatt's below-the-line teams
LSU Tigers
I mostly considered LSU because other people are. LSU is not on the level though of other teams. In fact, LSU is the fly in the ointment. Why are people not realizing that Florida State has some flaws? It's because of what they thought about LSU coming into the year. You see, we forgot about LSU and what it was a year ago. The Alabama game was an anomaly. LSU only beat Arkansas by three last year. LSU only beat Auburn by four. They were housed by Georgia, Texas A&M and Tennessee. I ranked LSU in the top 10 entering the season. I thought it meant FSU was really good when it beat LSU. But does it? This team almost lost to Arkansas and I don't love their defensive game plan.
LSU is clearly below the line for me, and LSU is the reason why I think Alabama still has a chance to reach the CFP.
Washington State Cougars
Watch out for Washington State. If there was a team that I would say, "I reserve the right to change where the line goes later," it'd be for Washington State. I think it's the new TCU. Cam Ward is the new Max Duggan. This team is going to win a lot of tight ballgames because their quarterback is really good and experienced. They have a true "us against the world" mentality that was born from being left out of realignment. Their coach constantly talks about it. They also have enough talent on the outside to scare you. Washington State might be in a tough conference, but it has the ability to win close games.
How long will it last? I'm not sure, but we asked the same question about TCU last year, and look how that turned out.
Joel Klatt is FOX Sports' lead college football game analyst and the host of the podcast "The Joel Klatt Show." Follow him on Twitter at @joelklatt and subscribe to the "Joel Klatt Show" on YouTube.
---
COLLEGE FOOTBALL trending
---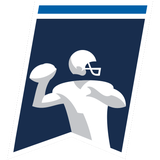 Get more from College Football Follow your favorites to get information about games, news and more
---