Las Vegas unions end strike threat after reaching labor deal with Wynn Resorts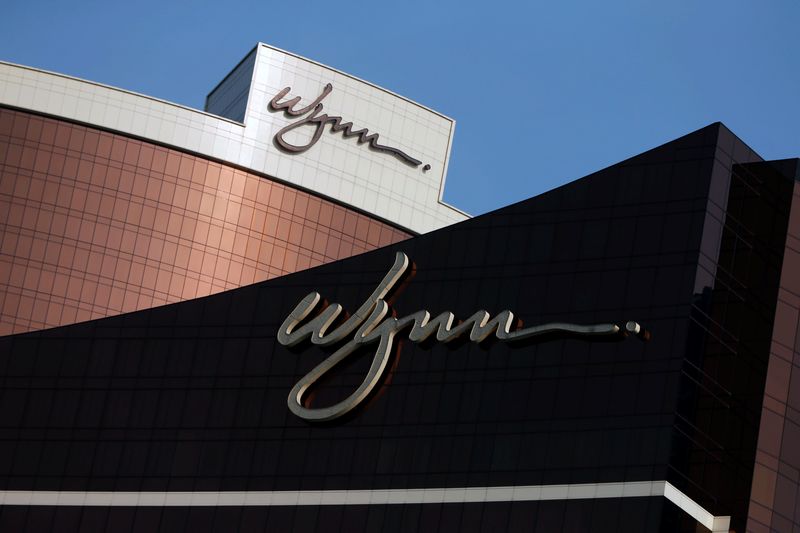 © Reuters. FILE PHOTO: Company logos are displayed at Wynn Macau resort in Macau, China February 8, 2018. REUTERS/Bobby Yip
By Shivansh Tiwary
(Reuters) -Hospitality workers in Las Vegas reached a tentative labor deal with Wynn Resorts (O:), their union said on Friday, ending the threat of a strike against major casino operators that could have crippled tourist operations in the city.
The new five-year agreement covers 5,000 employees at Wynn and follows similar deals with rivals Caesars (NASDAQ:) Entertainment and MGM Resorts (NYSE:) International reached earlier this week that covered about 30,000 workers on the Strip.
The tentative deal marks the end of drawn-out negotiations between the unions and casino operators, averting the threat of a disruption to popular events expected to draw thousands of visitors to the tourist-driven economy of Las Vegas.
The deal follows a series of successful labor actions in the automotive and entertainment industries, as workers sought to boost wages at a time when many companies have enjoyed strong sales. Casino resort operators in Las Vegas have been earning record profits from a steady post-pandemic recovery in tourism.
Auto workers ended a strike against the Detroit Three carmakers last week, while Hollywood actors reached a deal earlier this week with studios as well.
Financial details of the Wynn agreement were not immediately available, but the Las Vegas unions, considered among the most powerful in the United States, said they had secured the largest wage increases ever negotiated in their history.
The agreement also reduces workload, lessens steep housekeeping room quotas and extends recall rights for workers, providing them with the option to return to their jobs in the event of another pandemic or economic crisis for up to three years.
The city will be hosting the Formula 1 Las Vegas Grand Prix this month and the 58th Super Bowl, which is scheduled to take place in February 2024.
Visits to the city in September were 4% lower than in the same period in 2019, according to data from the Las Vegas Convention and Visitors Authority. Room rates, however, have surged more than 47%.
"We are very pleased that we were able to reach an agreement," Wynn said in a Friday statement, adding that it was looking forward to a ratification of its tentative agreement soon.