Michael Cohen
College Football and College Basketball Writer
UNIVERSITY PARK, Pa. — It was a few minutes after the final kneel down by Michigan quarterback J.J. McCarthy when the chant began to reverberate around the metallic, scaffolded underbelly of Beaver Stadium: "Chea-ters! Chea-ters! Chea-ters!" Directed at the Wolverines, who remain embroiled in a cheating scandal resulting from the alleged sign-stealing activities of former analyst Connor Stalions, the words bounced off the concourse and echoed off the walls, chasing the visiting fans donning maize and blue into the chilly November night.
Soon enough, however, the words began to soften and the sounds began to fade. For, rather than continuing to swell in intensity and vigor, the pointed jeer promptly fizzled just a few seconds after it was originally uttered. The contingent of Penn State faithful wasn't large enough to keep the taunt afloat.
A 30-yard touchdown run by tailback Blake Corum with 4:15 remaining had roused swaths of the 110,856 fans in attendance and nudged them toward the exits on an afternoon they hoped would unfold differently, though it never really does with James Franklin at the helm. In front of them was the No. 3 team in the College Football Playoff rankings playing without its beloved head coach, a group of players harrowed and harangued for the better part of a month as details of Stalions' scheme seeped into the national spotlight. It was fair to wonder if the Big Ten's suspension of Jim Harbaugh on Friday afternoon might be the straw that broke the Wolverines' back in a season when the program's patriarch already served a self-imposed three-game ban.
But acquiescing to public pressure and flinching betwixt the crosshairs has never been Harbaugh's style, and the message he delivered to his team on Friday night dripped with an expected level of resolve. He told his players to play angry, told them to play with fire. He told them to play for Michigan after several weeks that had felt like the Wolverines against the world. And even though his own fate had yet to be decided — the final decision on Michigan's pursuit of a temporary restraining order wouldn't be handed down until the following morning — Harbaugh told them to play the way they've played all season.
"He had a great message for us last night along the lines of, 'No matter what happens, go out there and do you guys,'" McCarthy said.
Tinged with defiance and triggered by perceived injustice, Michigan unleashed the kind of beating that surely made its old-school head coach proud. It wasn't just that his team remained unbeaten with a 24-15 win over Penn State that ensures the Wolverines control their own destiny in the Big Ten East. Nor was it the impassioned speech from acting coach Sherrone Moore during a nationally televised postgame interview that brought tears to the offensive coordinator's face.
Rather, it was the manner in which Michigan dismantled the nation's No. 2 run defense that likely brought the biggest smile to Harbaugh's face, with 46 unrelenting carries producing 227 yards and all of the team's touchdowns. Closing the game with 32 consecutive running plays felt like the perfect Jim Harbaugh homage.
'We did this for you' – Michigan acting HC Sherrone Moore was emotional after win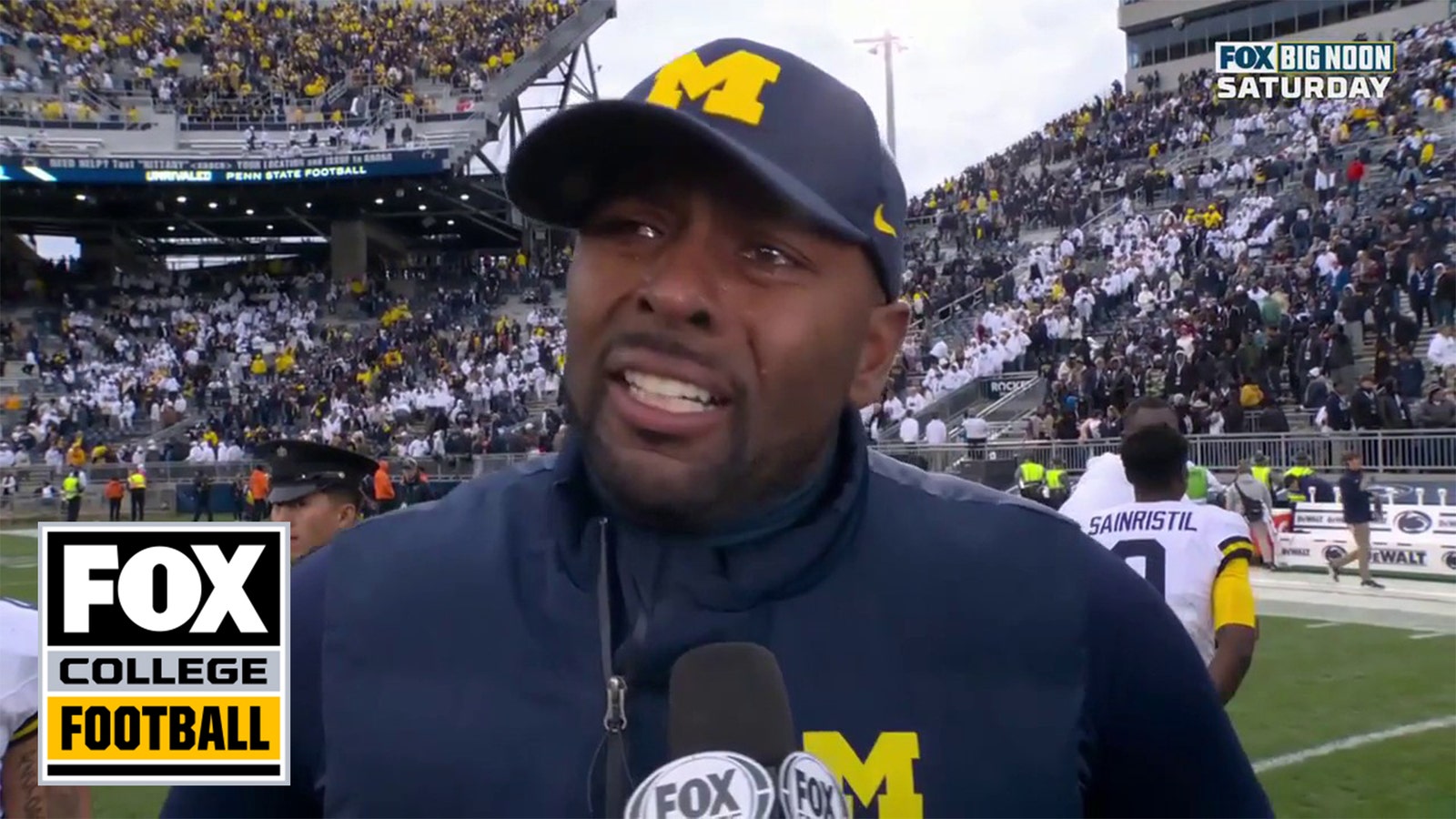 "Obviously we wanted Coach Harbaugh to be here," said Corum, who arrived at the postgame news conference with blood splattered across his face after carrying 26 times for 145 yards and two scores. "But we did it for him today, you know? We did it for him. And we've been going through a lot lately, you know what I'm saying? But it's only brought us closer together, you know? I love my brothers."
Corum and his brothers awoke on Saturday morning uncertain whether Harbaugh would be their coach, and they bused to Beaver Stadium while their leader remained in the team hotel. Players took the field for early warmups wearing hats that read "Michigan vs. Everybody" in a show of solidarity. Staffers and assistant coaches checked their phones for updates about Harbaugh's status. Reporters tracked every move athletic director Warde Manuel made.
Michigan takes care of Penn State in 24-15 win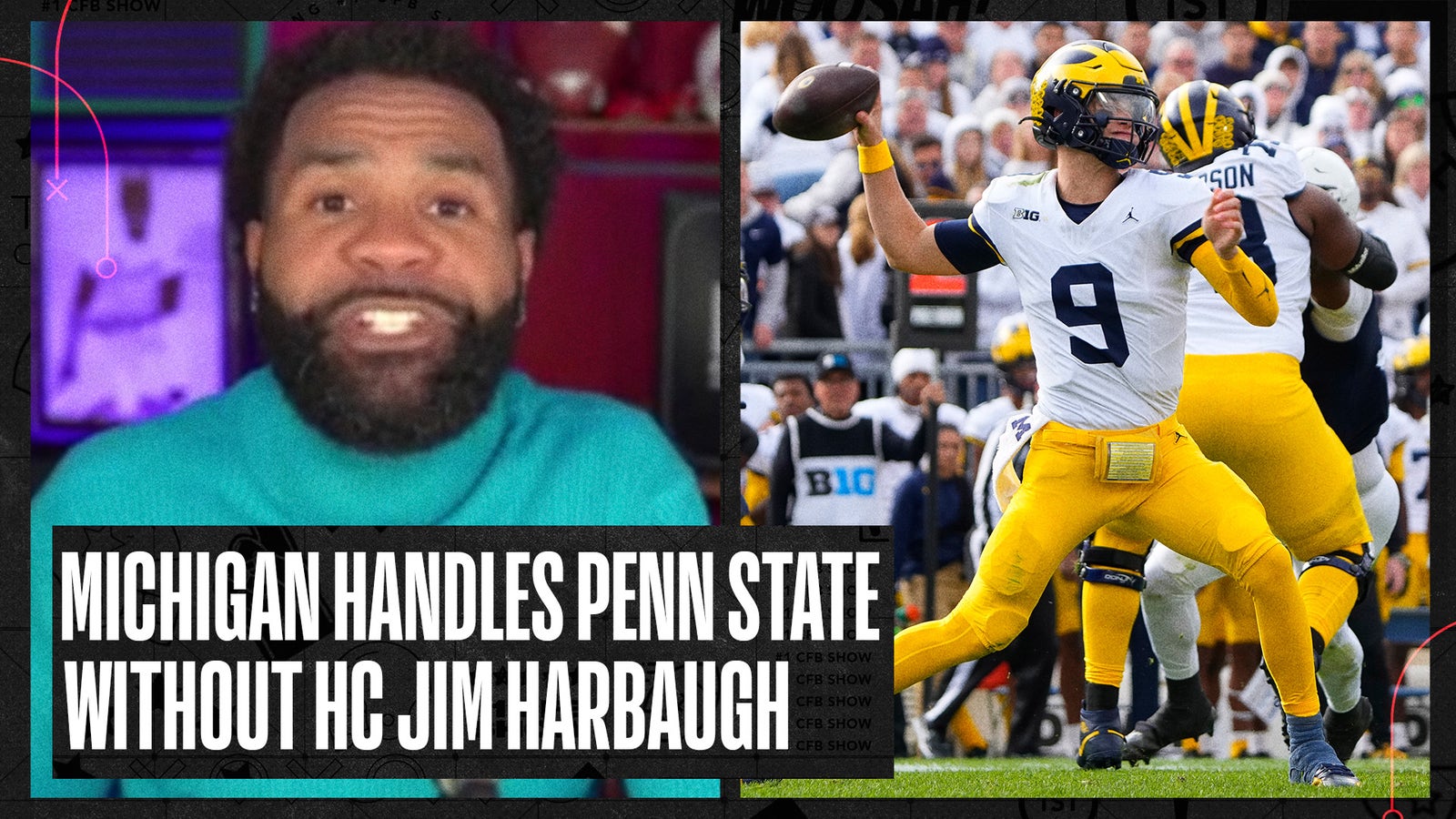 With Harbaugh and the university's Board of Regents listed as plaintiffs, the school responded to the Big Ten's suspension by seeking a temporary restraining order that would stave off the punishment for at least a few more days. Michigan argued that suspending Harbaugh before the NCAA investigation concluded and fewer than 24 hours before kickoff against Penn State could cause irreparable harm to the players, the school and the individual himself. They made it known that forcing the Wolverines to complete the regular season without a head coach might drastically affect the program's chances of winning a national championship. Denials of Stalions' actions were swapped for more emotional appeals.
"I saw this quote the other day on Instagram that said, 'The mindset you choose when adversity hits is the determining factor if you win or lose,'" McCarthy said. "And I feel like with this outside adversity, this team has this one-track mindset that we've been developing for almost two years now, and especially this past offseason. So I just feel like anything that comes at this team, we're going to be ready for it and we're going to use it to our advantage."
No. 3 Michigan vs. No. 10 Penn State highlights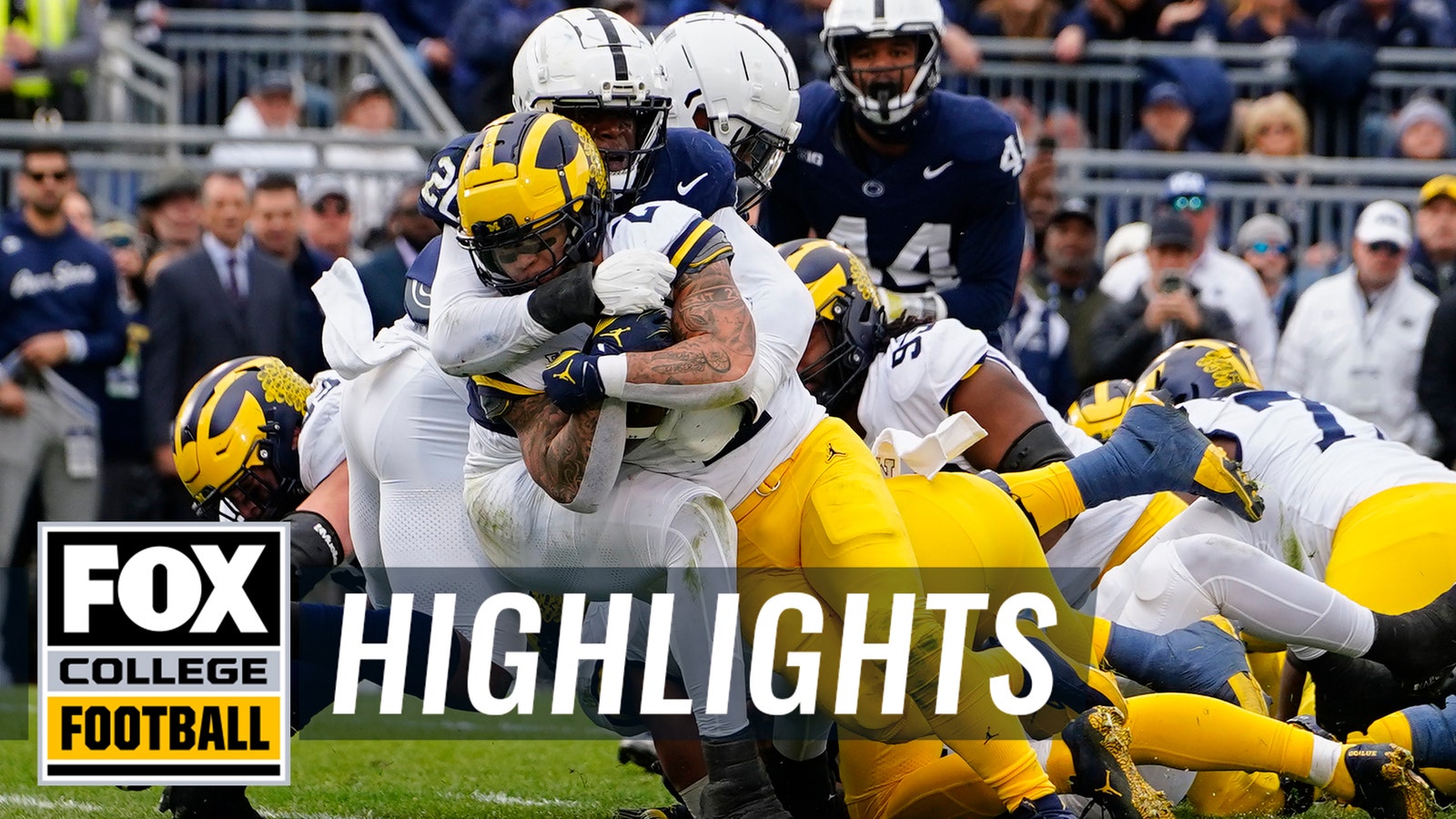 It was the only option they had once word reached Beaver Stadium that the circuit court declined to make a ruling, opting instead to schedule an in-person hearing for Nov. 17. That left Harbaugh and his family to watch from the team hotel. And it left Moore, who spent a game as acting head coach during Harbaugh's first suspension of the season, to run the show with help from defensive coordinator Jesse Minter and running backs coach Mike Hart. One team source said the court's decision didn't faze anyone because at this point, amid multiple NCAA investigations and the constant drama that perpetually swirls around Harbaugh, "We're so used to chaos."
So used to it, in fact, that nothing the second-largest crowd in the history of Beaver Stadium could do or say came close to rattling the Wolverines, who navigated the afternoon without a turnover. So used to it that none of the midweek mind games from defensive coordinator Manny Diaz, who mocked the notion of sign stealing in a playful social media post, seemed to bother a Michigan offense that averaged 5.3 yards per play and finished with a 46% conversion rate against one of the best defenses in college football. So used to it that chants describing Harbaugh and his players as cheaters simply faded into the night after yet another commanding win.
"There's a target on our back right now," left guard Trevor Keegan said, "and we love that s—."
Michael Cohen covers college football and basketball for FOX Sports with an emphasis on the Big Ten. Follow him on Twitter @Michael_Cohen13.
---
COLLEGE FOOTBALL trending
---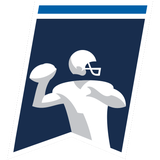 Get more from College Football Follow your favorites to get information about games, news and more
---