NFL midseason review: 14 things we've learned this season, including C.J. Stroud's ascent

Through nine weeks, what have we learned this NFL season? We go through developments ranging from ascending rookie QBs all across the AFC South to prominent teams like the Giants and Bears facing big changes — and the Chiefs becoming a defense-first team.
Let's dive in!
1. Rookie C.J. Stroud is already one of the NFL's best quarterbacks
It's crazy to think that just seven months ago, there were draft pundits so consumed by reports that C.J. Stroud tested poorly on the S2 cognition test that they convinced themselves the former Ohio State star, who'd go No. 2 overall to the Texans, wouldn't live up to the hype as a top draft pick.
Not only is Stroud on pace to have one of the best rookie quarterback seasons ever, but he already looks like one of the NFL's best signal-callers, regardless of experience. I think his performance Sunday to lead his Texans to a thrilling victory over the Buccaneers — 470 passing yards, a single-game NFL record for a rookie, and a career-high five touchdowns plus a game-winning drive in a contest that saw five lead changes — cemented that status. In just eight games, we've seen that he's the rare breed of quarterback who can put a team on his shoulders.
[Arthur: C.J. Stroud's historic performance propels Texans past Bucs]
Stroud ranks first among qualified quarterbacks in interception rate, third in yards per attempt, fourth in passer rating, seventh in EPA per dropback and seventh in passing yards and touchdowns. All the more impressive is that he's doing this with what on paper looks like a relatively average supporting cast (that's been playing fantastic football). How much better does Stroud start to look when Houston adds another game-breaking wide receiver? Or establishes a competent run game?
The Texans were desperate for a franchise quarterback after the trade (and fall from grace) of Deshaun Watson. They found one relatively quickly in Stroud, who has the talent to keep Houston in contention for a decade-plus. —Ben Arthur
Is Houston Texans' CJ Stroud already making a case for himself as a top-10 NFL QB?
2. Bears are no closer to their ever-important evaluation of Justin Fields
Justin Fields practiced for the first time in three weeks prior to the Bears' game against the Saints in New Orleans on Sunday, but he didn't play in the game. Undrafted free agent Tyson Bagent made his third straight start instead. Fields suffered a dislocated thumb in Chicago's Week 6 loss to Minnesota, halting any momentum he had leading into the game. In a win over the Washington Commanders the previous week, Fields threw for 282 yards and four touchdowns, including three to wide receiver D.J. Moore. The game before that, Fields threw for a career-high 335 yards. Previously, his season high had been 216 yards.
It's been an up-and-down year, to say the least, and while Fields has again shown flashes, he's no closer to being the consistent franchise quarterback Chicago was hoping he would become in Year 3.
Will the Chicago Bears regret trading for Montez Sweat?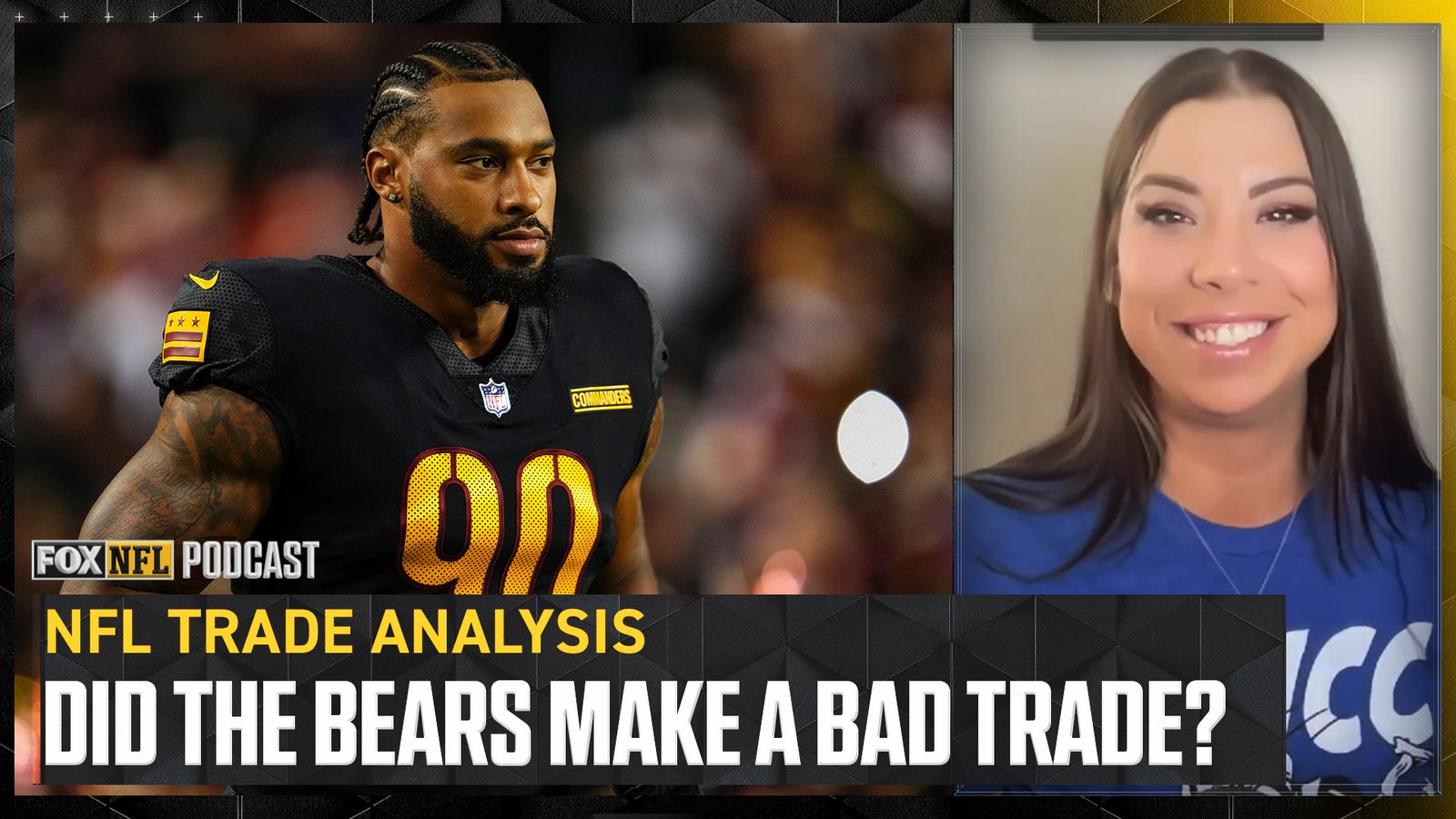 This past offseason, the Bears got rid of Fields' excuses. They beefed up the offensive line. They acquired Moore, who has proven to be a true No. 1 receiver. This would be Fields' second year in offensive coordinator Luke Getsy's system. The foundation had supposedly been laid.
Yet this season, Fields ranks 29th in interception rate. His completion rate ranks 28th among qualified passers. He has benefited from his skill players, Moore in particular, racking up yards after the catch. Fields' average yards after the catch this season ranks third in the NFL with 6.02.
There has been some shuffling yet again on the offensive line. The defense doesn't have a pass rush to speak of and is only recently showing signs of incremental improvement. The coaching staff doesn't seem to know exactly how to exploit Fields' skillset. It's not a good situation, to be sure. But if general manager Ryan Poles and head coach Matt Eberflus are going to attach themselves to a player they didn't bring in, and hold off from using one of potentially two top-five picks on an elite quarterback prospect in the 2024 draft, that player should be able to overcome imperfect circumstances.
Fields hasn't been able to do that. So with the draft capital Chicago will have and the ability to restart the clock on a quarterback contract in the middle of a rebuild, the odds aren't in favor of him sticking around in Chicago. —Carmen Vitali
3. Chiefs boast best defense of Patrick Mahomes' career — and one of the best in the NFL
In a surprise twist this season, Kansas City is winning largely because of its defense, not because the Chiefs have the best player in the NFL in quarterback Patrick Mahomes.
At the midpoint of the season, the Chiefs are No. 2 in the NFL in points allowed per game (15.9), No. 4 in total yards allowed per game (288.2) and tied for eighth with 13 takeaways.
Longtime NFL defensive coordinator Steve Spagnuolo's latest masterpiece was holding the Miami Dolphins — the league's most explosive offense — to zero points in the first half and just 14 total points in a 21-14 Chiefs victory in Frankfurt, Germany.
The last time Kansas City's defense allowed fewer than 20 points a contest was in 2019, when the unit held opponents to 19.3 points a contest.
Mahomes won his first Super Bowl with the Chiefs that season.
While the defense has flourished, Kansas City's offense is averaging just 23.1 points a game, a career low for a Mahomes-led offense. The Chiefs have struggled with drops (13, tied for second in NFL) and turnovers (17, tied for second) this season, but Mahomes expects to turn things around during the second half.
[McKenna: Patrick Mahomes, Chiefs are doing what teams building dynasties do]
"You can see that we can do it. It's just about being consistent on every drive," Mahomes told reporters Sunday. "Obviously, penalties and then me not connecting with guys deep down the field hurt us. But luckily for us, our defense is playing their tail off."
And if the defense continues to play like one of the best units in the NFL, that will make the Chiefs an even tougher out in the postseason. —Eric D. Williams
Chiefs beat Dolphins despite Mahomes being held scoreless in second half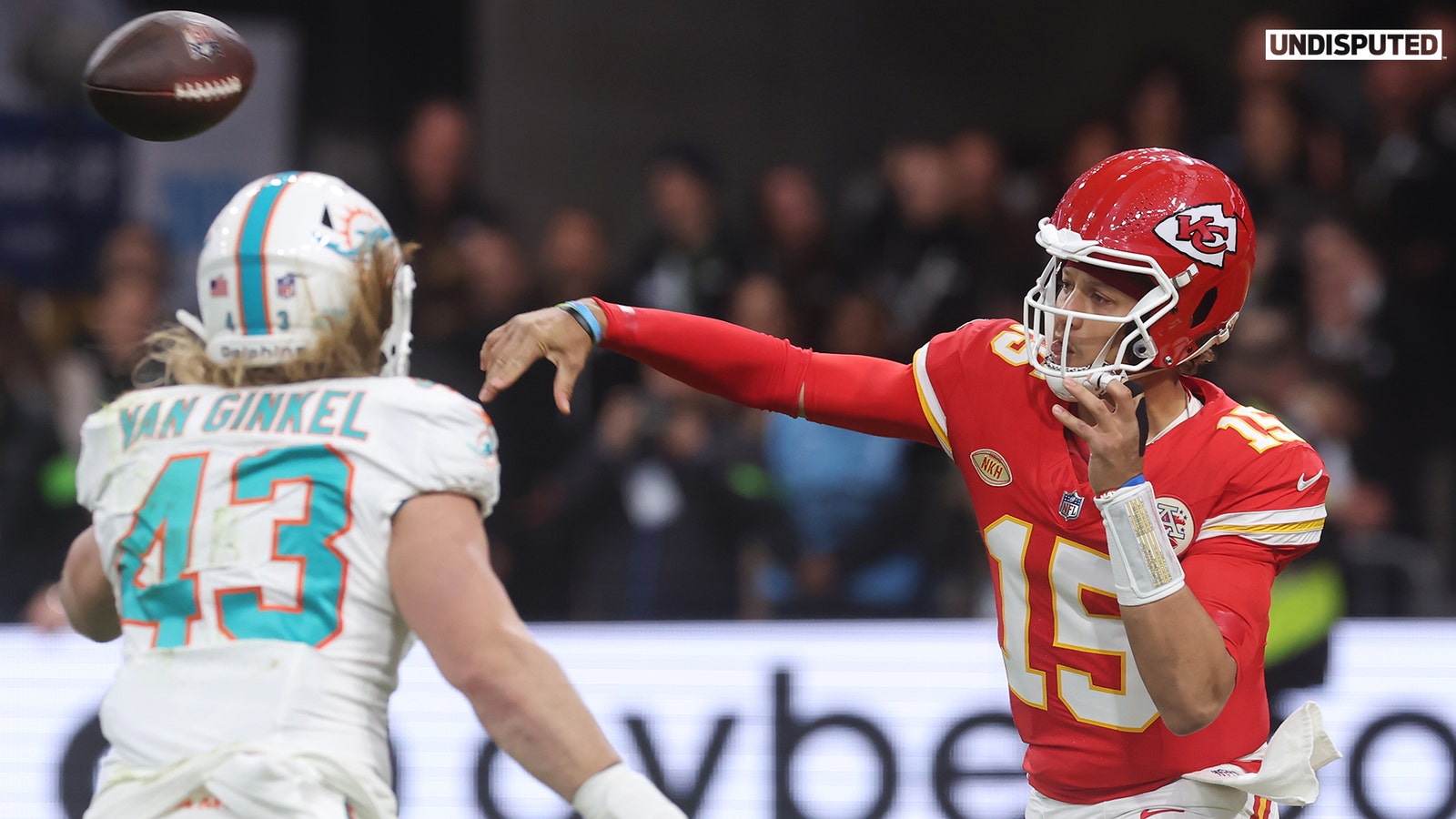 4. Surprise! The Giants are contenders for the top pick and the QB prize that comes with it
It was just eight months ago that John Mara opened his vault for quarterback Daniel Jones and seemed happy to do it. Mara believed Jones was the perfect successor to Eli Manning. And after signing the QB to a four-year, $160 million contract with $81 million in guaranteed money, Mara said, "If we put the pieces around him, there's no limit to how high he can climb."
Jones has played in six games since then. And now it appears the Giants have reached their limit.
When the 26-year-old Jones tore his ACL on Sunday, in his first game back after missing three games with the second neck injury of his career, he might have sealed his fate as a soon-to-be ex-Giants quarterback. As unthinkable as it might have seemed in March, the Giants are now 2-7 and strong contenders for the first overall pick in the 2024 NFL Draft.
With Jones out for the season, they feel like locks to finish in the top two or three. They might not win another game.
And if the Giants do end up at the top of the draft, despite all the money they still owe Jones, there is no doubt they will draft his successor. How could they not? It's not that they don't believe in Jones. They certainly believed in him enough to make a big investment in his future. But even then, they were careful to leave themselves an out in the contract if they wanted to move on after the 2024 season.
It's an expensive out — it would still cost them $22 million in dead money on their salary cap if they cut him. But it was in the deal because Jones still had something to prove, and inside the organization, there was at least some doubt.
Jones didn't alleviate any of that in his six games, in which he threw just two touchdown passes and the Giants offense was generally putrid. It didn't help that his offensive line was terrible (he was sacked 30 times) and Saquon Barkley was injured. But Jones' performance, regardless of the circumstances, wasn't good.
If the Giants unexpectedly have a shot at USC's Caleb Williams or North Carolina's Drake May — two quarterbacks most NFL people believe would be eventual upgrades over Jones — they can't wait around to see if Jones can bounce back next season. His ceiling so far has been mediocrity. And now he is a legitimate injury risk.
So unless undrafted rookie Tommy DeVito can shock the world and lead the Giants to a couple of wins in the final nine games, the Giants are staring at this uncomfortable scenario: They draft Jones' successor and bring Jones back to groom him in 2024, since he is still due $36 million in guaranteed money next season. Then, they cut Jones or trade him and eat whatever's left of the $160 million they gave him.
Maybe they're better off this way. GM Joe Schoen and Brian Daboll would get a quarterback they chose instead of one they inherited, and the Giants would get the flexibility of a quarterback on a rookie deal, starting in 2025 when Jones' money is gone. They'd probably have to take a step back in a rebuilding process they thought would be full-speed ahead by next season. But that's their situation. They can't pass on a chance to upgrade at the NFL's most important position.
And they can't wait around to see if their big investment in Jones will ever pay off. —Ralph Vacchiano
Is Daniel Jones' future with the Giants in jeopardy after torn ACL injury?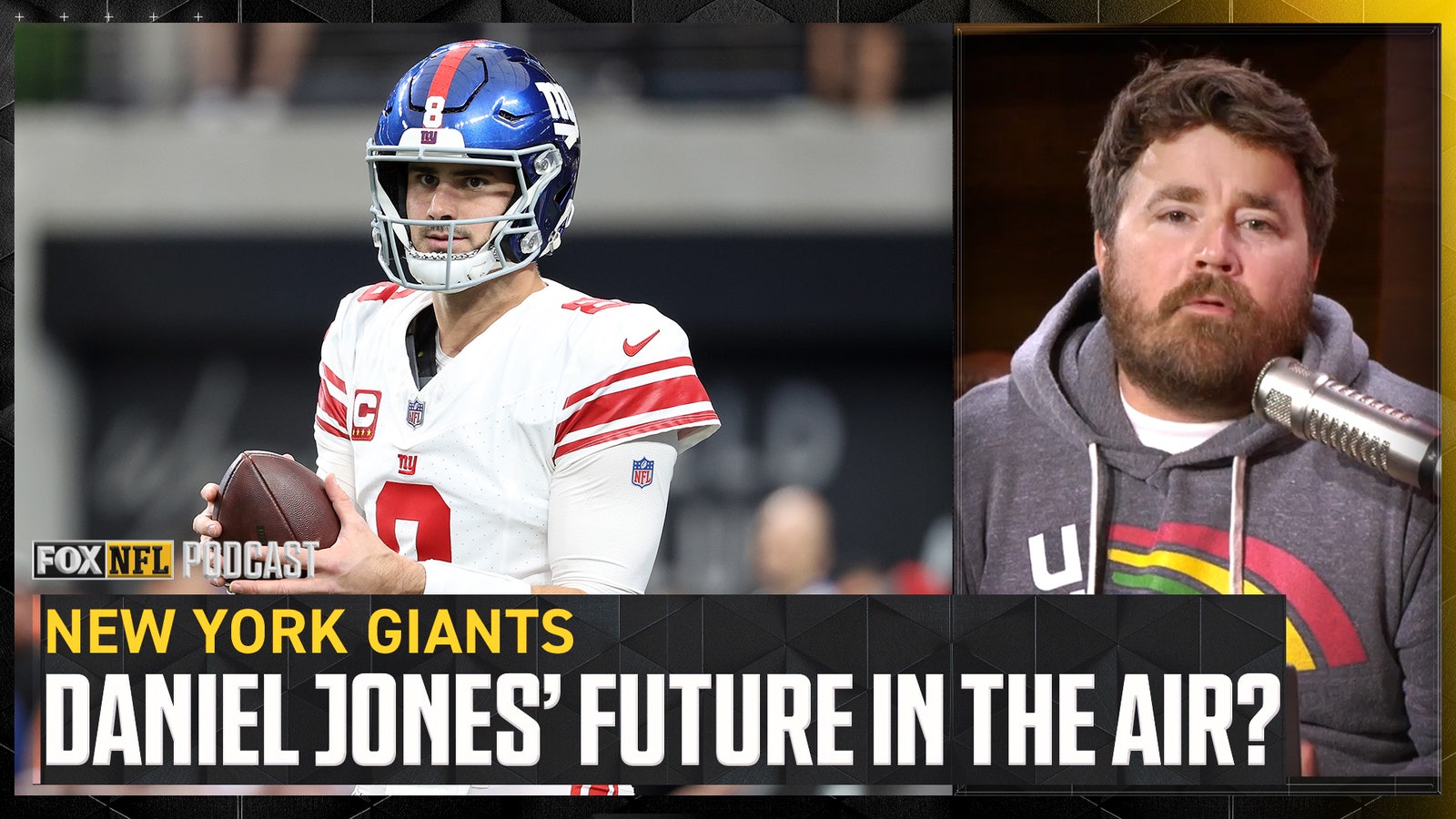 5. Dolphins have pummeled lesser teams — but can't beat good ones
The Miami Dolphins are 6-3. They have spent some time as the top seed in the AFC. But you probably won't find many people picking them to win the Super Bowl.
That's because their three losses are to the Kansas City Chiefs, Philadelphia Eagles and the Buffalo Bills — all playoff teams. Their wins? Miami hasn't beaten a single team that enters the second half with a record over .500. They're 0-3 vs. winning teams. And going back to last season, the Dolphins are on a six-game losing streak against teams with a winning record.
They have a reputation. Frauds. Pretenders. Fakes.
"If you want the narrative to change, change the narrative," Dolphins coach Mike McDaniel said postgame Sunday. "We shouldn't feel entitled to high opinions from the masses. We have to earn that confidence."
OK. But how?
Against the Chiefs in Week 9, the Dolphins did not score on their first six offensive drives, the first time that's happened under McDaniel, per FOX Sports research. The Dolphins punted five times in the first half and seven times total. Entering Sunday, Miami had not punted more than four times in any game this season. It was one of the Dolphins' worst offensive performances this year.
"We've got to continue to stick together and not deviate from that, regardless of what everyone outside is saying, and we've just got to put our head down and keep going," QB Tua Tagovailoa said in a postgame press conference in Germany.
Miami will likely remain atop the NFL in most offensive stats, but it feels strange when that offense has made a habit of disappearing against the best teams. The Dolphins put up 20 points in a blowout loss to Buffalo. They flopped with just 17 points against Philly. They managed just 14 points against the Chiefs.
"If we want to say that we're the No. 1 offense in the league, we've got to be able to make plays when it counts," Tyreek Hill said.
Should Tua Tagovailoa, Dolphins be worried about inability to win vs. playoff teams?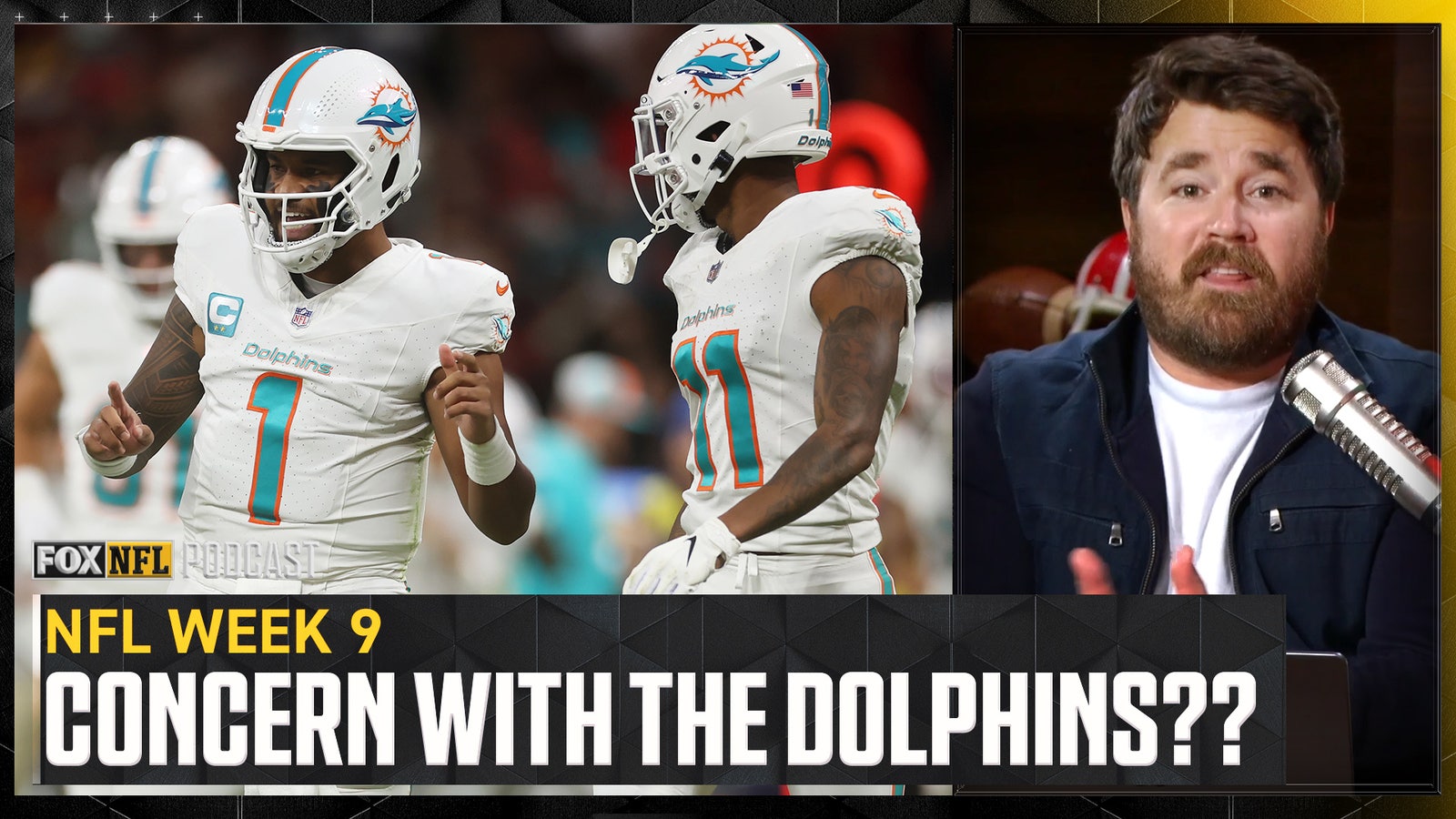 The Dolphins defense is clearly improving. The unit held the Chiefs offense to just two touchdowns and no points in the second half. (Kansas City's defense scored on a fumble recovery to get its point total to 21). It's a good sign for Miami, which saw the Bills and Eagles run up the score. The offense just hasn't been able to match in the biggest games. And given all the hype around the offense, that's been a surprise.
The Dolphins can beat up on lesser teams. But when they try to pick on someone their own size, it hasn't been pretty.
"We'll get to the bottom of it because that's our job," McDaniel said. —Henry McKenna
6. Are the Patriots and Bill Belichick headed for a breakup?
Sunday was a humbling day for the New England Patriots and Bill Belichick. They lost to the Washington Commanders, a team that traded away its two best defensive players at the deadline and signaled its intentions to tank. Even with the Commanders geared toward losing and the Patriots philosophically hell-bent on winning, New England lost.
It's enough to make you cringe.
And if it's not enough to make you cringe, then maybe this next sentence will.
Belichick, a six-time Super Bowl champion, fielded questions about his job security on Monday.
Who'd have thought we'd see this day? But it's here.
Has Belichick been given any assurances from the Patriots' ownership team about his job status?
"My focus is on getting ready for the Colts," he told reporters.
Is he coaching for his job against the Colts?
"I'm going to control what I can control and get ready for the Colts," Belichick said.
How in the world did we get here?
Well, you've probably witnessed some of it. The Patriots have been in a steady decline since the departure of Tom Brady. Under then-rookie quarterback Mac Jones' leadership, New England made the playoffs back in 2021, but in that postseason game, the Bills pummeled the Patriots, which marked a clear shift in the power dynamics in the AFC East.
Since that 10-7 season, the Patriots have finished 8-9 in 2022 and they're 2-7 this year.
Jones is getting worse. He withers in the fourth quarter, in part because he has to overcome drops by his receivers, who seem to do nothing but underachieve. Whether it's skill players or offensive linemen, the talent around Jones has deteriorated, which has rendered new offensive coordinator Bill O'Brien unable to patch together a real offense. And while Belichick has prided himself on finding The Next Man Up, the Patriots have looked incomplete on defense without injured edge Matthew Judon and rookie cornerback Christian Gonzalez.
Belichick has no answers — and no one to blame but himself.
You can bet the Kraft family is beginning to point the finger at Belichick.
This seems like a matter of when — not if — the Patriots move on from Belichick. It has always made sense to wait until the end of the season, with New England trading the coach in exchange for draft picks. Maybe Belichick would simply retire, though that's hard to imagine given that he's in reach of Don Shula's all-time wins record. But by waiting for the offseason, the Patriots and Belichick can engineer a more graceful parting of ways.
But at what point might New England's ownership group simply decide it's time to move on? The Patriots have a head coaching candidate in-house: Jerod Mayo. They could decide to give Mayo a shot at the gig to see if he's the right fit. Then again, Mayo might boost the effort levels and outlook from players — and maybe New England wins more games (pushing the Patriots out of the top five in the draft, where they might get a QB). The Krafts might also want to start anew, with a candidate who has no ties to the Belichick coaching tree.
There's a lot to consider. It's all surely on the mind of Robert Kraft. And so we'll wait for the Patriots to do what feels nearly inevitable: move on from Belichick. —McKenna
Rumors of Patriots HC Bill Belichick to Washington Commanders?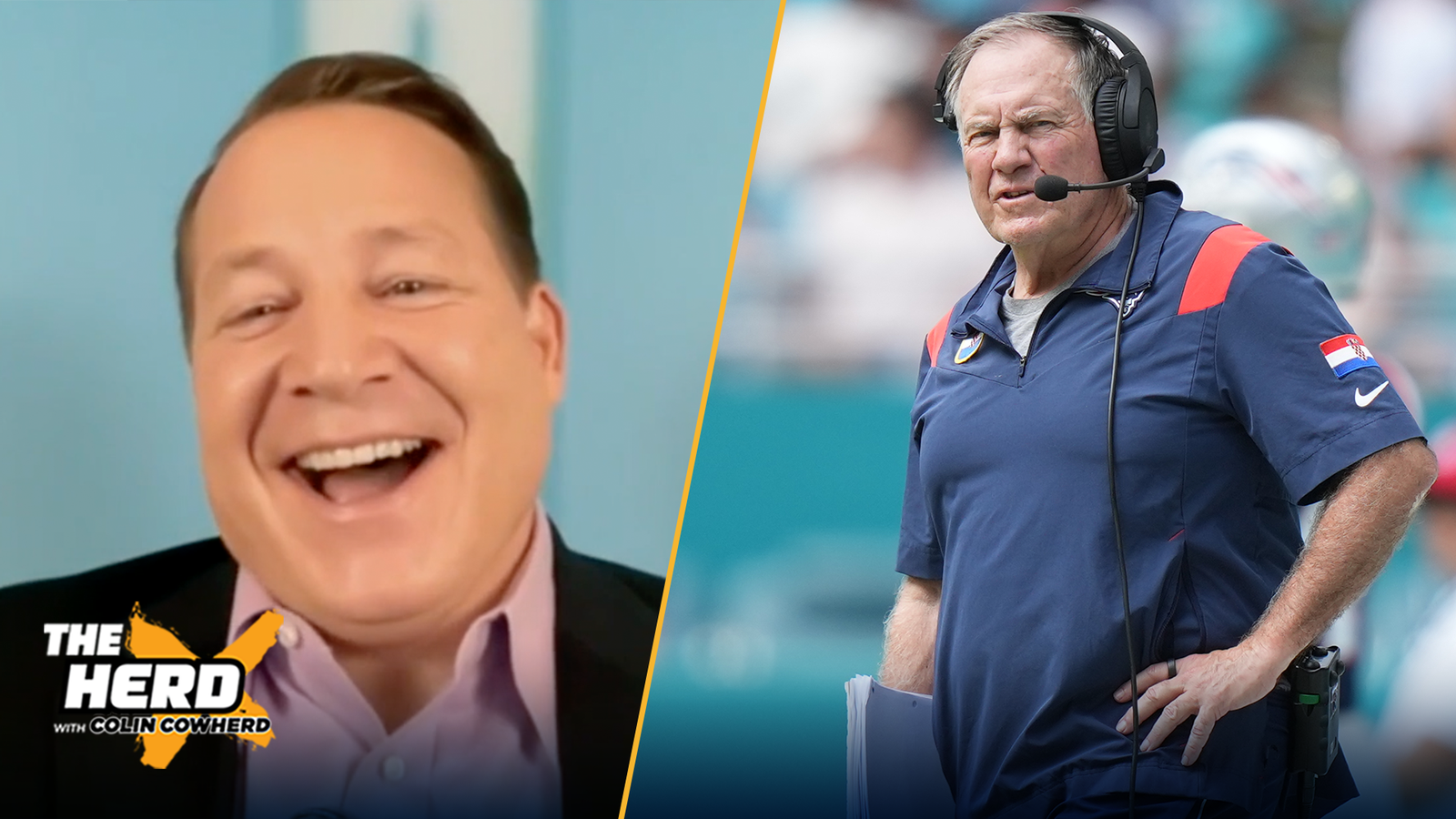 7. Cowboys are closer to a Super Bowl run than you might think
Despite losses to a pair of NFC heavyweights, the Cowboys are positioned to make a run at Super Bowl LVIII.
As crazy as it may sound, Dallas' losses to the San Francisco 49ers and Philadelphia Eagles suggest the team will be able to compete for the Lombardi Trophy when the postseason commences in January.
The growth displayed by Mike McCarthy's squad from its Week 5 loss to the 49ers and its loss on Sunday to the Eagles reflects a team starting to find its identity on each side of the ball. Moreover, the toughness, tenacity and grit displayed by a team that has frequently been regarded as "soft" shows that the Cowboys have embraced the gritty approach required to win in the playoffs.
Studying the tape from the 49ers and Eagles games, the Cowboys defense has improved against rugged rushing attacks. After surrendering 170 yards in Week 5 due to shoddy tackling and inconsistent gap control, the Cowboys held the Eagles to 109 rush yards and just 3.3 yards per carry, utilizing a more physical and disciplined approach to get the job done. In addition, the Cowboys knocked the ball loose three times as the defenders relentlessly hunted the ball at every turn.
[Vacchiano: Dak Prescott proved he's a big-game QB, even in tough loss to Eagles]
Although Dallas did not come up with a fumble recovery, the persistent ball-hawking will lead to more turnovers (and scoop-and-scores) that will tilt games in its favor. With the Cowboys stuffing the run and making a more concerted effort to attack the ball, the defense can force a one-dimensional approach from their opponents that will lead to more turnovers.
Jalen Hurts, Eagles narrowly defeat Dak Prescott, Cowboys in 28-23 Week 9 win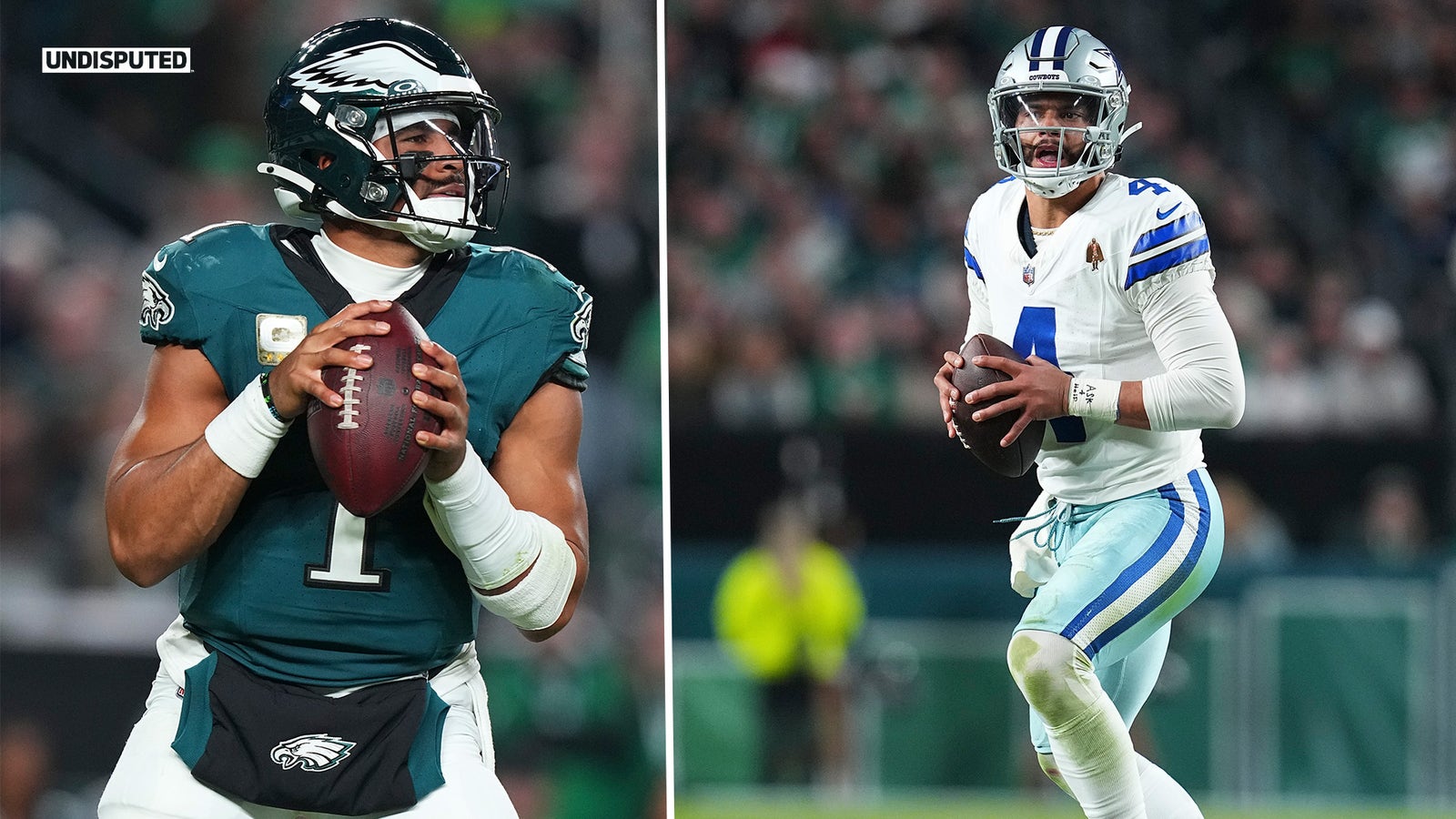 Offensively, Dak Prescott's strong performance on Sunday (29-of-44 passes for 374 yards with three touchdowns) in a marquee game squashes the narrative regarding his limitations as a franchise quarterback. The veteran picked apart the Eagles, displaying the accuracy and efficiency to move the ball utilizing a pass-centric approach.
Most importantly, Prescott found CeeDee Lamb early and often (11 catches and 191 receiving yards on 16 targets) against various coverages Dallas will continue to face down the stretch. As McCarthy moves Lamb around to put him in better positions to make plays, the Cowboys' aerial attack will display more big-play potential.
While the Cowboys must improve their pass protection, run-game efficiency and game/clock management to win at a higher level, the foundation has been put in place to enable this team to grow into a title contender down the road. With nine games left to tweak and adjust their approach, the Cowboys' talent and improved performance in key areas should keep them in the mix as a title contender. —Bucky Brooks
8. All AFC South teams appear to have franchise QBs, setting up a power struggle
For years, the AFC South has been one of the NFL's worst and least entertaining divisions. It feels like that's on the brink of changing. All four teams appear to have long-term quarterbacks to build around, in C.J. Stroud (Texans), Trevor Lawrence (Jaguars), Anthony Richardson (Colts) and Will Levis (Titans).
Lawrence, of course, is already cemented as a franchise quarterback. Stroud has proved that he's a franchise QB in less than half a season. And Richardson (currently on season-ending injured reserve with a shoulder injury) and Levis, in small sample sizes, have flashed enough QB1 potential to bring excitement to their respective fan bases.
The quarterbacks could set up a fascinating divisional power struggle in the not-too-distant future.
[Arthur: Despite loss to Steelers, Will Levis proved he should be Titans' QB1 starting now]
It might even get interesting down the stretch this year. The Jaguars currently have a two-game lead over Houston in the AFC South, but with what Stroud has shown, we can't ignore the possibility of the Texans going on a late-season run. In their first matchup with the Jags this season in Jacksonville, Houston won by 20 points. The Texans-Jaguars matchup on Nov. 26 could have massive divisional and AFC playoff implications.
Tennessee and Indianapolis could get right into the contention mix if they hit on their roster upgrades this upcoming offseason, too. For 2024, the Titans currently have a league-leading $100.5 million in salary cap space, according to Over The Cap, to bolster the roster around Levis. The Colts have over $77.1 million in cap space, seventh in the league. —Arthur
Is Titans rookie QB Will Levis the real deal?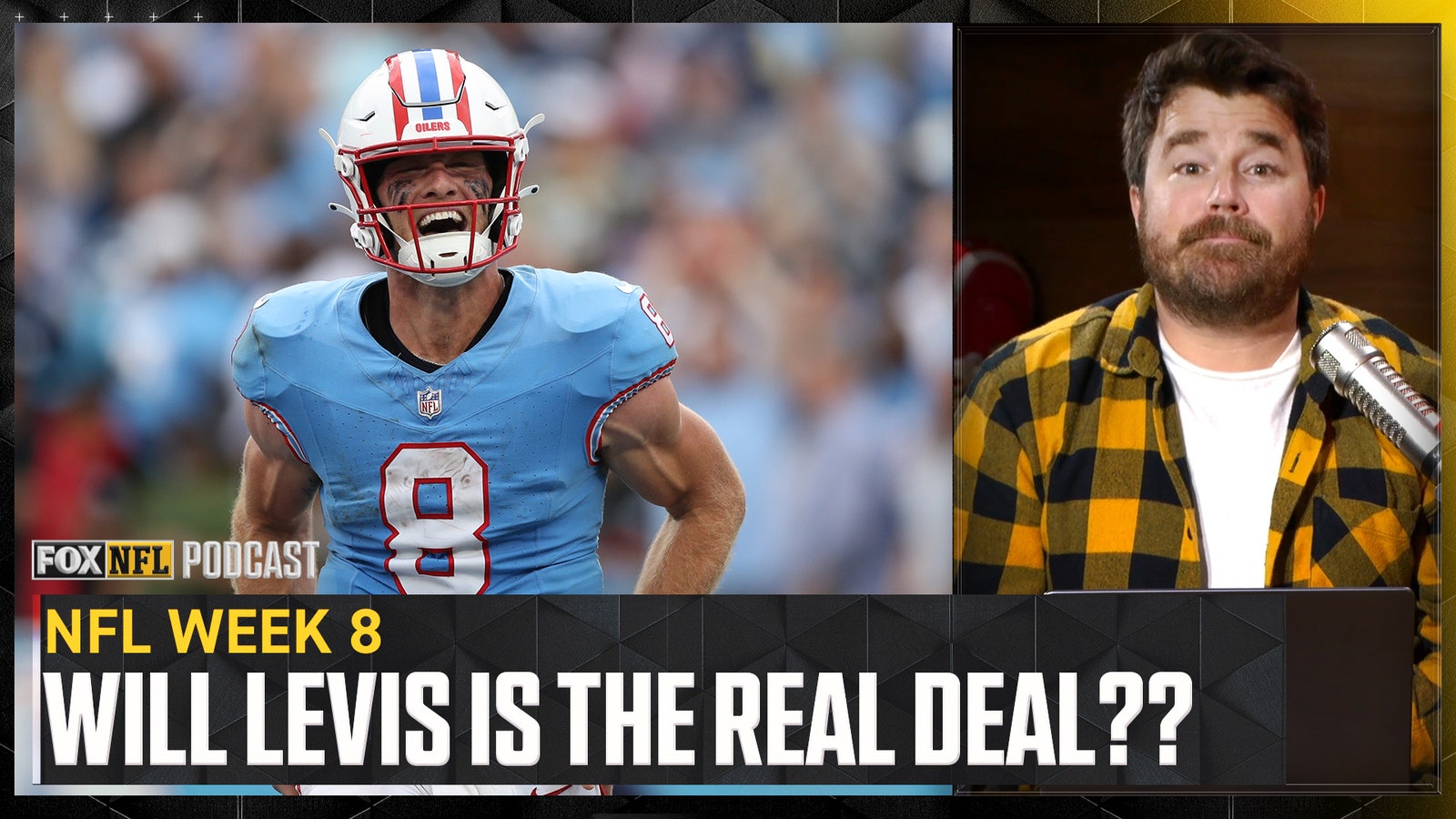 9. Jags ascending, but still haven't played to their potential
The Jaguars are the hottest team in the NFL and they still have plenty of room for growth.
With Jacksonville riding a league-leading five-game winning streak coming out of its bye week, the team's offense still has yet to live up to its preseason expectations. We've seen it in spurts, but not consistently.
The unit may not necessarily be as good as it was hyped to be, but there's certainly room for growth. The Jaguars have scored 25 or fewer points in five of their eight games. They rank in the bottom third of the league offensively on third down (25th), fourth down (27th), red-zone efficiency (26th) and red-zone attempts (29th). Even with offense down across the league, Jacksonville has the talent to perform much better relative to the rest of the league.
So imagine how good the Jags can get if that happens? Their defense has been one of the best in the league to this point, which is a surprise because it was looked at as a potential Achilles' heel entering the year. The Jaguars' pass rush that many team observers were concerned about isn't perfect, but Josh Allen's monster start to the year (eight sacks in nine games) has elevated the entire defense. Jacksonville is getting elite play out of the secondary too, especially from Darious Williams, who has been one of the best corners in the NFL this year. He leads the league with 14 pass breakups and is tied for fourth with three interceptions.
The Jaguars' upcoming stretch will tell us a lot about who they are. They have two AFC South games and face the 49ers, Bengals, Browns and Ravens over the next month and a half. —Arthur
NFL Rankings: Trevor Lawrence leads Jaguars' rise, 49ers fall & Chargers rise?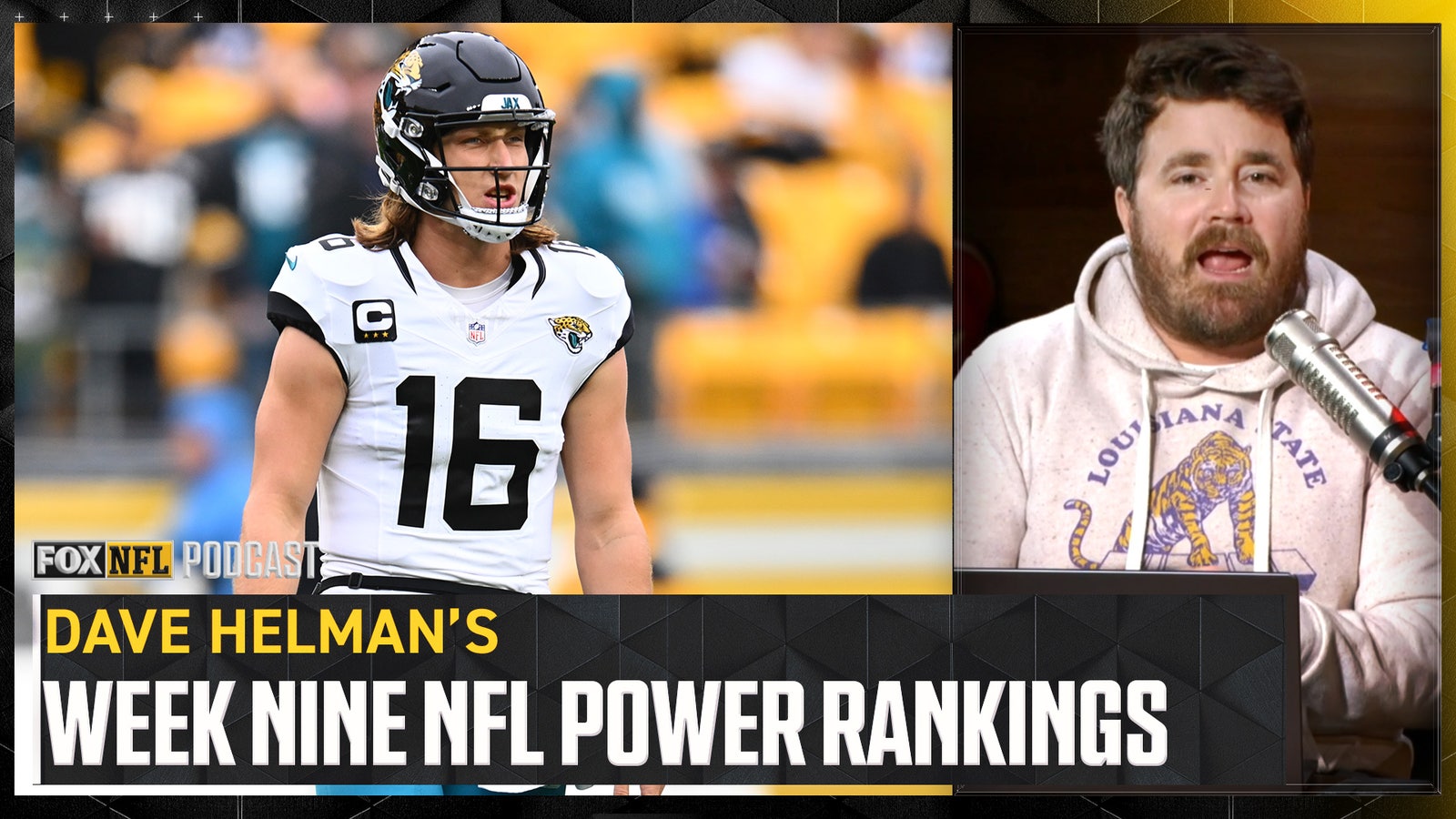 10. Vikings' competitive rebuild would have worked (and might still)
The injury to quarterback Kirk Cousins' Achilles could not have come at a worse time for the Minnesota Vikings. After starting the season 1-3, the Vikings have won four straight and are above .500, even with Justin Jefferson on injured reserve. Rookie wide receiver Jordan Addison had stepped up in Jefferson's absence and Cousins immediately put his trust in him. At the same time, the Vikings' defense seems like it's finally grasping new defensive coordinator Brian Flores' system.
Leading up to Monday Night Football against the San Francisco 49ers, the Vikings had won two of their past three games and allowed opponents to score only 13 points in each. Against the Niners, Minnesota gave up just 17 points, albeit to a team without Trent Williams and Deebo Samuel. In their past six games, the Vikings are giving up an average of 18 points per game. With an average offense, Minnesota could have likely ended up in a wild-card spot if it kept that pace up — and got the turnovers under control.
It seemed that the "competitive rebuild" was finally starting to pay off, only for a catastrophic injury to hit.
Then came Sunday against the Atlanta Falcons. The Vikings started fifth-round rookie Jaren Hall at quarterback, but early in the game, Hall suffered a concussion. So Minnesota put newly arrived QB Joshua Dobbs in under center. Dobbs hadn't yet taken a snap from center Garrett Bradbury. He hadn't thrown to a single Vikings receiver — he didn't even know all of their full names. The offensive line had never heard Dobbs' cadence. And yet, Dobbs led a game-winning drive to seal a 31-28 win on the road.
If the defense can hold opponents to under 20 points and Dobbs can keep the Vikings afloat for the rest of the season, especially when he gets Jefferson back, Minnesota's season may not be lost after all. At the very least, improvement and growth shouldn't be stunted moving forward. —Vitali
Joshua Dobbs leads unreal Vikings comebacks against Taylor Heinicke, Falcons
11. Packers defense yet to play up to talent level
If Sunday was any indication, quarterback Jordan Love looks a whole lot better when he can rely on the things he was supposed to be able to rely on. Like the Green Bay defense.
In Sunday's win over the Brett Rypien-led Los Angeles Rams, the Packers defense surrendered just three points. It allowed Los Angeles to convert just five of 14 third-down attempts. Green Bay also managed two takeaways, which were directly responsible for half of the Packers' 20 points on the day.
But this came against a backup. So far this season, the Green Bay defense hasn't been reliable. The biggest blemish is that it hasn't generated takeaways. The Packers sit at minus-2 in turnover margin on the season, but they're in the top 10 in giveaways. They've turned the ball over only 10 times this season. In contrast, they've only managed eight takeaways, which is the third-fewest in the league. Love isn't getting any extra possessions or as much help from the other side of the ball as he could be.
[Auman: Joshua Dobbs rallies Vikings to improbable win over Falcons days after joining team]
Even after trading cornerback Rasul Douglas, the Green Bay defense still has seven first-round picks among its 11 starters. There's no reason the Packers can't be one of the best defenses in the league. At the very least, Love should be able to count on that phase of the game. —Vitali
'Everyone stepped up today' — Jordan Love on Packers' blowout win over Rams in Week 9
12. The Eagles are dominating the NFC — and they think they're just getting started
Every week it's the same thing with the Philadelphia Eagles. They don't look great, at least for them. They struggle in one phase of the game or on one side of the ball. Then somehow they win anyway and in the locker room after the game you hear something like what cornerback Darius Slay said after Philly beat the Cowboys on Sunday:
"We haven't even scratched the surface," Slay said. "We have a lot of work to do."
It sounds crazy, and maybe it is, but the Eagles are 8-1 and threatening to pull away from the rest of the NFC pack, even though they're pretty convinced they haven't played anywhere near their potential. They haven't looked like the dominant team they were last season when they won the NFC championship and fell just short of the Super Bowl. And they don't feel like it either.
"There is always room for improvement," coach Nick Sirianni said. "Always room for improvement."
Feel free to roll your eyes here. Surely plenty of NFL teams will. But the Eagles do genuinely have a few problems. Jalen Hurts is playing on an injured left knee and hasn't quite met the MVP standards he set a week ago. Their running game is inconsistent and their powerful offensive line has been hampered by injuries. Their offense tends to be the A.J. Brown show way too often, as new offensive coordinator Brian Johnson hasn't been great about getting others involved. Now they've lost tight end Dallas Goedert to a broken forearm probably for a month.
Oh, and their defense has been battered by injuries, too. Their pass rush also isn't nearly as dominant as it was a year ago when they nearly set a record with 70 sacks.
All of that is true. Of course, the Eagles still have the NFL's best rushing defense, the third-ranked offense, an MVP-adjacent quarterback, and the most dominant receiver in the NFL outside of Tyreek Hill. So it's still sunny in Philadelphia.
[Vacchiano: Eagles defense stymies Dak Prescott, Cowboys when it matters the most]
But if the Eagles are right, and all that is still only a fraction of what they're capable of doing, the NFL should be officially on notice. Because they look like the best bet to reach the Super Bowl out of the NFC already. If they can still be significantly better — and put a complete game together in all phases — there might not be anyone who can stop them in the entire NFL. —Vacchiano
A.J. Brown, Eagles WR recaps win vs. Cowboys, talks Jalen Hurts & DeVonta Smith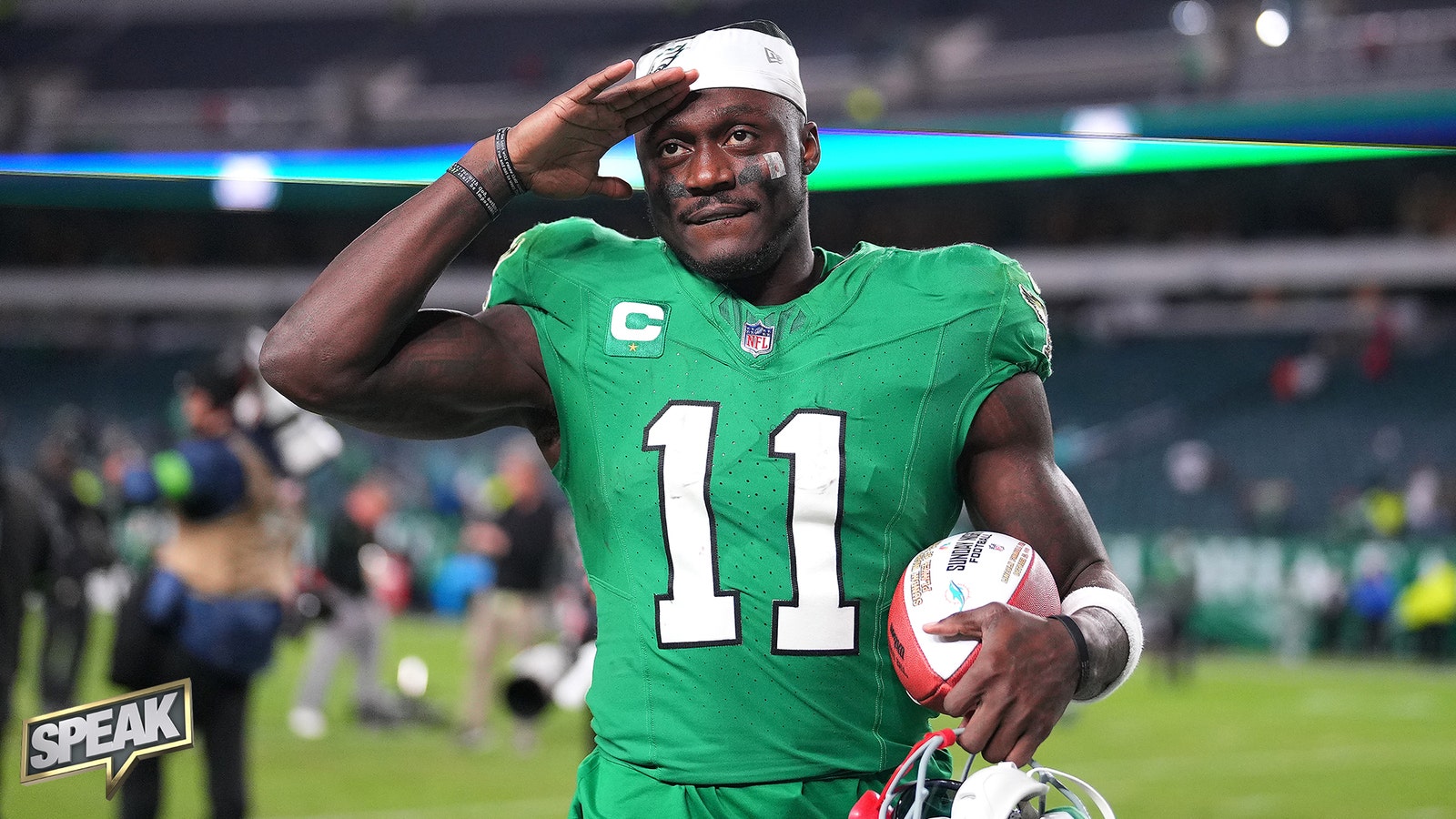 13. Raiders need organizational stability to return to winning ways
Last week, the Raiders moved on from head coach Josh McDaniels and general manager Dave Ziegler, firing them in just their second year leading the team and with four years remaining on their contracts.
McDaniels had a disappointing 9-16 record since taking over in 2022. According to FOX Sports, star players Davante Adams and Josh Jacobs went to owner Mark Davis to voice their concerns about McDaniels starting journeyman quarterback Brian Hoyer over promising rookie Aidan McConnell for an injured Jimmy Garoppolo.
Davis appointed Antonio Pierce as interim head coach and Champ Kelly as interim general manager. The Raiders responded with a 30-6 victory over a downtrodden New York Giants squad on Sunday, improving to 4-5 on the season.
Since Davis took over the Raiders after his father's death in 2011, the team has been mired in mediocrity, in part because of the instability that comes with having eight different head coaches. Since 2011, the Raiders have posted an 83-120 record, with just two winning seasons and no playoff victories. They last won the AFC West in 2002.
The Raiders must establish stability at head coach and within the organization to have a chance to return to the franchise's glory years of the 1970s and 1980s, when they won three Super Bowls over eight seasons.
Jay Glazer breaks down details of what led up to Raiders' decision to part ways with Josh McDaniels
Along with instability at head coach, the Raiders have been led by three team presidents over the past three years. It's hard to create sustainable winning when leadership is constantly changing within the organization.
Pierce grew up in Los Angeles as a Raiders fan, and he intends to return the team to a hard-nosed, blue-collar identity that's important to the organization. With Davis reportedly on the hook for $85 million in salary for McDaniels, Ziegler and other coaches he moved on from, perhaps the prudent move for the Raiders would be to turn Pierce's interim tag into a permanent position if he can turn things around in the second half. —Williams
14. Nobody wants to win the NFC South
The division didn't have a team with a winning record last year, and while that probably won't be the case in January, the NFC South's reputation isn't changing much either.
Four weeks ago, the Bucs were 3-1 and the surprise leaders in a post-Tom Brady bliss, but they've lost four in a row, each defeat a bit more painful. Two weeks ago, the Falcons were atop the division, and they've lost two straight and changed quarterbacks. Arthur Smith even shaved his mustache.
Now the Saints are on top at 5-4 after two straight wins, with a schedule that could make the division theirs to lose. But they could also go to Minnesota this week and lose, and everybody could be back at .500 or worse.
[Want great stories delivered right to your inbox? Create or log in to your FOX Sports account, follow leagues, teams and players to receive a personalized newsletter daily.]
The one constant has been the Panthers enduring some growing pains with rookie quarterback Bryce Young, who immediately followed Carolina's first win of 2023 by throwing two pick-sixes in a loss to the Colts. The Panthers (1-7) can certainly play spoiler, with four division games in the final six weeks, but aren't likely to be more than that.
Derek Carr is up to 10 touchdowns against four interceptions, Baker Mayfield has 12 touchdowns against the same four, but this division will likely come down to which defense can step up and consistently hold teams under 20 points a game. The Saints rank eighth in scoring defense, the Bucs 16th, the Falcons 18th — if one unit can find some separation there, there could also be some separation in the standings down the stretch. —Greg Auman
This story was compiled by:
AFC South reporter Ben Arthur (@benyarthur)
NFC South reporter Greg Auman (@gregauman)
AFC East reporter Henry McKenna (@McKennAnalysis)
NFC West reporter Eric D. Williams (@eric_d_williams)
NFC East reporter Ralph Vacchiano (@RalphVacchiano)
NFC North reporter Carmen Vitali (@CarmieV)
---
NFL trending



Monday Night Football highlights: Chargers dominate Jets behind Ekeler's two TDs

2023 NFL midseason awards picks, playoff predictions: Who wins MVP, Super Bowl?

2023 NFL Defense Rankings: Team Pass and Rush Stats




Los Angeles Chargers vs. New York Jets: Prediction, odds, picks

'The public had a good day': Bettors win big on Eagles, Chiefs, Bengals

NFL top-10 rankings: Eagles, Chiefs hold top spots; Ravens, Lions rise; Dolphins fall




Quarterback decision, Antonio Pierce's Patriots speech led to Josh McDaniels' firing

Dak Prescott proved he's a big-game QB, even in tough loss to Eagles

Talk the Line: Early breakdown of NFL Week 10 odds
---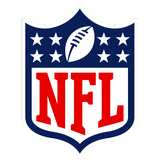 Get more from National Football League Follow your favorites to get information about games, news and more
---