Ohio State vs. Maryland, Texas vs. Oklahoma: What we're watching in Week 6
What can Kyle McCord do for an encore?
Two weeks ago, Ohio State's first-year starting quarterback led the Buckeyes on a late drive to come away with a stunning victory at Notre Dame. It was a signature victory for the 21-year-old McCord, who is settling into the offense after sitting for two years behind superstar C.J. Stroud. But things don't get much easier, as after a bye, the Buckeyes (4-0) play host to unbeaten Maryland (5-0) in what should be a great Big Ten matchup.
HOW TO WATCH 'BIG NOON KICKOFF' THIS SATURDAY
10 a.m.-Noon ET: "Big Noon Kickoff" pregame show on FOX
Noon ET: Maryland at Ohio State on FOX and the FOX Sports app
"It's like I was told as a young quarterback, once you come home with an 'A' in algebra, you're expected get an 'A' in algebra all the time," Ohio State coach Ryan Day said this week. "Now you're seeing what Kyle can do. That's now the expectation."
Last year, Maryland gave the Buckeyes a game, keeping it close until eventually dropping a 43-30 decision.
Can the Terps keep it close again this year, or even pull off an upset?
Can McCord keep the Buckeyes rolling?
FOX Sports college football experts Michael Cohen, Bryan Fischer and Laken Litman share what they'll be looking for in the game, as well as what they're excited to see in a huge Red River Showdown between Texas and Oklahoma, as well as the other big games in Week 6.
Maryland at No. 4 Ohio State (Noon ET on FOX and the FOX Sports app)
Michael Cohen: There's an element of triviality to assessing Maryland's standing in the Big Ten East given the probable elimination of divisions to accommodate conference newcomers USC, UCLA, Oregon and Washington next season. But the fact remains that Maryland has won 15 games over the last two years and still finished below .500 in conference play both times: 4-5 in 2022 and 3-6 in 2021. The biggest reason? Annual matchups with juggernauts Michigan, Ohio State and Penn State. The Terrapins are 0-31 against ranked Big Ten opponents since joining the league in 2014.
Will this be the year that changes? Will Mike Locksley, who is attempting to become the first Maryland head coach to post three consecutive winning seasons since Ralph Friedgen from 2001-03, finally topple a high-level division rival before the conference rearranges? Those are the biggest questions facing the Terrapins as they prepare to face No. 4 Ohio State on Saturday, with forthcoming matchups against Penn State on Nov. 4 and Michigan on Nov. 18.
Any chance of taking down the Buckeyes this weekend hinges in part on the performance of star quarterback Taulia Tagovailoa, who has become the most accomplished passer in Maryland history. Tagovailoa enters Saturday's game with a combined record of 1-6 against Ohio State, Penn State and Michigan since becoming the Terrapins' starter in 2020. His biggest downfall in those marquee matchups has been uncharacteristically poor ball security to offset some gaudy passing totals. With 10 touchdowns and six interceptions against the aforementioned three teams, Tagovailoa's touchdown-to-interception ratio of 1.67 to 1 is well below his Maryland career mark of 2.21 to 1 across 34 games. What's more, six of his 12 career fumbles have come against the Buckeyes (4) and Nittany Lions (2) over the last two seasons.
Tagovailoa will need one of the sharpest games of his career to score the upset in Columbus.
Laken Litman: It's Ohio State's first game back since Ryan Day's rant against Lou Holtz following a dramatic win over Notre Dame. Last week's bye came at the perfect time, allowing Day to cool off and Marvin Harrison Jr. to recover from a sprained ankle.
The unbeaten Buckeyes have two more games until the big one on Oct. 21 when they host Penn State, but can't overlook undefeated Maryland, which is fresh off a dominant 44-17 win over Indiana. But do the Terrapins actually have a chance at an upset? That depends on a few things, including how Tagovailoa performs. In his college career, Tagovailoa hasn't fared well against the Big Ten's top teams. However, he has some momentum after going 24-of-34 for 352 yards and five touchdowns against the Hoosiers last week. Five games in, he's a top-20 quarterback and has passed for 1,464 yards with 13 total touchdowns to just three interceptions.
Meanwhile, it will be interesting to see how Ohio State quarterback Kyle McCord follows up his thrilling performance against the Fighting Irish from two weeks ago. Does he keep improving as the season progresses and the games get more important? That will be key for the Buckeyes if they are to contend for a Big Ten title and College Football Playoff berth this year.
Ohio State might be on upset alert this weekend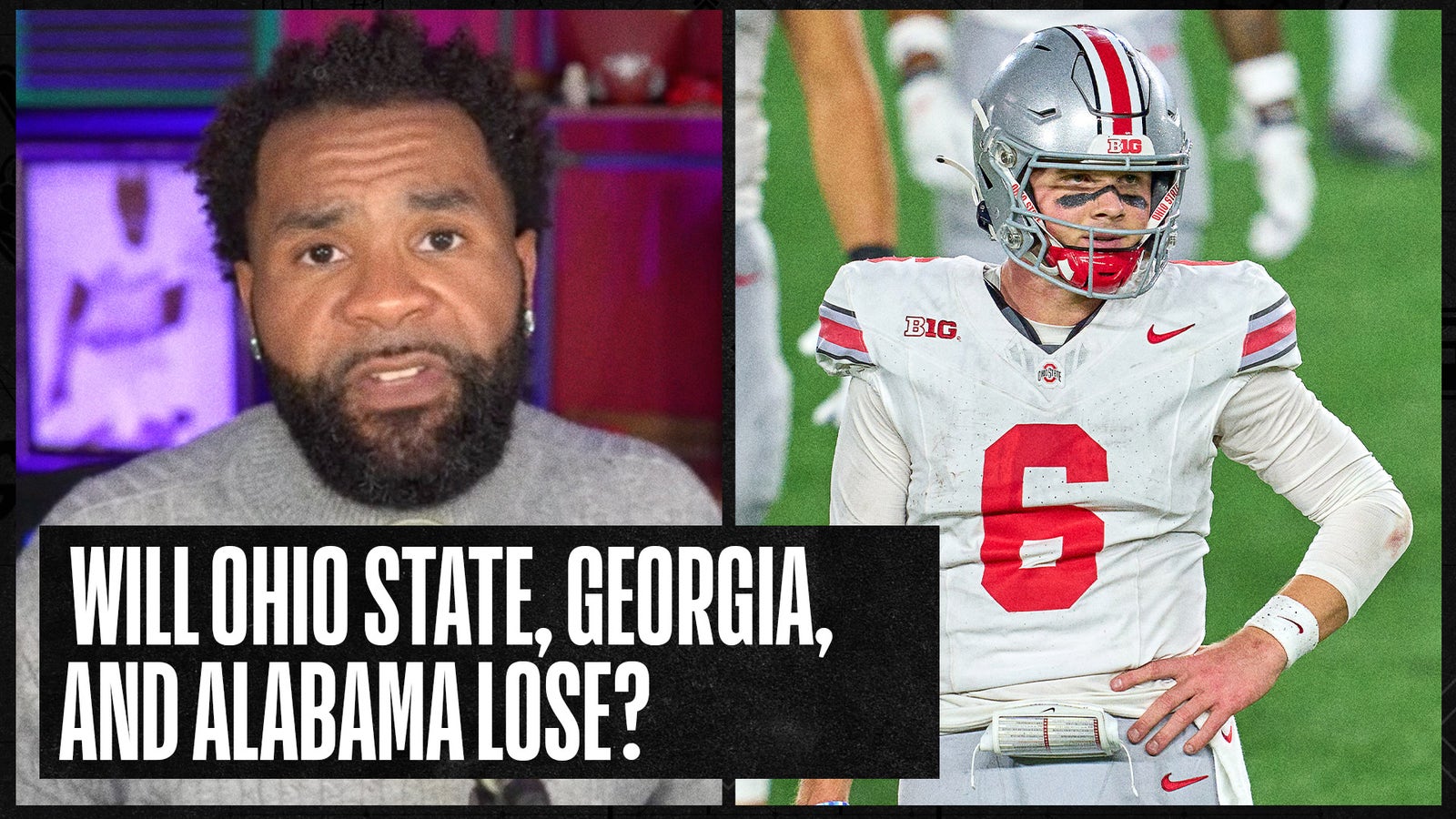 Bryan Fischer: As I wrote on Monday, this is Maryland's best opportunity to knock off a team like Ohio State — perhaps ever. The Buckeyes are a perfect 8-0 against the Terps all-time, but this is the most suspect that we've seen the program in recent years, especially on the offensive side of the ball. OSU is 38th in the country in scoring, the offensive line isn't anywhere close to what we're used to seeing out of that unit, and it says plenty that McCord enters as the second-best quarterback in the game.
Now, these are all issues stemming from the side of the ball head coach Ryan Day has a specialty in, so this Big Noon Saturday matchup offers the tantalizing storyline of either Ohio State using that win over Notre Dame (combined with an off week) to springboard into a more cohesive offensive attack … or struggle at home in conference play to reconfirm all of the fan base's worries. I'm not convinced Maryland's secondary is equipped to contain an attack that features Harrison, Emeka Egbuka and Cade Stover (among others), but it's on McCord to look sharper and hit those guys for some big plays or else there will be a little restlessness in Columbus.
As for Mike Locksley, this is his big opportunity to elevate the program to the next step in terms of Big Ten contention. His team's schedule has been light so far but to have your first 5-0 start since 2001 (and each victory come by at least 18 points) is still an impressive way to take care of business. Tagovailoa has been excellent, and his skill position players might be the best in the league outside the East Division's big three of OSU/Michigan/Penn State. They're going up against a defense that has been fantastic at preventing the big play and has allowed just 34 points total, so it's a stiff challenge — but one that will give us a very accurate measuring stick as to what kind of progress this group is really making in 2023.
No. 12 Oklahoma vs. No. 3 Texas in Dallas (Noon ET)
Laken: There's a strong possibility that this year's rendition of the Red River Rivalry looks like the good old-fashioned showdowns from the past. Texas and Oklahoma, who are both leaving the Big 12 next year for the SEC, enter this game with 5-0 records for the first time since 2008. And if you remember correctly, that year's clash was an absolute thriller that the Longhorns ended up winning 45-35. It's also the first time that both teams are unbeaten since 2011. And that year, the Sooners pummeled the Horns, 55-17.
This is a massive opportunity for Texas to prove that in Steve Sarkisian's third season, they're the real deal. Or as some might like to say, "back." A strong performance here by quarterback Quinn Ewers & Co. and the Longhorns could very well be on their way to their first Big 12 title since 2009, and maybe even a first trip to the CFP.
Last year, Texas embarrassed the you-know-what out of its rival, winning 49-0. It's fair to assume OU will be out for revenge after that rebuilding year in coach Brent Venables' first season. QB Dillon Gabriel leads one of the most explosive offenses in the country (47.4 points per game), while Venables' defense — created via the transfer portal — can serve up multiple looks that can easily catch the Horns off guard.
This matchup already has the makings of an instant classic.
Bryan: This is annually one of my favorite games of the year, but it's seemingly been a while since Red River has carried the weight of this year's battle for either side. For Texas, the path to the College Football Playoff is abundantly clear for a program building toward this moment, and a 6-0 start for the first time since 2009 would underscore those ambitions if they walk out of the Cotton Bowl with golden hat in hand. For Oklahoma, the stakes are more reputational: these Sooners are looking to prove that they're back among the nation's elite after a temporary dip in Brent Venables' first season.
Because this is a rivalry game where the unexpected seems to become commonplace, I'm paying attention to two areas. The first is obvious: the quarterbacks. Whichever of Ewers or Gabriel can avoid the costly turnover while still embodying the gunslinger ethos each seems to have will likely prove decisive in this one. Furthermore, the Longhorns have a massive edge in the trenches and I think back to the SMU game and wonder if Oklahoma is up to the task to combat that. The Sooners struggled for stretches against the Mustangs a few weeks ago and now have to face a team that just manhandled Alabama in Tuscaloosa. If I'm Venables, that's keeping me up at night more than trying to defend big-play machines like Xavier Worthy and Adonai Mitchell.
Michael: What a game this should be as both Oklahoma and Texas enter the 119th edition of the Red River Showdown unbeaten for the first time since 2011. Led by Ewers, the Longhorns' offense appeased legions of doubters last month by hanging 454 yards of total offense and 34 points on mighty Alabama in a stunning road win that remains among the best victories in college football this season. This weekend offers a chance for Oklahoma's offense, anchored by standout quarterback Gabriel, to do the same. Yes, the Sooners rank No. 9 nationally in total offense (510 yards per game) and seventh nationally in passing offense (352.4 yards per game), but some of those numbers were inflated by electric performances against sub-100 defenses from Arkansas State and Tulsa — two teams that yielded 729 combined passing yards to Gabriel. Texas has the athletes to compete with the Sooners at all three levels. Can Gabriel still answer the bell?
Joel Klatt: Can Oklahoma upset Texas?
No. 11 Alabama at Texas A&M (3:30 p.m. ET)
Bryan: Sometimes the game of college football can be difficult, and sometimes it can be easy. In the case of this SEC showcase, it feels like things are very much the latter when it comes to breaking things down: either the quarterbacks take care of the ball and move the offense efficiently enough to score at least three touchdowns — or they don't. There will be plenty made of the coaching matchup between Nick Saban and his former assistant Jimbo Fisher (whom he's 5-1 against), the atmosphere at Kyle Field, and some of the ridiculous playmakers involved in this one. But there will be larger questions to be asked afterward regarding a potential sliding doors moment for both programs but for now, the effectiveness of the two fairly middling QBs involved in this one will determine the outcome above all else.
Michael: Ever since Saban named Jalen Milroe the starting quarterback following a middling performance from backups Ty Simpson and Tyler Buchner in Week 3, the Crimson Tide have done an excellent job tailoring their offensive game plan to Milroe's skill set. More of a dual-threat player than a pure thrower, Milroe has completed 27 of his last 33 passes (81.8%) for 389 yards, one touchdown and one interception to go along with 97 rushing yards and two scores in wins over No. 15 Ole Miss and Mississippi State. He's reached that level of efficiency by capitalizing on clean pockets and making high-percentage throws. When the pocket was clean against Ole Miss, Milroe completed 15 of 17 attempts with an average depth of just 7.1 yards per target. When he was clean against Mississippi State, Milroe completed 7 of 8 passes with an average depth of 11.8 yards per target. In other words, Saban's coaching staff is effectively simplifying the game for their quarterback. It's a recipe that should work again this weekend.
Laken: After a shaky start it looks like Alabama is finding some consistency as we approach the midpoint of the season. Milroe, though he only attempted 12 passes, was steady and efficient and the defense gained some confidence, tallying four sacks.
It's always a fun time when Saban and Fisher go head-to-head, but this game is especially important if Bama is going to make a run to the four-team playoff. Right now, Saban's team is sitting on just one non-conference loss (to Texas), and a two-loss team has yet to make the CFP field. So this one certainly has long-term implications, especially given what's left on their schedule: upcoming home games against Arkansas, Tennessee and LSU and road trips to Kentucky and Auburn.
No. 13 Washington State at UCLA (3 p.m. ET)
Bryan: This is always an interesting game because Wazzu recruits so heavily down in Southern California, so there are plenty of players who will build this up a bit more than a regular conference game – doubly so on Saturday given the potential for it being the last trip for the Cougars to the Rose Bowl for years to come. That sense of over-eagerness will be something to keep an eye on early in what is shaping up to be a contest that can really reconfirm just how good the winner is as much as calls into question how mediocre the loser really is. It may not be a ranked-vs-ranked matchup, but it really feels like a key separator in the conference race.
Beyond that, the offensive-defensive chess match is going to be worth the price of admission. Chip Kelly and his young protégé signal-caller Dante Moore have been great at mixing up shots down the field with the Bruins' typical effective rushing offense and will be going up against one of the best at scheming up ways to take away success in Jake Dickert. The flip side is that QB Cam Ward and OC Ben Arbuckle will be taking on a UCLA defense that leads the Pac-12 in scoring and has forced a turnover in seven games running. Things don't get much more fun than that.
Michael: In a conference that's absolutely loaded with high-level quarterbacks — from Caleb Williams at USC to Bo Nix at Oregon, from Michael Penix Jr. at Washington to Shedeur Sanders at Colorado — the early season performance by Ward deserves some laurels. Ward, who began his collegiate career at FCS Incarnate Word, now ranks among the top 11 nationally in completion percentage (74.5%), touchdown passes (13), passing yards (347.3 per game), and interceptions (0) as the Cougars have raced to a 4-0 start for the first time since 2017. A zero-star prospect from Columbia High School in West Columbia, Texas, Ward committed to Incarnate Word over Texas Southern, which was the only other program to offer him a scholarship, according to 247Sports. His precipitous improvement from Year 1 at Washington State in 2022 (3,231 yards; 23 touchdowns; nine INTs) to the present makes Ward one of the best stories in college football this season.
Laken: It's been an unexpectedly exciting year in the Pac-12, and that's due in part to all the talented quarterbacks putting up stellar stats so early on in the season. One of those QBs is Ward, who leads one of the most explosive offenses in the country (45.8 PPG). Ward, who has yet to throw an interception this year, has the Cougars ranked No. 2 nationally in passing offense (405.8 YPG) — just behind rival Washington.
The last time we saw UCLA — the Bruins are coming off an idle week — was a 14-7 loss to Utah. The strength of Chip Kelly's team is in its defense, specifically, the pass rush, where senior edge Laiatu Lato has four sacks in four games (plus a forced fumble and an interception). That will be an intriguing game-within-the-game nugget to keep an eye on as the Cougars try to preserve their undefeated streak.
The Pac-12 is flourishing in college football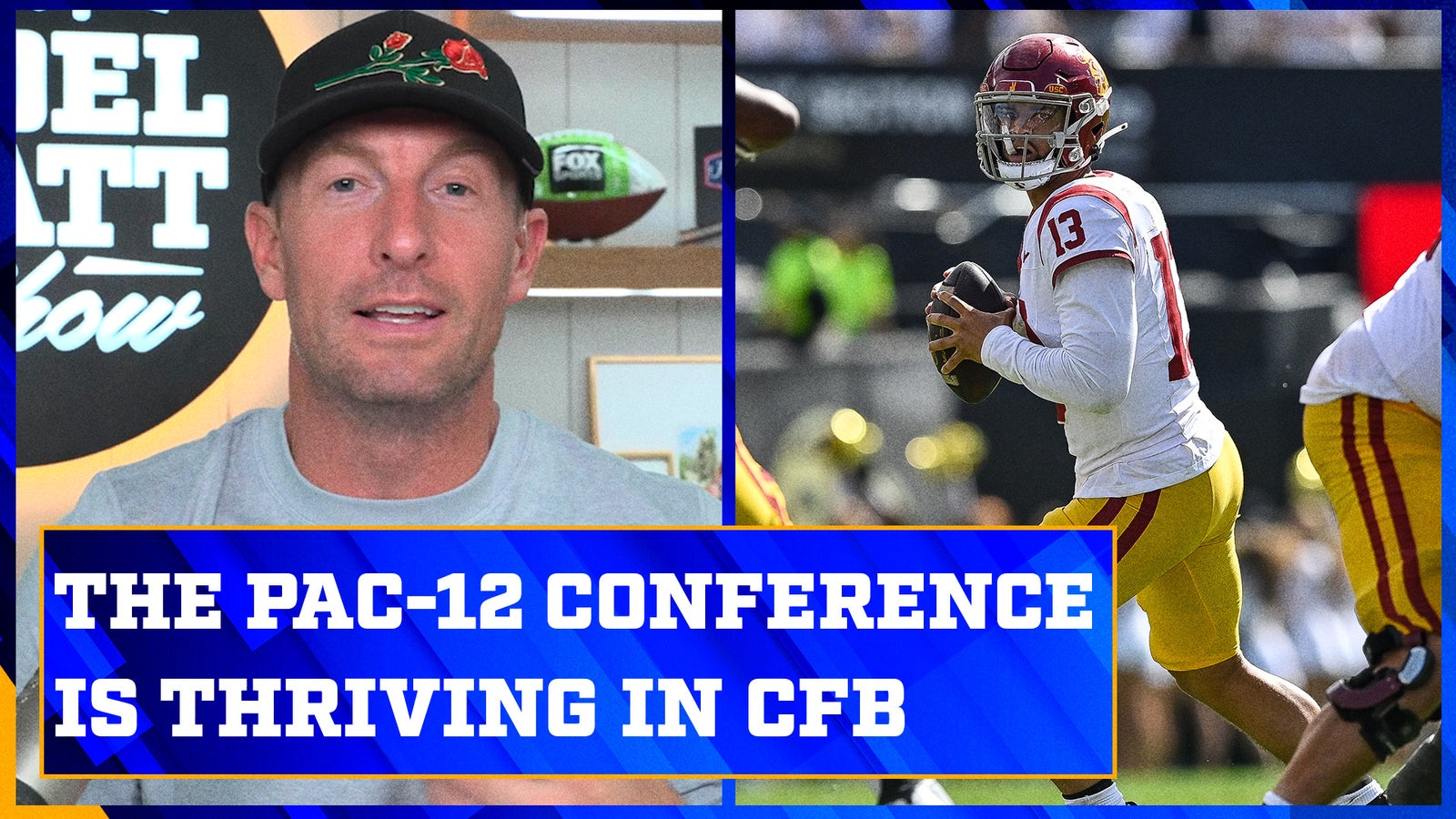 UCF at Kansas (4 p.m. ET on FOX)
Michael: For the second consecutive season in head coach Lance Leipold's rebuild at Kansas, the Jayhawks' ceiling is directly tied to the health of star quarterback Jalon Daniels, a dynamic dual-threat player. In 2022, Daniels propelled Kansas to a 5-0 start by throwing for 983 yards, running for 329 yards, and accounting for 16 touchdowns before suffering an injury that limited him to just 27 snaps from Week 6 to Week 11. This season, Daniels missed Week 1 but immediately rounded into form by guiding the Jayhawks to wins over Illinois, Nevada and Brigham Young with similar levels of explosiveness: 705 passing yards, 74 rushing yards, five touchdowns, and just one interception. But a back injury sidelined Daniels for last Saturday's highly anticipated showdown against Texas, which the Jayhawks lost, 40-14, and he missed some practice time earlier this week ahead of the upcoming date with Central Florida. It will be another uphill fight for Kansas if Daniels is unavailable or compromised as Big 12 play continues.
Laken: This is a matchup between two teams reeling from losses. Kansas suffered a 40-14 loss to Texas in Austin a week ago, while UCF allowed Baylor to come back and beat them 36-35 after holding a 35-7 lead in its first Big 12 home game.
Knights coach Gus Malzahn said this week that his team has "a lot of guys banged up" from that game, so they will be coming into a road trip without a handful of playmakers. For the Jayhawks, it's a chance to regroup after its first loss of the year. But it's unknown right now if Daniels will be back after missing last week's game with an injury. He didn't practice on Monday or Tuesday of this week, which means right now, backup Jason Bean — who went 9-of-21 for 136 yards and a touchdown vs. Texas — is the guy.
Bryan: Obviously, there's a tad bit of morbid curiosity in seeing how UCF is going to get off the mat after giving away the program's first Big 12 victory in gut-wrenching fashion last week against Baylor. Will the defense that allowed that comeback to happen be flying around trying to do too much, or will they play within the system to play like they had been most of this season? Can Malzahn rebuild his players' confidence at the same time he tries to get the offense operating much more cohesively?
I'm also hopeful that we can see Daniels back and close to being the Big 12 Offensive Player of the Year that we know he's capable of being. Bean is far more equipped to lead the Jayhawks to a victory at home against one of the Big 12 newcomers than he was against Texas in Austin, but having the starting quarterback back in the fold will be worth keeping an eye on given the boost that Daniels is between the lines.
No. 20 Kentucky at No. 1 Georgia (7 p.m. ET)
Laken: Could this finally be the week that Georgia is ousted from its spot at the top of the rankings? After a narrow win over Auburn last week and a close call vs. South Carolina a few games ago, Georgia is looking beatable. Maybe Mark Stoops' Kentucky team will be the one to topple the two-time reigning national champs and end their 22-game winning streak. It's certainly possible, especially given the momentum the Wildcats have after beating up on Florida a week ago. UK enters the matchup undefeated with a balanced offense hungry to pull an upset on the road.
Bryan: Did anybody expect the SEC East to have all the league's undefeated teams at this point in the season? While we'll see how Missouri fares in its meeting with LSU, this Kentucky trip to Georgia seems like it's going to tell us the truth about just how good the Bulldogs are this season outside the fact that Brock Bowers is the best tight end in the country. I've not been that impressed with Kirby Smart's defense despite the numbers (No. 1 in scoring defense in the SEC, 14th nationally) and it feels like that front seven is really going to be challenged for the first time in ages with Ray Davis (148 scrimmage yards per game) and a quality offensive line coming to town. The Wildcats also are set to offer up the stiffest test for QB Carson Beck and a Mike Bobo-led offense that still has yet to click for four quarters.
Had this game been in Lexington, and had the passing offense under Devin Leary clicked a little more in previous outings, I would have given UK a much better shot to break UGA's 21-game regular season conference winning streak. Because it's between the hedges, things are a lot more difficult for the visitors in blue — but it could wind up being quite a revealing outcome for one of the league's only viable playoff contenders all the same.
Michael: What better time than the present for Stoops to earn a signature win in his 11th year with the Wildcats? The 56-year-old coach has authored six seasons of seven-plus wins at Kentucky — and with a 5-0 record thus far, he's well on his way to a seventh — but the Wildcats have never beaten a top-five opponent during his tenure. Perhaps that will change this weekend as Kentucky attempts to upset the No. 1 team in the country for the first time since knocking off top-ranked LSU in 2007. Georgia enters the weekend with the longest winning streak in college football at 22 games, but the Bulldogs have trailed during the second half in two of their last three contests. They needed 10 fourth-quarter points to topple Auburn last week and 21 unanswered points to upend South Carolina two weeks prior. A third consecutive slow start could spell doom against a balanced Kentucky team ranked tied for 21st in scoring offense (37 points per game) and 20th in scoring defense (15.2 points per game).
Do you want more great stories delivered right to you? Here's how you can create or log in to your FOX Sports account, follow your favorite leagues, teams and players and receive a personalized newsletter in your inbox daily.
Michael Cohen covers college football and basketball for FOX Sports with an emphasis on the Big Ten. Follow him on Twitter at @Michael_Cohen13.
Laken Litman covers college football, college basketball and soccer for FOX Sports. She previously wrote for Sports Illustrated, USA Today and The Indianapolis Star. She is the author of "Strong Like a Woman," published in spring 2022 to mark the 50th anniversary of Title IX. Follow her on Twitter @LakenLitman.
RJ Young is a national college football writer and analyst for FOX Sports and the host of the podcast "The Number One College Football Show." Follow him on Twitter at @RJ_Young and subscribe to "The RJ Young Show" on YouTube.
Bryan Fischer is a college football writer for FOX Sports. He has been covering college athletics for nearly two decades at outlets such as NBC Sports, CBS Sports, Yahoo! Sports and NFL.com among others. Follow him on Twitter at @BryanDFischer.
---
COLLEGE FOOTBALL trending
---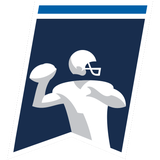 Get more from College Football Follow your favorites to get information about games, news and more
---