Power Rangers: Adolis García homers propel Texas past Astros, into World Series

HOUSTON — Good pitching and even better game-planning. An overpowering offense with timely hitting. An old-school manager who knows a thing or two about what strings to pull in a Game 7. Oh, and a heavyweight weapon in Adolis García. That's how you slay the defending-champion dragon.
That's how the Rangers are going to the World Series.
"These types of games, when there's a lot of emotions, the fans out there, they are rallying for their team, it fuels me," García said. "It's motivation that helps me out when I'm playing."
García, competing in the playoffs for the first time in his career, couldn't be more comfortable this October — particularly at Houston's Minute Maid Park. His two-homer, four-hit, five-RBI performance Monday fueled the Rangers' 11-4 rout over the Astros in Game 7 of the American League Championship Series.
Yes, he won ALCS MVP honors, and he earned every inch of it. By the time García's second home run of the night sailed 340 feet into the Crawford Boxes, the home fans had completely cleared out of the building. The only noisy fans remaining were sporting blue, white and red. "Let's Go Rangers!" chants became louder and more frequent as the Astros faded into the night. Still, it wasn't enough. García put a hand to his ear as he rounded third, wanting more from the Texas faithful.
"When you wake Adolis up," Rangers catcher Jonah Heim said, "you better be careful."
Especially since the All-Star slugger is not done yet. García's has already homered seven times this postseason and his 15 RBIs in the ALCS just set an MLB record for a playoff series.
"He's a bad man, isn't he?" said Corey Seager, who just as well could have been talking about himself after going 3-for-5 and starting the party Monday with a home run. "To be able to come into this atmosphere, get booed every at-bat and do what he did was pretty special. It was really fun to watch."
The Rangers now await the victor of the National League Championship Series between the Diamondbacks and Phillies. No matter which team wins Tuesday's Game 7, the World Series will begin on Friday night in Arlington at Globe Life Field.
Adolis García hits SECOND home run to extend Rangers' lead over Astros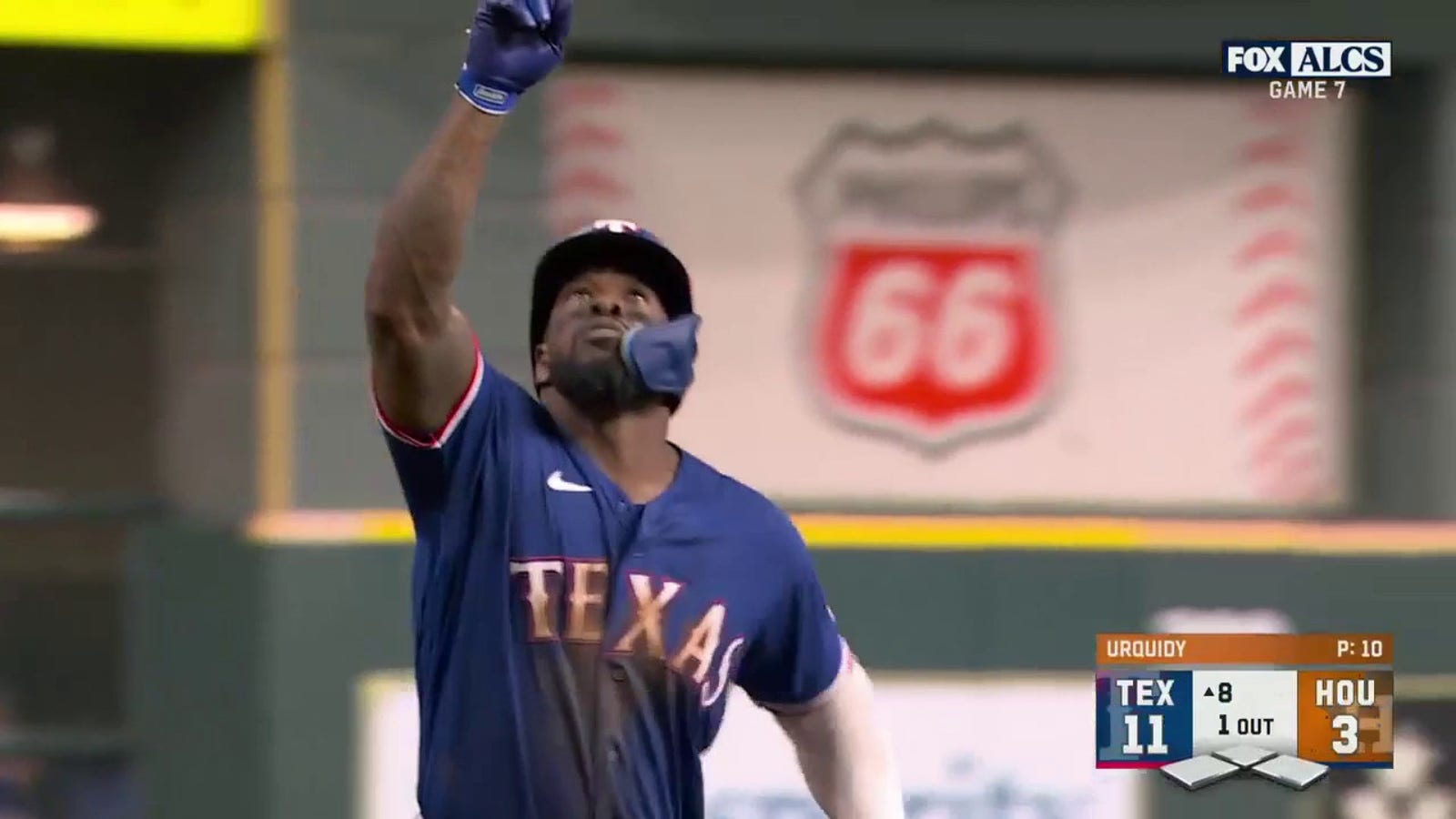 For an idea of just how locked in the Rangers were in Game 7, even as they constructed a blowout, players were still emotionless and focused in the Rangers dugout. That concentration emanated from skipper Bruce Bochy, who never took his finger off the pulse. Still, Bochy has never lost a Game 7 in six instances. Players tend to feed off the philosophy of their manager, and Bochy's experience allowed him to remain calm and in control as Texas piled on. It was hard to find anyone but García, ever the good-vibes man and entertainer, celebrating early on the bench. No, the Rangers waited until the final out for that.
After closer José Leclerc secured the last out and fell to his knees, a sea of blue-cloaked players sprinted onto the field and enveloped one another in a pile up off the mound. Later, Rangers owner Ray Davis and general manager Chris Young hoisted their ALCS trophy atop the stage setup in center field. They waited for All-Star second baseman Marcus Semien, who was off to the side celebrating with his kids, before taking the official AL pennant team photo. Once the cameras stopped clicking, a player yelled, "Let's go party!"
And then it was time for the champagne.
The smell of cigar smoke and champagne wafted through the corridors of Minute Maid's visiting clubhouse. The floor of the locker room was soaked in various puddles of Coors Light and fizzy spirits. First, the team harmonized and sang along to Creed's "Higher." Then, the reggaetón-infused song "Pepas" by Puerto Rican singer Farruko blared from the speakers.
'So much heart and determination' – Rangers' Bruce Bochy gives speech
In the middle of the room was Semien, red-eyed and grinning, holding court with a bevy of inquiring reporters while teammates stopped by to pour multiple bottles of beer atop his already-drenched cap. Most of his responses were centered on the man of the hour.
Is Adolis García the most confident player Semien has ever met?
"I think so," Semien said. "He's got the swag to go with it. It's just so good for young players to watch him and how he plays with such confidence to just boost up everybody else. I think a lot of young players could learn from that guy."
These Rangers, now 9-3 in the playoffs after squandering the AL West title to the Astros on the final day of the regular season, weren't messing around. Seager, playing in his third career Game 7, put his club on the board as soon as the fourth pitch of the night. Texas stormed ahead for a 3-0 lead and knocked Astros starter Cristian Javier from the game in the first inning. The lineup tacked on four more runs in the fourth. That provided enough cushion to overcome an abbreviated start from Max Scherzer.
The three-time Cy Young winner escaped a first-inning jam with an enormous double-play ball that was reminiscent of vintage Mad Max. After allowing a solo homer to Alex Bregman and a triple to Yordan Álvarez in the third, Scherzer induced a groundout that kept the latter from scoring. The aging, ailing right-hander lasted just 2.2 innings but stranded three runners in scoring position when the game was still close. Four Texas arms then combined to pitch 6.1 innings in relief, surrendering just two inconsequential runs.
"I'm just a good soldier," said Scherzer, who joined the Rangers in a deadline deal with the Mets. "Whatever button [Bochy] pushes, I'm down for it because this is the moment that we play for."
Max Scherzer sits down with 'MLB on FOX' crew following Texas' win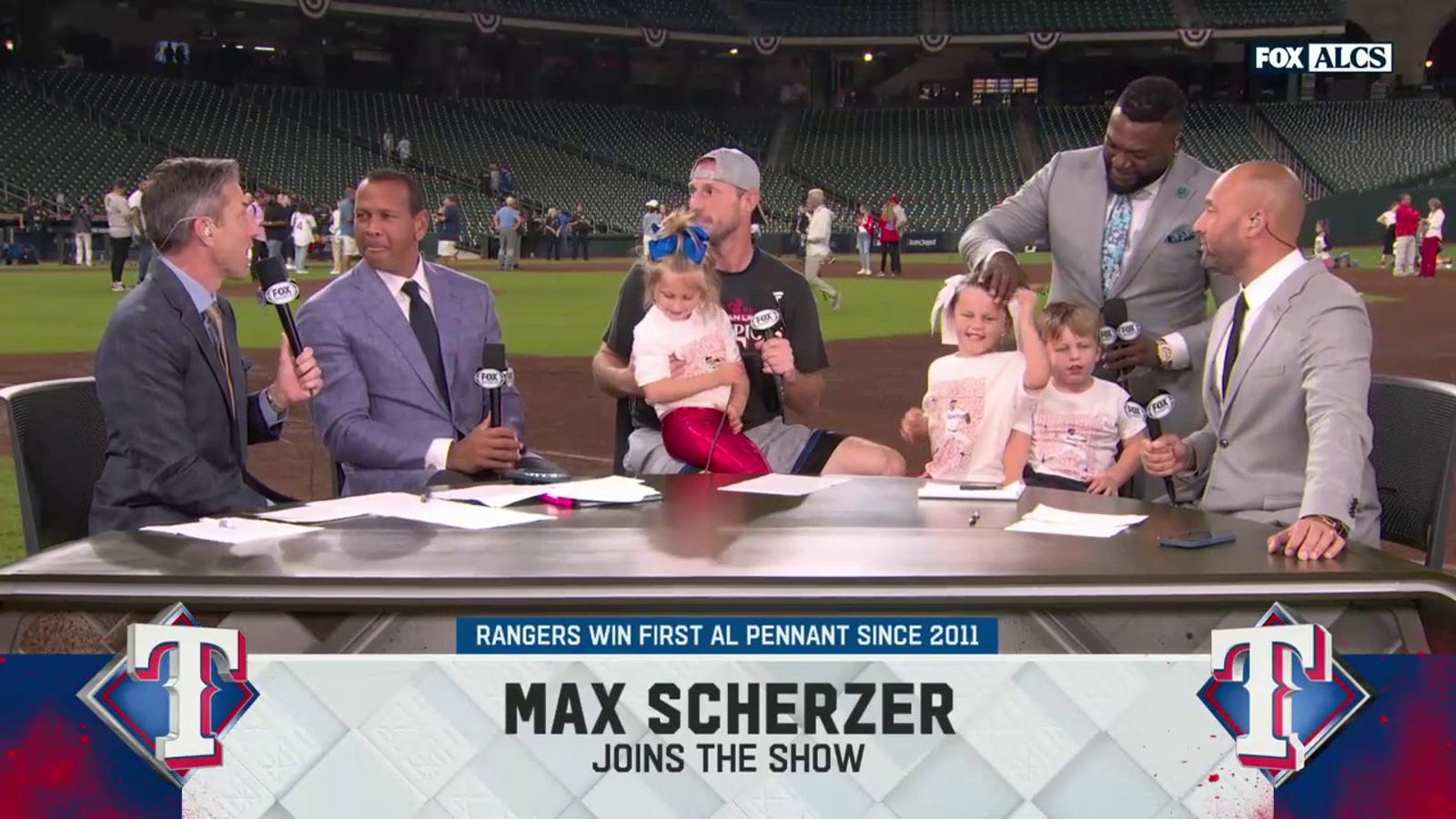 Astros players looked dejected as early as the top of the fourth. The crowd's energy — orange towels no longer in the air and not a peep coming from the same fans who booed García earlier in the night — matched the spirit on the field.
Sure, they still had 18 outs with which to work. They still had plenty of time to make a comeback, their six-run deficit not insurmountable. But that's just what the scoreboard said. Throw in the context of how Houston fell behind (and where it was playing), and Game 7 seemed over the minute ace Jordan Montgomery took over for Scherzer in the third inning. While the Rangers added to their lead, Montgomery preserved it, tossing 2.1 scoreless innings to earn his third win of the postseason.
"To win it how they won it just shows you much determination they had to get this done," Bochy said of his club's Game 7 blowout.
The final score was a surprise. The outcome was not. The Astros' season-long problem that was Minute Maid Park culminated in the postseason. They couldn't consistently score or win at home. Their orange army of a fan base saw them win here just 40 times out of a possible 87 chances, including 0-4 in an ALCS where neither team won a home game. Amazingly, not having home-field advantage worked to the Rangers', well, advantage.
Houston had the third-best road record in baseball and got away with it until the penultimate round, five wins shy of repeating as champions. Its five consecutive home losses in one postseason are an MLB first. The Rangers are also in the midst of history, their eight-game winning streak on the road matching the record set by the 1996 Yankees. More importantly, the 63-year-old franchise will make its third appearance in the World Series, still in pursuit of its first title.
"It's hard to put into words," Heim said. "It's probably the most joy I've felt other than having my kid and getting married."
Rangers score three runs in first inning to take early lead over Astros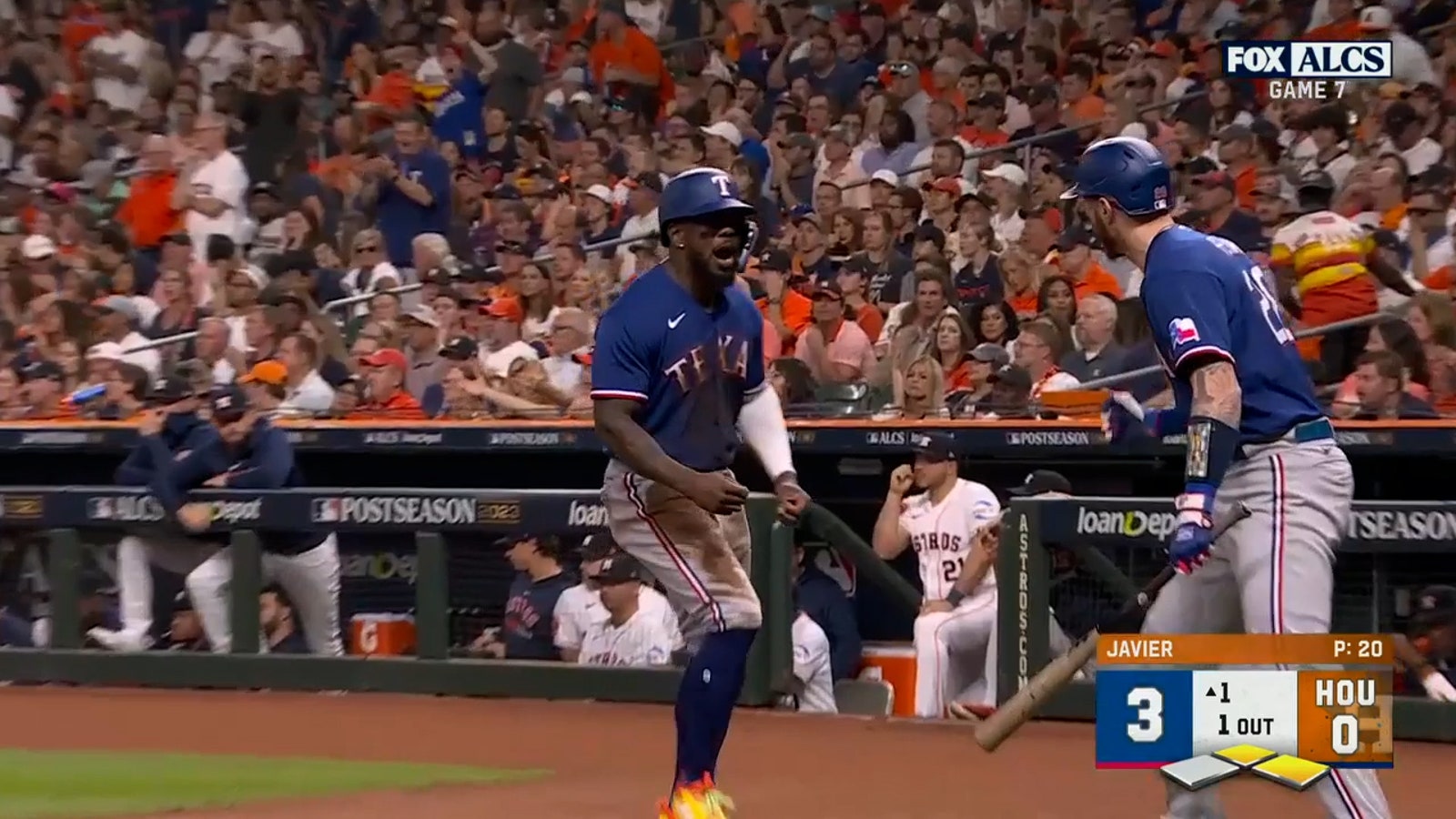 Game 7 seemed doomed for the Astros once Javier exited in the first inning. The October standout, so dominant on the road dating back to last year's playoffs, crumbled at home Monday. Javier recorded one out before Dusty Baker ambled out of the dugout and pulled him, his disastrous outing consisting of 23 pitches and one out. Calling on the bullpen to record the other 26 is a monumental ask, and it ultimately proved too much for Baker to juggle.
With Houston still trailing just 4-2, its revered skipper left in J.P. France, his fourth arm of Game 7, entirely way too long. The rookie coughed up four runs on five hits while recording two outs. Worse, he was used over more experienced high-leverage options like Hector Neris and Bryan Abreu.
"We just got beat," said the 74-year-old Baker, who is reportedly planning to retire but said after the loss he will take some time to decide his future. "Sometimes there's no rhyme or reason. Sometimes you lose and sometimes you get beat. There's a difference. We got beat."
But these will be mere footnotes in a Game 7 that, much like Game 6, demonstrated why Texas has the best offense in baseball — and, perhaps, the best team.
Deesha Thosar is an MLB writer for FOX Sports. She previously covered the Mets as a beat reporter for the New York Daily News. The daughter of Indian immigrants, Deesha grew up on Long Island and now lives in Queens. Follow her on Twitter at @DeeshaThosar.
Flippin' Bats:
---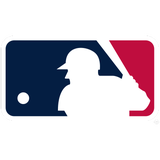 Get more from Major League Baseball Follow your favorites to get information about games, news and more
---