Prepping for the NFL: How college football coaches compare at developing RBs

Bryan Fischer
College Football Writer
Editor's note: This is part of an ongoing series on how college coaches fare at developing players for the NFL. Check out previous stories on SEC offensive players, SEC defensive players, ACC offensive players, ACC defensive players, Big 12 defensive players, Big 12 offensive players, Pac-12 offensive players, Pac-12 defensive players, Big Ten offensive players, Big Ten defensive players.
Following the 2023 NFL Draft, FOX Sports pulled decades worth of recruiting data and looked at just how productive (or not) each active Power 5 coach was at both recruiting and developing players when it came to the ultimate eye in the sky of the NFL.
Across nearly a dozen parts this summer, we've looked at every Power 5 league to see who the best coaches within each conference are at developing players across every position group. But when looking at the picture nationally, just how do coaches stack up against each other when it comes to finding all of those good players and, well, coaching them up?
To sort it all out, FOX Sports utilized a points system that rewarded development and applied it to every active Power 5 coach's draft class. Every drafted running back received a certain number based on what round he was drafted and what kind of recruit he was coming out of high school. An unrated running back coming out of high school going in the first round would be at the very highest end of the scale, while a former five-star sneaking into the seventh round of the draft would be at the lowest end.
To get a better picture at just how effective coaches were, this cumulative score was then divided by the number of seasons coached at the Division I level to get an overall rating.
As a result, here's a look at how every active Power 5 coach in the country does when it comes to producing running backs at the next level:
The Best: Kirby Smart (Georgia)
Though Smart is closely associated with coaching defense, perhaps it's no surprise that he's found success producing running backs. After all, his first coaching position at his alma mater was back in 2005 where he coached, you guessed it, running backs for then-head coach Mark Richt.
The Bulldogs were solid on the ground that season as they went on to win the SEC, but the adherence to a strong running attack has always been present in Smart's teams. Now he's getting the NFL production to match, as he appears to be on pace to surpass his old boss, Nick Saban, in terms of overall players produced out of the backfield.
As noted earlier in this series, every four- or five-star RB Smart has recruited through the class of 2020, save one, has been picked by an NFL team or is in line to start this coming season for the Bulldogs as seniors (in the case of Kendall Milton and Daijun Edwards). Low-end production isn't there – Smart hasn't had a running back selected in the draft who ranked three-stars or lower – but that's also a byproduct of the program simply not swimming in those recruiting waters for the most part.
In short, while running backs have never been valued less by NFL teams, Georgia players under Smart are valued as much as they ever have been. Not only has he been able to get starters and backups drafted (six tailbacks in seven seasons), but the Bulldogs head coach has typically seen them go on Day 1 or Day 2 – with two-thirds going within the top-100 picks.
Also excellent: Eli Drinkwitz (Missouri), Nick Saban (Alabama), Mel Tucker (Michigan State), Chip Kelly (UCLA), Ryan Day (Ohio State)
When it comes to producing running backs, there were a handful of head coaches who scored highly as a result of being early in their careers but still being able to send guys to the league with solid success stories. Take Missouri's Eli Drinkwitz. He has four seasons of head coaching experience, but he has managed to have three RBs drafted (including one top-100 selection while at Appalachian State), including a pair of two-stars and one three-star out of high school.
Michigan State's Mel Tucker is another, having had two running backs drafted in just four seasons as a head coach. That includes top-100 pick Kenneth Walker, who started out as a lowly two-star. That is just enough to put him ahead of future conference rival Chip Kelly.
Still, it's hard to ignore the numbers put up by Saban, who nearly cracked triple digits in terms of cumulative score (not factoring in the number of seasons coached). The Crimson Tide coach is the only one to crack double-figures when it comes to top-100 RBs drafted, and his overall number of 18 taken at the position is just one fewer than the rest of the SEC West coaches combined and more than the cumulative amount produced by the entire SEC East.
Saban is actually responsible for 12% of all NFL running backs produced by active Power 5 coaches.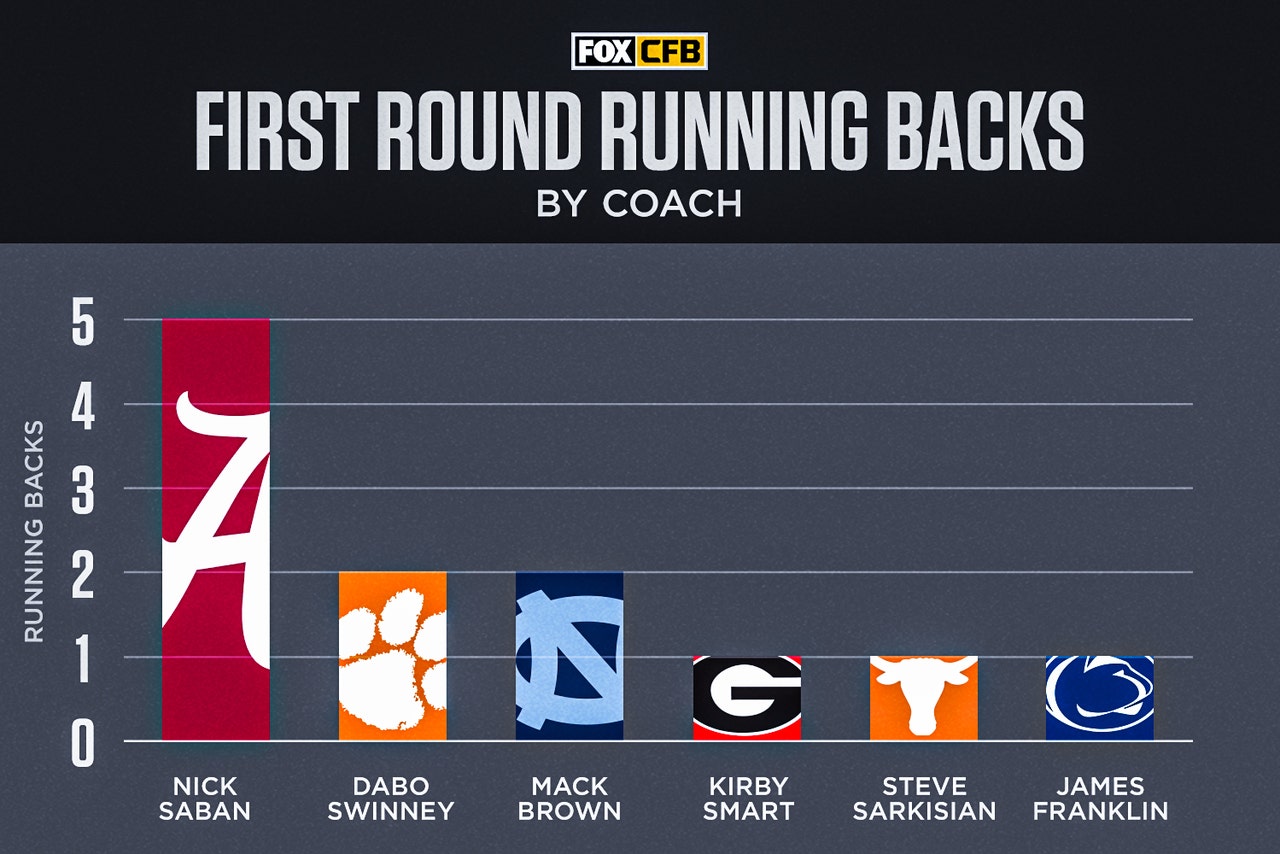 Others of note: Lane Kiffin (Ole Miss), Mike Norvell (Florida State), Jimbo Fisher (Texas A&M), Steve Sarkisian (Texas), Bret Bielema (Illinois), Dabo Swinney (Clemson)
Several other coaches who served as offensive coordinators under Saban also have a knack for developing running backs, including Lane Kiffin, Jimbo Fisher and Steve Sarkisian. The latter became the sixth to have a first-rounder at the position after Bijan Robinson, a former five-star recruit, went in the top 10 this past spring.
Though he hasn't had a RB drafted since arriving in Tallahassee, Mike Norvell was excellent during his time at Memphis. This included two top 100-picks, plus Tony Pollard, (who fell just outside the century mark), all of whom arrived on campus as two-stars.
Bret Bielema has had several head coaching stops, but he knows what to look for in the backfield. Most recently, the current Illinois coach saw former two-star prospect Chase Brown selected in the fifth round. His success with running backs extends back to the likes of four-stars Montee Ball at Wisconsin and Alex Collins at Arkansas.
Surprisingly disappointing: Kirk Ferentz (Iowa), Chris Klieman (Kansas State), Brian Kelly (LSU), Dave Clawson (Wake Forest)
The combination of having a lengthy tenure with few running backs being sent off to the next level is not something that is valued by the formula that is the baseline of this analysis. As a result, a few otherwise successful coaches land on the wrong side of things.
Although a strong running game has been the bedrock of the Hawkeyes' offense for decades, Kirk Ferentz has only seen two players drafted across 27 seasons at the Division I level – none in the last 14 years. Former two-star Shonn Green did get drafted in the top-70 picks back in 2009, but the fact he is the last running back from Iowa to be drafted remains hard to fathom.
Kansas State's Chris Klieman, who was indirectly involved in one of the 2023 draft's great stories when Deuce Vaughn was selected in the sixth round by the Dallas Cowboys, is another coach whose overall track record is solid but is hampered by tenure in charge. Vaughn is the only tailback Klieman has had drafted across nine Division I seasons, dropping him quite a bit in the overall rankings.
LSU's Brian Kelly has just four running backs drafted on his watch across two decades at the Division I level. Only one of the four has gone inside the top 100 as well.
It's fascinating to see Dave Clawson land so low on this list, considering how revolutionary (and effective) the slow-mesh offense has been at Wake over the years. The lone running back to be selected in the NFL Draft under Clawson is also a great study in how Wake's head coach is able to develop players. Tim Hightower, who was unranked coming out of high school, wound up being a star at the FCS level at Richmond, went in the middle rounds and had a solid six-season career at the next level.
However, despite having just one running back selected in the NFL Draft during his coaching career, Clawson still knows a thing or two about running the football, as Wake Forest has averaged at least 160 yards rushing per game in six of the past seven seasons.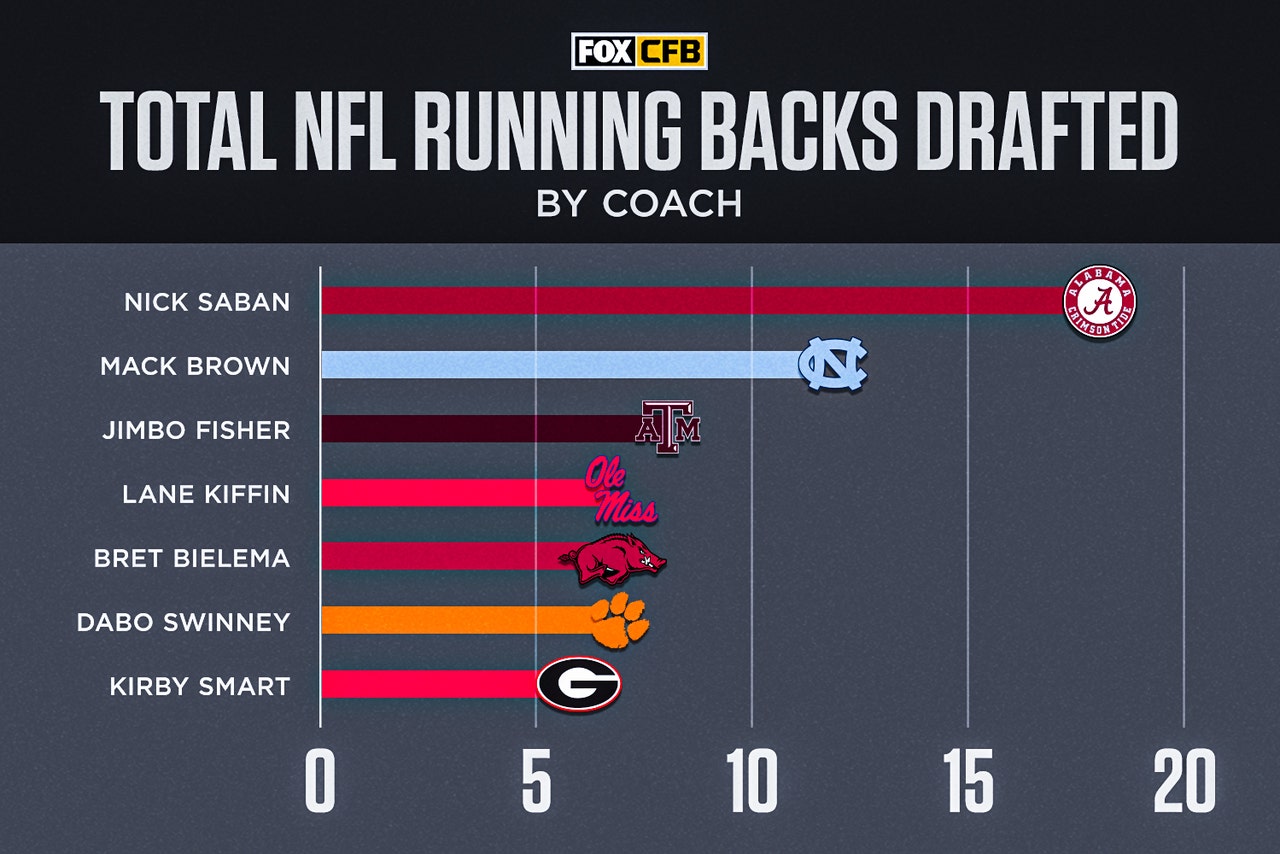 Bryan Fischer is a college football writer for FOX Sports. He has been covering college athletics for nearly two decades at outlets such as NBC Sports, CBS Sports, Yahoo! Sports and NFL.com among others. Follow him on Twitter at @BryanDFischer.
---
COLLEGE FOOTBALL trending
---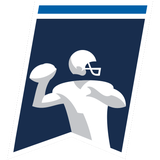 Get more from College Football Follow your favorites to get information about games, news and more
---