Rangers outmanuever Astros late, forcing ALCS Game 7 in Houston

HOUSTON — José Leclerc got redemption. Adolis García got revenge. The Texas Rangers got another game at their favorite park.
The Houston Astros, as they always do, threatened to come back Sunday. Trailing by two runs and a win away from clinching a third straight World Series berth, they appeared primed to feast on the Texas relief corps. Manager Bruce Bochy must have sensed that, too, as he completely bypassed his usual, and erratic, eighth-inning arm: Aroldis Chapman. Instead, Bochy boldly went straight to Leclerc to get out of a sticky situation.
It worked.
Leclerc made Bochy look like a genius when, with two outs to secure, he escaped a bases-loaded situation with a lineout and a strikeout. Despite the suspense, and the still-raw memory of José Altuve taking him deep less than 48 hours earlier, Leclerc overcame all of it in the biggest moment of Game 6.
Sunday's 9-2 rout was beyond a must-win for the Rangers. One bad pitch from Leclerc and their wildly successful season ends in a whimper. Instead, the clutch reliever got his retaliation against the in-state rivals. Leclerc, two days removed from blowing a two-run lead, howled and triumphantly pounded his chest on the mound to punctuate his high-leverage execution this time around.
"Whatever happened Friday, happened," Leclerc said. "I'm just thankful for the opportunity Bochy has given me to go out there, have the opportunity again in this type of game, and I'm just trying to take advantage of every opportunity that I'm given."
Bochy commended Leclerc for leaving the past in the past.
"They always say a good closer has a short memory. And he does," Bochy said. "He's such a tough kid. I think he took it hard, but also had the ability to put that behind him and he wanted to be back out there."
"Whatever happened Friday, happened," Leclerc said. "I'm just thankful for the opportunity Bochy has given me to go out there, have the opportunity again in this type of game, and I'm just trying to take advantage of every opportunity that I'm given."
As it turned out, the Rangers didn't need Leclerc for the ninth. García, Houston's No. 1 enemy, smashed a grand slam in the top of the ninth inning to break the game open in at Minute Maid Park, forcing a Game 7 of this ALCS on Monday (FOX, 8:03 p.m. ET).
José Leclerc strikes out Jon Singleton to get out of bases-loaded jam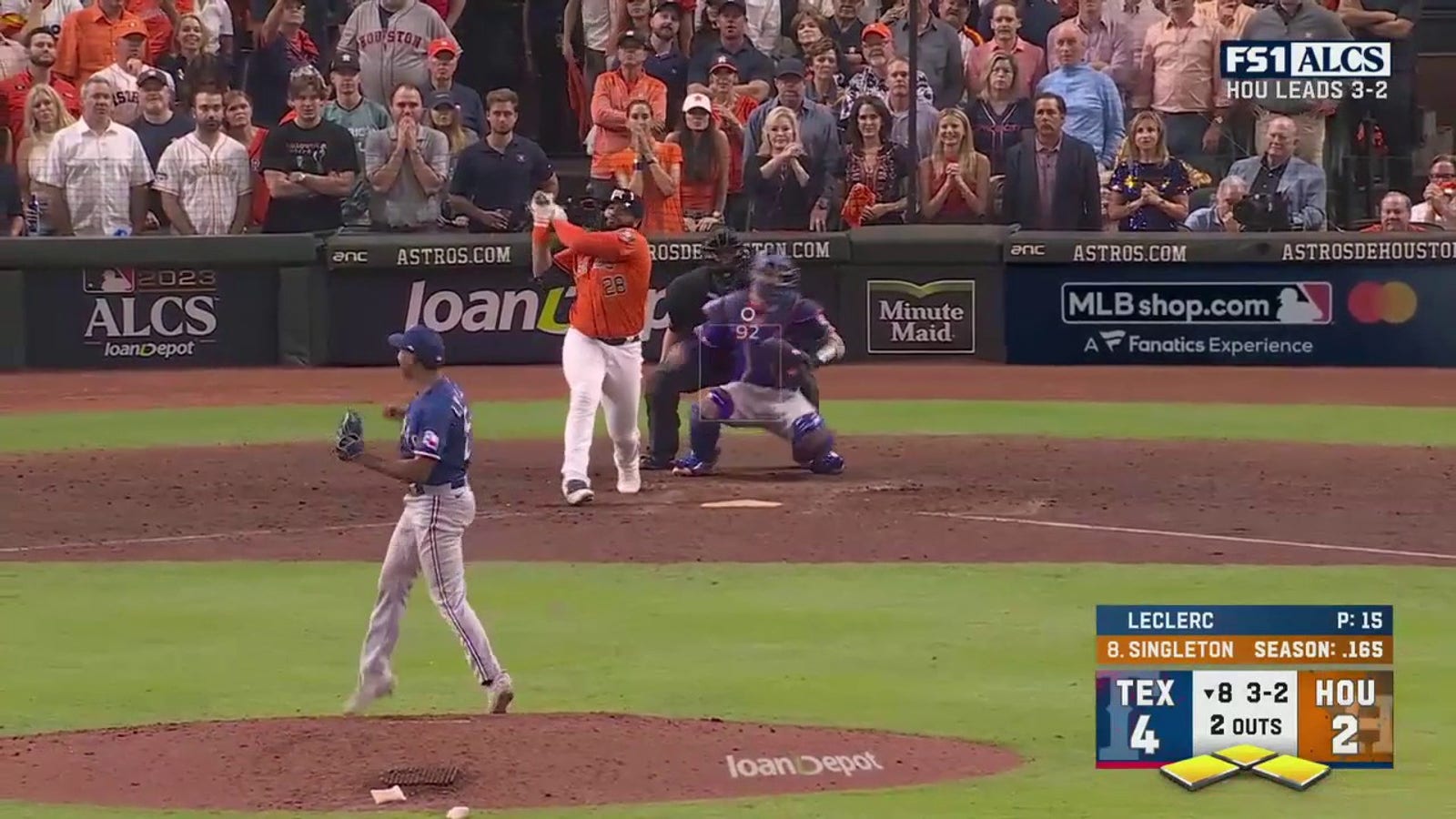 García had heard it from the crowd during lineup introductions and throughout all of his at-bats. Astros fans mercilessly booed the Rangers slugger all night, and it's possible the noise — or just the emotions and aftermath of the past couple of games — initially got to him.
"It was a crazy night for him, I'm sure, getting booed all night," Marcus Semien said. "He connected. I was waiting for him to connect all night because he was definitely swinging pretty hard."
All eyes were on García and Bryan Abreu in the eighth inning as the two faced off just 48 hours after inciting a benches-clearing incident. The 42,368 in attendance saved their loudest booing for this at-bat, which began with Houston's standout reliever hurling a 99 mph fastball several inches off the plate. Abreu quickly recovered and challenged García with two consecutive high fastballs. Finally, he offered his 88 mph slider and García fell victim to the change in speed, the All-Star slowly walking back to the Texas dugout following his fourth strikeout of the night as Astros fans ferociously mocked him.
Abreu was only allowed to pitch Sunday because he appealed his two-game suspension, which he might have to serve during Monday's Game 7. In Game 5, Abreu drilled Garcia near the shoulder in the eighth inning with the Astros trailing by two runs. The ALCS umpiring crew and then Major League Baseball decided Abreu hit Garcia intentionally. Abreu's appeal will be heard Monday.
"We have unfinished business," Rangers general manager Chris Young said after the win.
While García went down quietly in each of his first four at-bats, his teammates did quite a bit of damage around him. Mitch Garver crushed a solo shot off Framber Valdez in the second inning and Jonah Heim parked a two-run homer to the opposite field in the fourth. Semien, who's struggled throughout the series, went 2-for-3 with two walks.
Adolis García hits GRAND SLAM to blow Game 6 open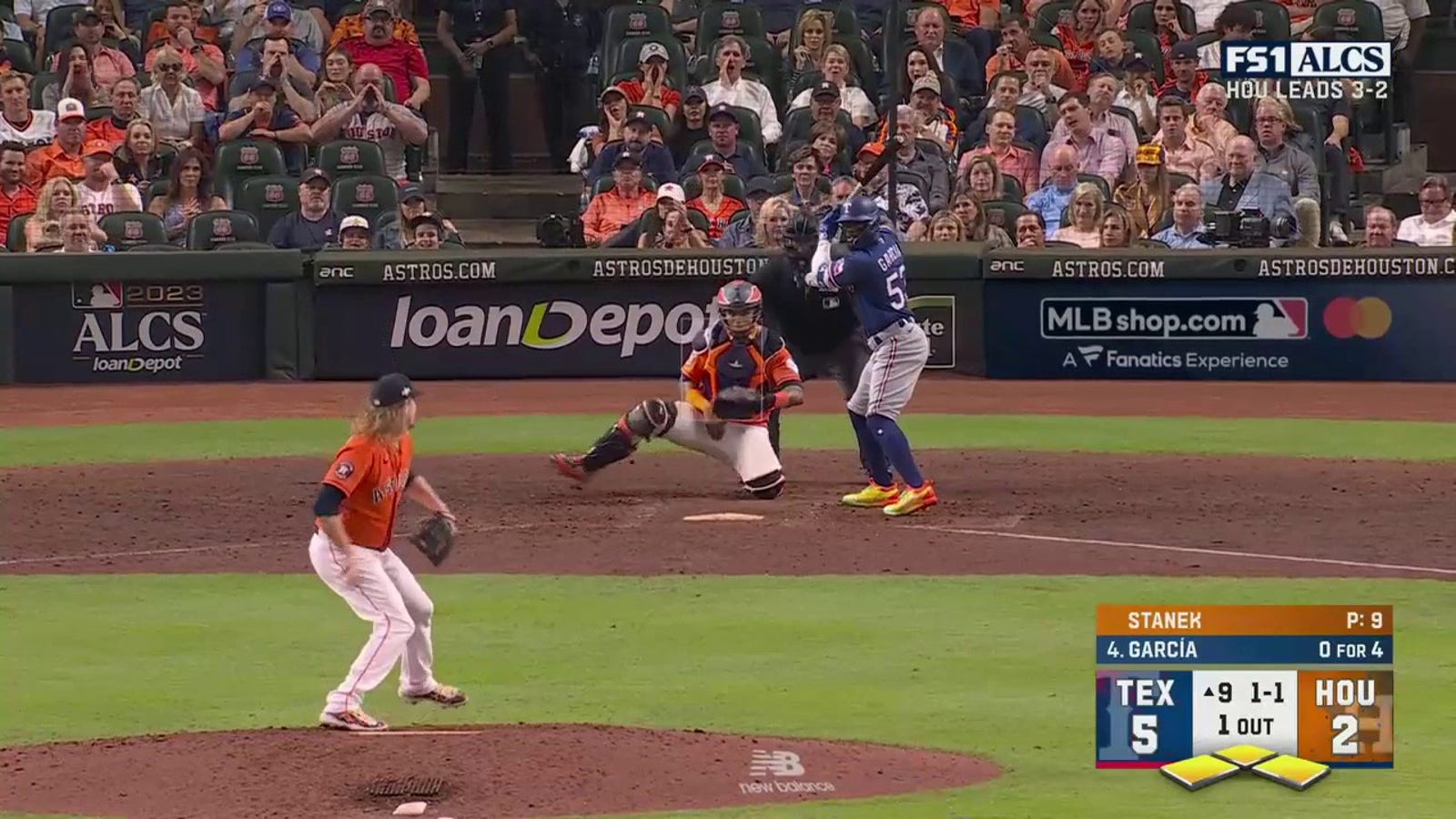 For Valdez, it was another uneven outing. After surfacing as Houston's best starter during last year's title run, the All-Star lefty has faltered the most this October (0-3, 9.00 ERA).
Bochy, meanwhile, was playing chess with a thin bullpen. The Texas skipper allowed starting pitcher Nathan Eovaldi to face Altuve four — yes, four! — times. That might be surprising if it had come from anyone other than Bochy, but given the state of his bullpen, the decision was tough to question. Rangers relievers ranked 19th in ERA (4.28) during the regular season, as bullpen depth differentiates these two clubs perhaps more than anything.
Eovaldi pitched into the seventh before Altuve lined a single and chased him. Bochy then turned to the first arm in his circle of trust, Josh Sborz, who protected a one-run lead by inducing an inning-ending double play from Michael Brantley. Eovaldi shouted his approval from the dugout. The decision was one of many in the final innings that couldn't have gone better for Bochy and the Rangers.
Now they hope that good fortune trickles into Game 7 at Minute Maid Park. Texas has not only won all three ALCS games in Houston — both teams remain winless at home thus far — but is 7-0 on the road this postseason.
On Monday, Cristian Javier, the only Astros starter to have a dominant outing in the series, will face off against three-time Cy Young winner Max Scherzer, who is also hoping to leave the past behind. The Rangers are expecting Scherzer's recovering shoulder to feel even better, which could lead to some critical adjustments from the future Hall of Famer. The Astros have pounded Mad Max each of the past two times they faced him.
Rangers rout Astros in Game 6 — Jeter, Big Papi and A-Rod react
"During the season we've had our ups and downs," Bochy said. "We've had some tough streaks, injuries. But these guys keep getting up and they keep bouncing back. It's about being resilient in this game because it doesn't matter if it happens or not, it's more how you handle it. And so these guys have done a great job of putting that behind them.
"It was just a must-win. I just love the way they responded and went out there and put together a great ballgame."
Their good process and production Sunday earned them another ballgame — for all of the American League marbles.
Deesha Thosar is an MLB writer for FOX Sports. She previously covered the Mets as a beat reporter for the New York Daily News. The daughter of Indian immigrants, Deesha grew up on Long Island and now lives in Queens. Follow her on Twitter at @DeeshaThosar.
Flippin' Bats:
---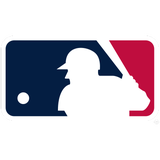 Get more from Major League Baseball Follow your favorites to get information about games, news and more
---