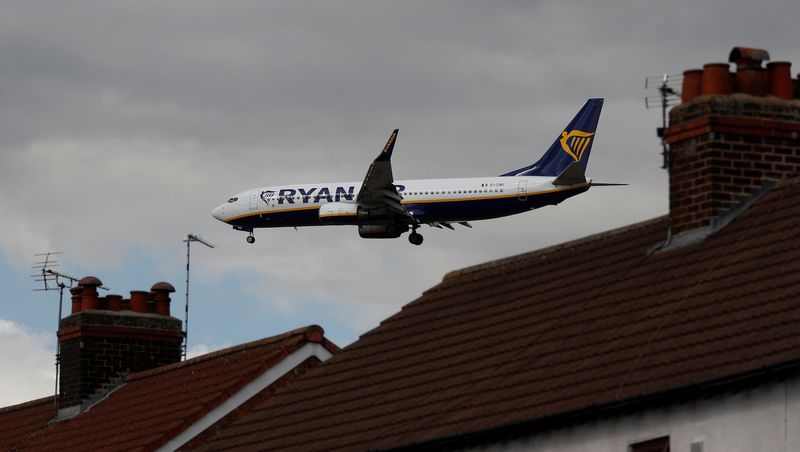 © Reuters. A Ryanair plane prepares to land at Manchester Airport in Manchester northern England, March 31, 2016. REUTERS/Phil Noble/File Photo
By Conor Humphries
DUBLIN (Reuters) -Ryanair expects to post a record annual profit and will pay investors a regular dividend for the first time, it said on Monday, citing fares that rose 24% during the summer and are likely to remain high for years because of limited capacity.
Shares in the low-cost pioneer, Europe's largest airline by passenger numbers, were up 6% at 0850 GMT.
Ryanair forecast after-tax profit for the year to end March of between 1.85 billion and 2.05 billion euros, easily beating its previous record of 1.45 billion euros in 2018.
"We think we are set for strong growth next year, both in terms of headline traffic numbers … and underlying air fares during the peak period," Group Chief Executive Michael O'Leary said in a video presentation.
Ryanair has been increasing capacity far faster than most rivals to take advantage of the travel boom that followed COVID-era lockdowns, flying 25% more passengers between July and September this year than in 2019.
European capacity overall was down 7% over the same period from 2019 levels, according to Eurocontrol, which manages European airspace.
O'Leary said problems with Pratt & Whitney engines would likely constrain capacity deployed by rivals which fly Airbus jets next summer, while low output by airplane manufacturers would limit capacity until 2030.
Ryanair said it would pay a maiden regular dividend of 400 million euros next year and in subsequent years will return approximately 25% of the after-tax profit via an ordinary dividend.
The dividend policy is a "strong vote of confidence in the company", Chief Financial Officer Neil Sorahan said in an interview.
Ryanair earned 2.18 billion euros in the six months to the end of September, the first half of its financial year, 59% ahead of its previous record for the period.
Sorahan said Ryanair's third quarter was looking "relatively good" with fares ahead of last year by a "mid-teens" percent margin. There is no real visibility for the final quarter to end-March, but easing inflation in Europe is a good sign, he said.
Ryanair is concerned that up to 10 of 57 Boeing (NYSE:) 737 MAX aircraft due to be delivered to the airline by next summer may be delayed until next winter, but the situation was improving, Sorahan said.
"We're in weekly calls with them (Boeing) at the moment. It's a fairly fluid situation. It's starting to get better at this stage, but more to go," Sorahan said.