Sam Bankman-Fried might risk testifying in criminal trial, experts say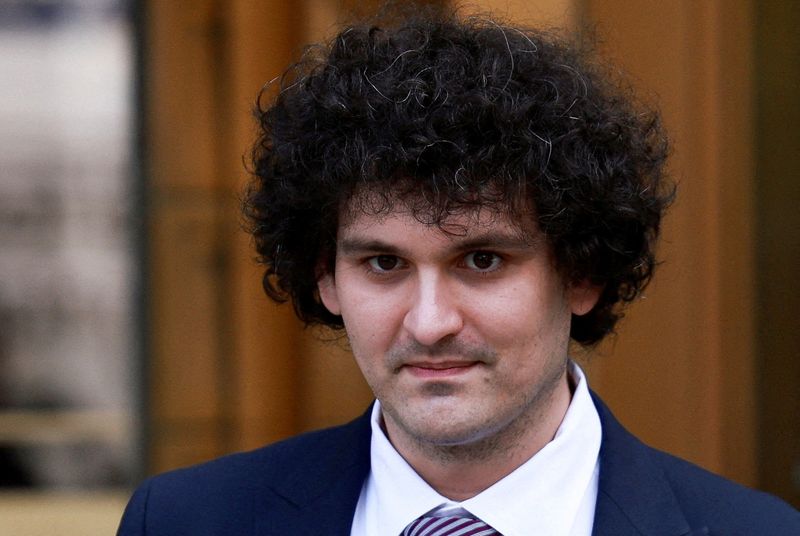 © Reuters. FILE PHOTO: Indicted FTX founder Sam Bankman-Fried leaves the United States Courthouse in New York City, U.S., July 26, 2023. REUTERS/Amr Alfiky/File Photo
By Jody Godoy
(Reuters) – Sam Bankman-Fried has little to lose by bucking conventional wisdom and taking the stand at his criminal fraud trial, following weeks of testimony that he stole billions of dollars from unwitting customers of his FTX cryptocurrency exchange.
Doing so would expose Bankman-Fried to probing cross-examination by prosecutors who would come armed with documents, messages and testimony from cooperating witnesses that they can use to attack his credibility.
But given Bankman-Fried's penchant for risk, his willingness to speak publicly about the charges and prosecutors' unflattering portrayal of him at the trial, he may bet that he can convince just one juror that he did not intend to commit fraud, legal experts said.
Bankman-Fried's lawyers have said he is considering taking the stand.
"It's not irrational to testify, if you think you are going down because the evidence is so overwhelming," defense attorney Ilene Jaroslaw said.
Defendants are not required to testify in criminal cases, but sometimes do so in a bid to raise doubt that prosecutors have proved their case.
Elizabeth Holmes took the stand at her criminal trial, testifying over several days that she did not intend to defraud investors in her blood-testing startup, Theranos. Holmes was ultimately convicted on four out of 11 counts and sentenced to more than 11 years in prison.
For Bankman-Fried to be convicted of fraud, prosecutors must show beyond a reasonable doubt that he intended to defraud FTX customers or investors. The 12 jurors must agree unanimously to return a verdict.
Prosecutors are expected to rest their case on Thursday. Bankman-Fried stands accused of looting customer money to make speculative venture investments, donate to political candidates, and repay lenders to his hedge fund Alameda Research.
A spokesperson for Bankman-Fried declined to comment.
The Massachusetts Institute of Technology graduate has pleaded not guilty. At trial, his lawyers have argued that he never intended to defraud anyone, and that many functions at the fledgling crypto exchange – including risk management – were "works in progress."
The 31-year-old former billionaire has already taken an unusual approach for a criminal defendant. Instead of laying low after he was charged, he published blog posts on his view of what went wrong and met with several journalists.
"I didn't steal funds, and I certainly didn't stash billions away," Bankman-Fried wrote in January, a month after his arrest on U.S. fraud charges.
Taking the stand carries the risk that he will be confronted with those media appearances as well as his use of social media.
But Bankman-Fried has a lower-than-average fear of risk, according to trial testimony.
Whereas most people are risk-averse, Bankman-Fried views himself as "risk-neutral," Caroline Ellison, former co-chief of Alameda, said on the stand.
Ellison was one of three former members of Bankman-Fried's inner circle who testified at trial, saying they committed crimes with him and adding to a portrayal by the government that Bankman-Fried's attorneys have called a "cartoon of a villain."
Mike Schachter, a defense attorney at Willkie Farr & Gallagher, said that, in some cases, taking the stand is the only way for a defendant to remove the "mask" put on them by prosecutors.
Schachter represented Tom Barrack, a onetime private equity executive and fundraiser for former President Donald Trump, and Lebanese businessman Jean Boustani in separate, unrelated criminal cases.
Both men took the stand at their trials and were ultimately acquitted.
In both cases, he felt it was important for them to be ready to testify on every allegation jurors had heard at the trial.
That level of preparedness is harder to achieve while in detention, where sleep is fleeting and the bus to court often leaves before dawn, he added.
"It really requires laser concentration. And they won't even give you a cup of coffee," he said.
Bankman-Fried has been held in Brooklyn's Metropolitan Detention Center since Aug. 11, when the judge overseeing the case jailed him for likely tampering with witnesses.
U.S. District Judge Lewis Kaplan told Bankman-Fried that if he decides to testify, even if he hasn't planned it with his lawyers, all he needs to do is stand up at the end of the case.
"You will be permitted to do so, regardless of whatever advice you have received," he said.