SEATTLE — The American League reign is over.
The National League won its first All-Star Game since 2012 on Tuesday night, as Rockies catcher Elías Díaz's go-ahead, two-run homer off Orioles closer Félix Bautista lifted the NL to a 3-2 win in front of 47,159 fans at T-Mobile Park.
Those fans made themselves heard all night, imploring Shohei Ohtani to sign in Seattle and cheering wildly for their hometown representatives. In the ninth inning, it was all set up for Julio Rodríguez to be the hero. The Mariners outfielder stepped to the plate representing the winning run as the crowd chanted his name.
Pandemonium, however, did not ensue.
Rodríguez drew a seven-pitch walk against Phillies closer Craig Kimbrel, putting two runners on base. Philadelphia manager Rob Thomson stuck with his guy, and Kimbrel rewarded the confidence by striking out José Ramírez on his 30th pitch of the inning to preserve the victory and check a bucket list item off his list with the save.
"I've had opportunities to pitch, but never this opportunity," Kimbrel said. "Probably threw more pitches than I wanted to, but I'm glad Topper stuck with me and let me get that opportunity."
Here are five other takeaways from the night:
1. Ohtani's free agency is never far away
The cheers for hometown players are to be expected. Typically, division rivals don't get the same treatment.
Ohtani is an exception.
2023 MLB All-Star Game: Angels' Shohei Ohtani is rewriting MLB history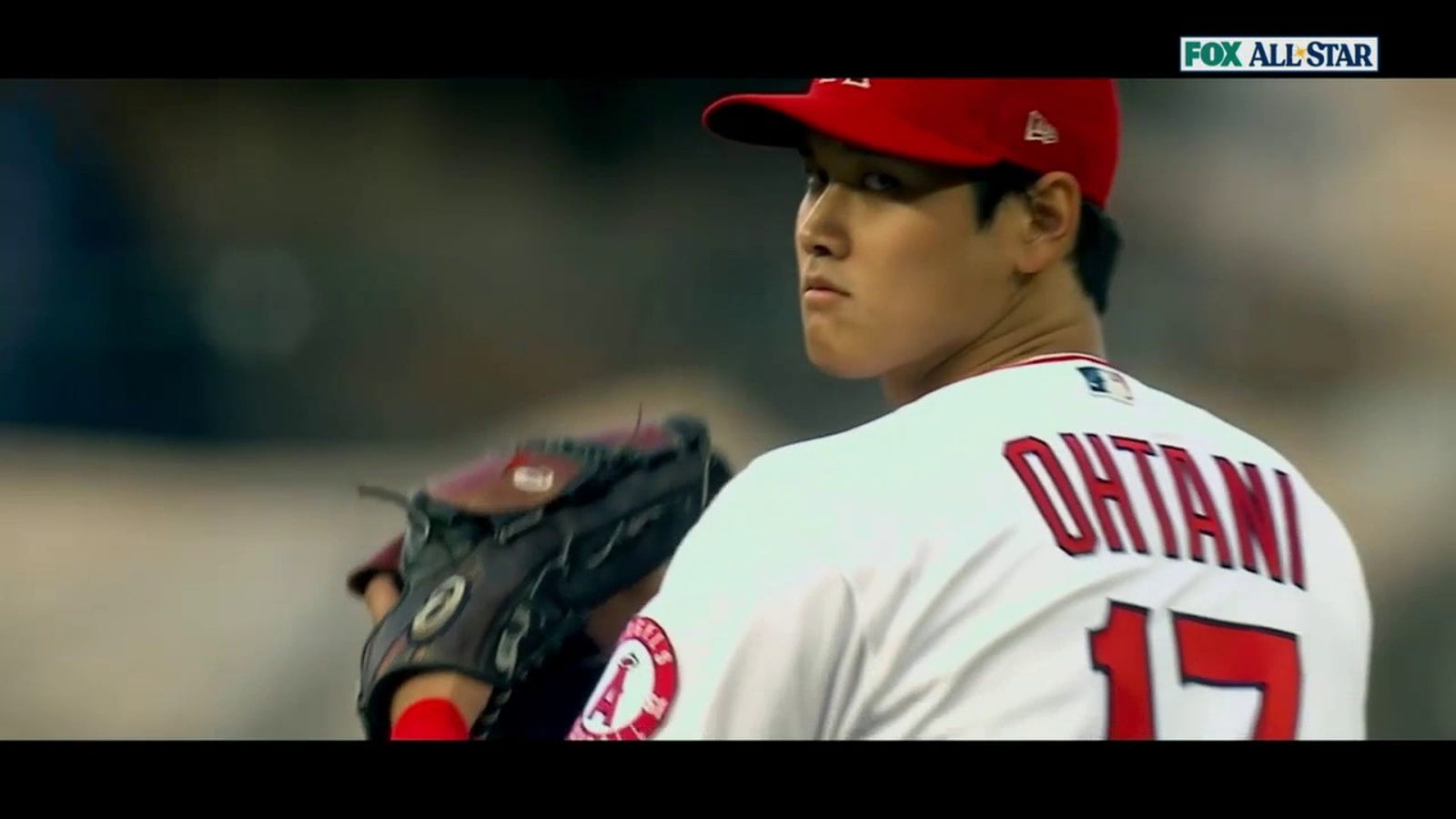 How different is he? Before Tuesday's All-Star Game, an opposing player paid him a visit. After getting bats autographed by All-Star teammates Mookie Betts and Freddie Freeman, Arizona's Geraldo Perdomo made the voyage to the AL clubhouse to get one signed by Ohtani, as well. The two-way talent was happy to oblige.
Needless to say, the fans were just as enchanted with Ohtani. Chants of "come to Seattle" rained down every time he stepped to the plate.
"I never experienced anything like that, but I definitely heard it," Ohtani said through his translator afterward.
He then complimented the city of Seattle, where he has spent his offseasons before, and its fans. Of course, insert any other city name, in any of the other 29 ballparks, and similar chants would've serenaded the Angels superstar, whose impending free agency has every fan base hopeful to land the generational talent.
Are players doing the same to try to entice him?
"I'd like to keep that a secret," Ohtani said.
Rodriguez, the hometown star, said he talked to Ohtani a bit but not specifically about coming to Seattle.
"Secrets," Rodriguez said with a smile. "Can't know everything in life."
2. Luis Arráez takes his hit parade to Seattle
One month ago at T-Mobile Park, the impossible happened: Arráez went hitless for a series.
His 0-for-12 performance over three games in Seattle dropped his batting average to .378, looking possibly like the end of his quest to hit .400. Only three games later, including two five-hit performances, he reached the plateau again.
It is no surprise, then, why Blue Jays closer Jordan Romano called Arráez the most uncomfortable at-bat in the league before Tuesday's game. Arráez returned to the fateful scene at T-Mobile Park and erased the bitter taste of his last trip to Seattle, needing only two pitches to rope two singles. His second hit brought J.D. Martinez home from second to tie the game in the fourth inning.
"Wait for the ball, hit the ball," Arráez said. "That's what I do."
Marlins' Luis Arráez smacks an RBI knock to even score of All-Star Game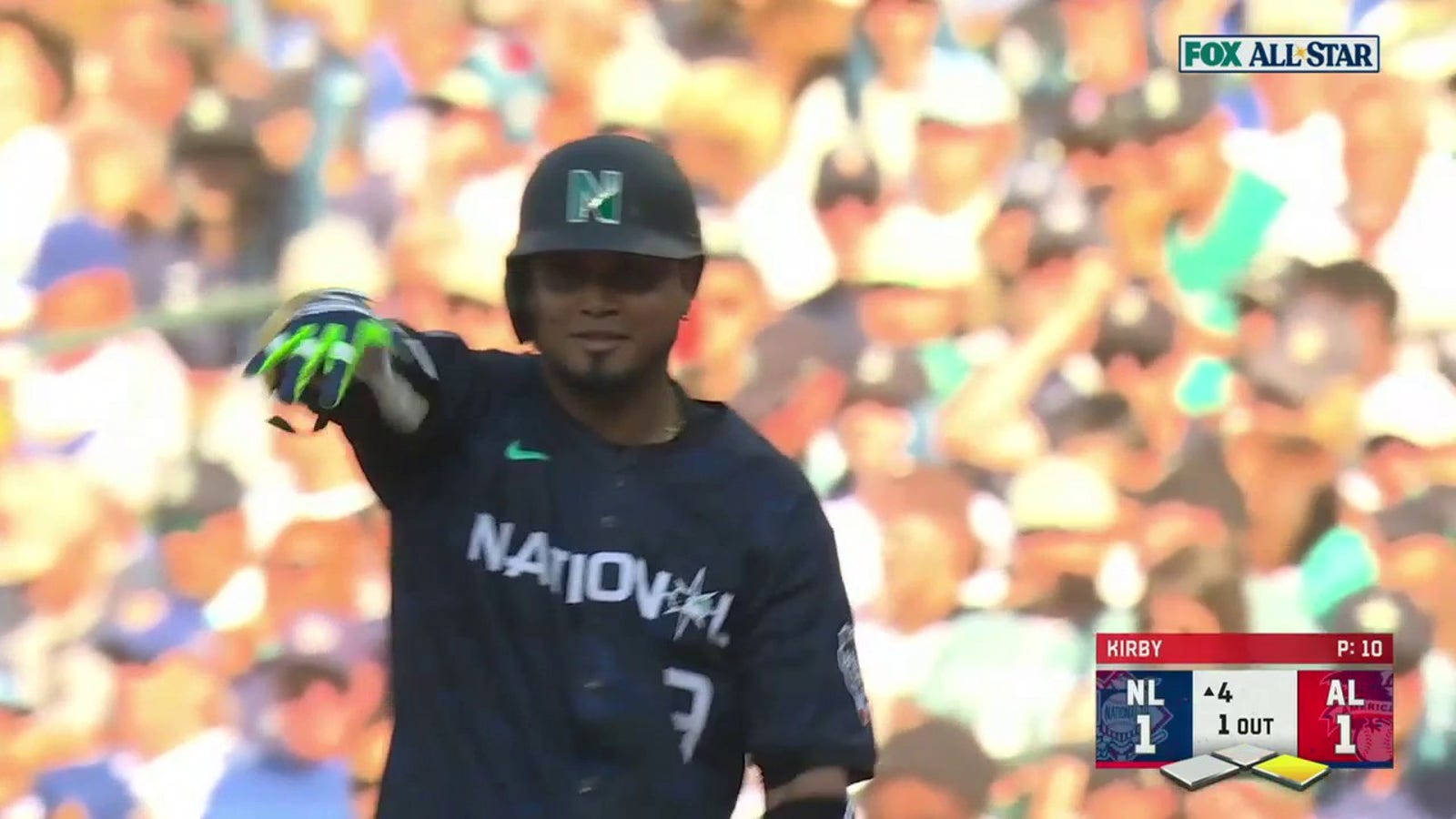 Freeman, who led the majors in hits last year and hit .325 last year, was among many of Arráez's NL teammates who marveled at the Marlins infielder's abilities. After winning the AL batting title last year, Arráez is on his way to doing the same in the senior circuit this year.
"It's incredible to watch," Freeman said. "Just today in the game, an 0-0 splitter for a hit and an 0-0, 98-mph fastball for a hit with shadows. Nothing fazes him. It's incredible."
Arráez told Freeman and Betts that he likes watching them hit, but the feeling is mutual. He felt all the support from his All-Star peers.
"They say, 'Hey, go ahead, go play hard, enjoy the game, you can hit .400,'" Arráez relayed. "I say, 'Hey, it's hard. I'm human. But I'll try. Let's see what happens when I finish my season."
3. Rangers roll deep
If the All-Star Game is supposed to paint a picture of the season's first half, it's no surprise that six different Texas Rangers players were on the field when Nathan Eovaldi took the mound in the second inning.
Despite a late tumble leading into the break, the Rangers still hold a two-game lead over the Houston Astros as the surprise leaders of the AL West. Many expected their revamped rotation to be their guiding force, but it's their offense that has pushed them to this point, scoring more runs than any team in baseball.
More than half of the AL's starting lineup wore a Texas cap. And while those players struggled to produce offensively Tuesday against the NL's elite arms, Adolis García still put on a show with two leaping catches at the wall in right field.
The first came on the second pitch of the game, when Ronald Acuña sent a ball 353 feet out to fight field that García tracked down. It would've been a home run at one field: AL starter Gerrit Cole's Yankee Stadium.
4. Rays stars tell the story of the first half
As well-represented as the Braves (eight players) and Rangers were, telling the story of the first half would be incomplete without mentioning the Rays and their historic start.
On Tuesday, Randy Arozarena and Yandy Díaz showcased the talent and excitement in Tampa Bay that has their team still leading the powerhouse AL East.
Immediately after García's catch on Acuña, Arozarena made his own leaping grab, robbing Freeman of an extra-base hit that would've been a home run in five ballparks. Arozarena turned toward his good friend García, and the corner outfielders played to the fans' excitement by crossing their arms and making Arozarena's classic pose.
Adolis García, Randy Arozarena make elite catches to begin All-Star Game
"It wasn't very fair," Freeman quipped. "No, it was a good catch. Hit the ball hard, can't really ask for much more in the All-Star Game."
An inning later, the Rays' Diaz hit the only home run of the game until the Rockies' Díaz's blast.
5. The National League gets its vengeance
For a while, the 93rd Midsummer Classic looked like more of the same.
That is to say, the NL was 3-21-1 in the All-Star Game since 1997 and hadn't won at all since blanking the AL, 8-0, at Kauffman Stadium in 2012. On Tuesday, the junior circuit led for four of the first seven innings and never trailed in that time, in good shape to capture its 10th straight All-Star Game victory.
But, finally, the NL exacted some revenge.
2023 MLB All-Star Game: Every Angle of Elías Díaz's go-ahead, two run HR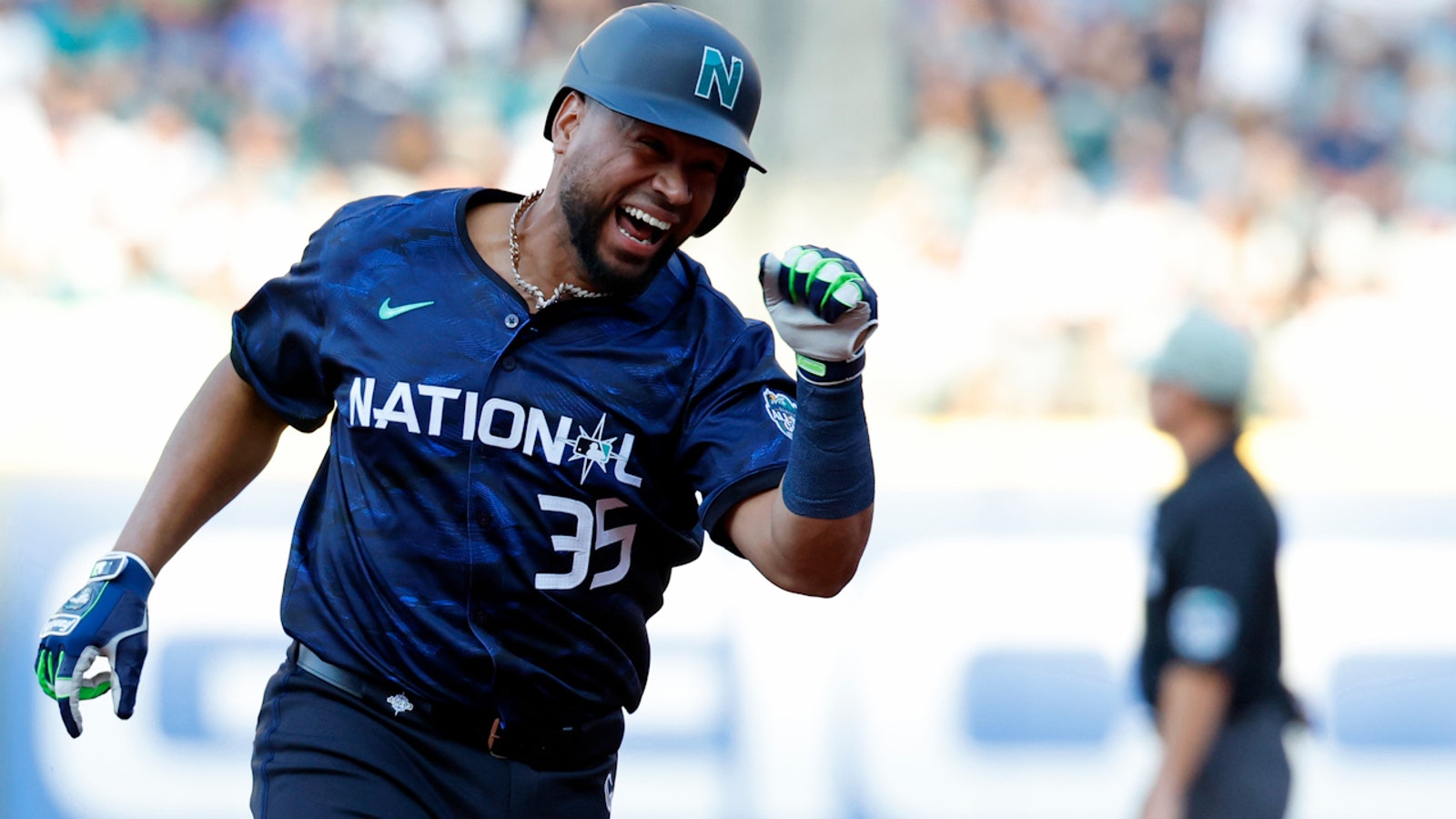 Arráez and Martinez were the offensive standouts early, each going 2-for-2, before Díaz delivered the decisive blast. Afterward, Thomson tried to downplay the NL's recent ineptitude.
"I don't think they really pay too much attention to that anymore," he said. "I think if you're playing in a game, you want to win. But I don't think there was much significance to that at all."
Rowan Kavner covers the Dodgers and NL West for FOX Sports. He previously was the Dodgers' editor of digital and print publications. Follow him on Twitter at @RowanKavner.
---
MLB trending



2023 MLB All-Star Game highlights: NL earns first win in 10 tries

2023 MLB All-Star Game odds, picks, predictions, MVP odds: How to bet Midsummer Classic

Corbin Carroll has taken MLB by storm. His Seattle legend began when he was 14




2023 MLB All-Star FOX Bet Super 6: Analyst shares best bets, Super 6 picks

2023 MLB All-Star Game top viral moments: mic'd up, interviews, more

Is Shohei Ohtani a better hitter or pitcher? We asked 15 MLB All-Stars




2023 MLB All-Star Week schedule: How to watch, channels, times, dates

2023 MLB All-Star Game: Rosters, starters, voting results, lineups

Derek Jeter on Shohei Ohtani, MLB rule changes, playing in New York, more
---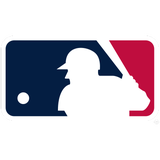 Get more from Major League Baseball Follow your favorites to get information about games, news and more
---