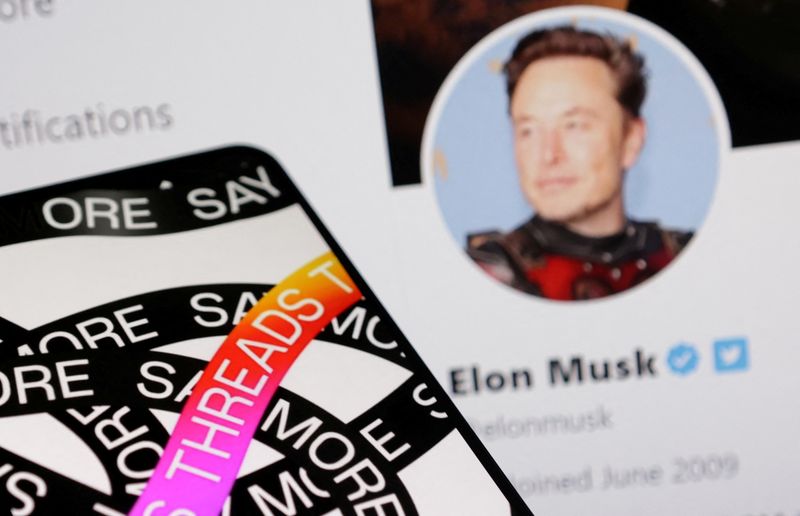 © Reuters. Meta Threads app logo and Elon Musk Twitter account are seen in this illustration taken, July 7, 2023. REUTERS/Dado Ruvic/Illustration
(Reuters) – Jack Sweeney, the creator of an account tracking Elon Musk's private jet in real time, has moved to Mark Zuckerberg's Twitter-rival Threads after being suspended from Twitter last year.
"ElonJet has arrived to Threads!" read Sweeney's first post on Thursday from the account handle @elonmusksjet, which had over 21,000 followers as of Saturday morning.
ElonJet has tracked the movements of Musk's private jet using data available in the public domain.
In December Twitter Inc (NYSE:), owned by Musk, suspended the ElonJet account, with the billionaire threatening legal action against the account's operator after saying his son had been mistakenly followed by a "crazy stalker".
Meta-owned Threads, posing a direct challenge to Twitter, garnered millions of users in hours, including prominent figures such as Kim Kardashian, Jennifer Lopez and Democratic U.S. Representative Alexandria Ocasio-Cortez, as it seeks to take advantage of its rival's weakened state after a series of chaotic decisions from Musk.
Sweeney, Twitter and Meta did not immediately respond to a Reuters request for comment.