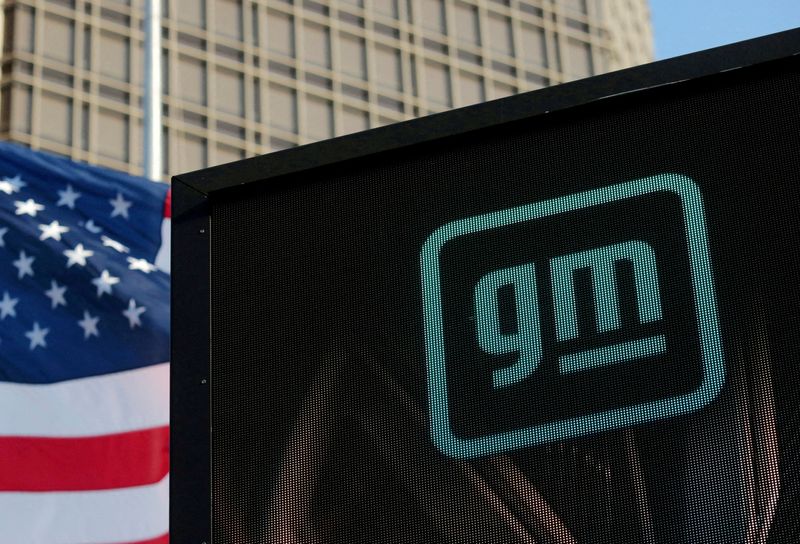 © Reuters. FILE PHOTO: The GM logo is seen on the facade of the General Motors headquarters in Detroit, Michigan, U.S., March 16, 2021. REUTERS/Rebecca Cook
By Shivansh Tiwary
(Reuters) -United Auto Workers (UAW) union members at General Motors (NYSE:)' Flint assembly plant in Michigan have narrowly voted against a proposed contract with the U.S. automaker, the local chapter said.
The vote signals that approval of the deal, which is set to raise costs significantly for GM, is not guaranteed.
In a Facebook (NASDAQ:) post on Thursday, the UAW Local 598 said 51.8% of votes cast were against the proposed deal.
GM said it would not comment during the ratification process.
Shares of the company, which has 4,746 workers at the Flint plant, fell about 1.2% in morning trade to hit a more than three-year low of $26.30.
Workers at the company's other plants are expected to vote on the agreement in the coming weeks.
Of the total votes cast at the company's various facilities so far, about 58% of workers voted in favor of the deal, according to a UAW vote tracker.
Workers are yet to vote at some of GM's major plants including the Arlington assembly plant in Texas and Fort Wayne truck plant in Indiana, which produce some of the company's most profitable vehicles.
Union workers are voting on contracts from each of Chrysler-owner Stellantis (NYSE:), General Motors and Ford Motor (NYSE:), after the first coordinated strike against Detroit's Big Three automakers.
The vote at the Flint assembly plant, which manufactures the Silverado heavy duty pickup truck, comes after the Detroit Three automakers and the UAW reached tentative deals over the last few weeks to end a costly strike following marathon negotiations.
The UAW's new agreement, which covers 46,000 workers overall at GM, grants a 25% increase in base wage through April 2028 and will cumulatively raise the top wage by 33% compounded with estimated cost-of-living adjustments to over $42 an hour.
"The chances of GM putting more than another 15 cents on the table are low," said Erik Gordon, a University of Michigan business professor.
The historic deal with the Detroit Three has prompted rival automakers with a non-unionized workforce to offer hikes.
Japan's Honda (NYSE:) Motor said on Friday it was implementing an 11% pay increase for production workers at its U.S. facilities from January.
Subaru (OTC:) Corp of Indiana Automotive also said it planned to provide its U.S. associates a "pre-holiday announcement" as part of its biannual process.
Separately, the UAW said Volvo (OTC:) Group-owned Mack Trucks has informed the union that the Oct. 1 offer to striking workers was its "last, best and final".
Voting on the offer has been tentatively scheduled for Wednesday, the union said.