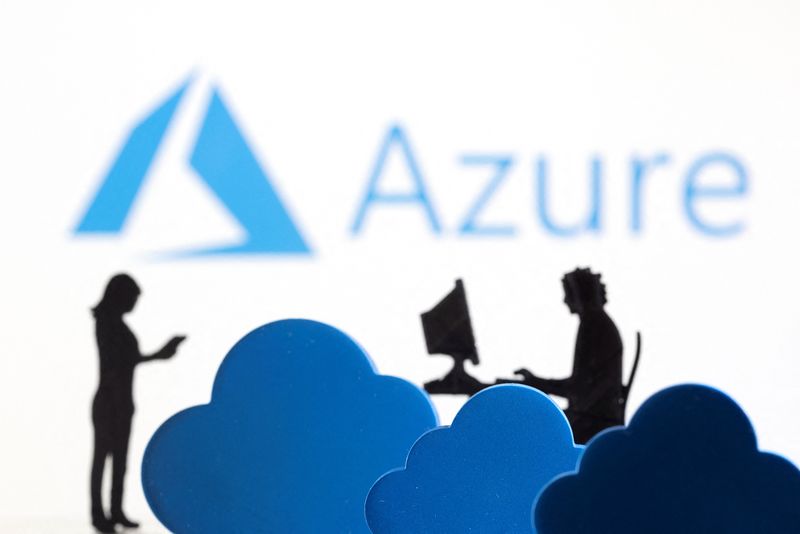 © Reuters. 3D printed clouds and figurines are seen in front of the Microsoft Azure cloud service logo in this illustration taken February 8, 2022. REUTERS/Dado Ruvic/Illustration
By Paul Sandle and Yadarisa Shabong
LONDON (Reuters) – Britain's media regulator on Thursday asked the country's antitrust authority to investigate U.S. tech giants Amazon (NASDAQ:) and Microsoft (NASDAQ:)'s dominance of the UK cloud market.
Ofcom said it had identified features that made it more difficult for UK businesses to use multiple cloud suppliers.
Amazon Web Services (AWS) and Microsoft had a combined 70-80% share of Britain's public cloud infrastructure services market in 2022, Ofcom said. Google (NASDAQ:) was their closest competitor with 5-10%.
"The CMA (Competition and Markets Authority) will now conduct an independent investigation to decide whether there is an adverse effect on competition, and if so, whether it should take action or recommend others to take action," it said.
Amazon said it disagreed with Ofcom, whose findings were based on "a fundamental misconception of how the IT sector functions, and the services and discounts on offer".
"Any unwarranted intervention could lead to unintended harm to IT customers and competition," a spokesperson said.
But it said it would work constructively with the CMA.
Microsoft said it was committed to ensuring the UK cloud industry remained innovative and highly competitive. "We will engage constructively with the CMA," a Microsoft spokesperson said.
Ofcom said in April it was worried about the practices of AWS and Microsoft because of their market positions, and planned to ask the competition regulator to investigate.
Reuters reported on Tuesday that Ofcom was expected to push for an antitrust investigation.
UK businesses told Ofcom they were concerned it was too difficult to switch or mix and match cloud providers.
"So, we're referring the market to the CMA for further scrutiny, to make sure business customers continue to benefit from cloud services," Ofcom Director Fergal Farragher said.
The CMA welcomed the move, saying many businesses relied on cloud services, making effective competition in the 7.5 billion pound ($9.1 billion) market essential.
Cloud computing has also attracted the French antitrust authority's attention. It said in June that various practices in the sector could potentially restrict competition, which could pave the way for investigations in the future.
EU antitrust regulators are also scrutinising Microsoft's cloud computing practices following a complaint by trade group Cloud Infrastructure Services Providers in Europe (CISPE) whose members include Amazon.
Google Vice President Amit Zavery said Ofcom's referral demonstrated the need to create an open cloud market with no vendor lock-in.
"UK government agencies, businesses, and consumers want to move easily across cloud platforms and choose which services best meet their needs," he said, adding Google would continue to allow its products to run on any cloud without penalty.
The CMA will complete its investigation by April 2025.
($1 = 0.8232 pounds)