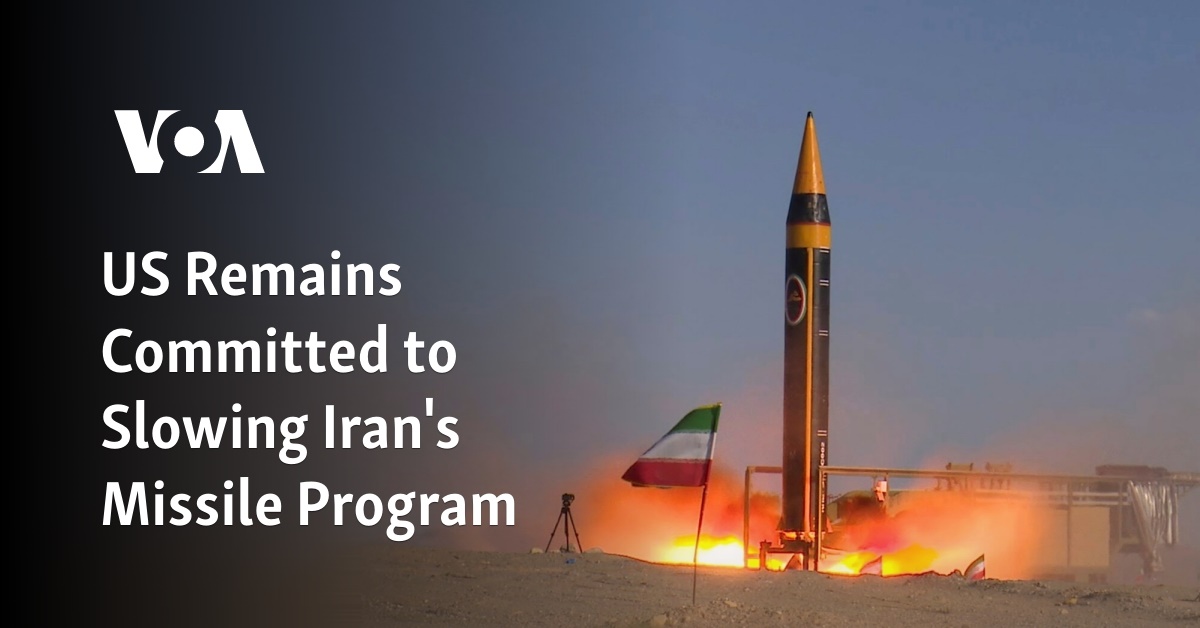 The United States is leveling new sanctions against entities and individuals involved in Iran's missile, unmanned aerial vehicle and conventional arms industries.
The move coincides with the expiration Wednesday of United Nations sanctions on the Islamic Republic.
"The United States will continue to take action to disrupt Iran's proliferation of UAVs and other weapons to oppressive regimes and destabilizing actors, and we encourage the international community to do the same," said Brian Nelson, undersecretary of the Treasury for terrorism and financial intelligence, in a statement.
The Treasury Department's Office of Foreign Assets Control targets 11 individuals, eight entities and one vessel based in Iran, Hong Kong, China and Venezuela.
They have been designated as having "materially supported Iran's Islamic Revolutionary Guard Corps (IRGC), Ministry of Defense and Armed Forces Logistics (MODAFL), or their subordinates in the production and proliferation of missiles and UAVs," the statement said.
Treasury officials say the action is being taken jointly with the State Department, "which is designating eight individuals and entities related to Iran's missile, conventional arms and UAV activities."
The State Department also said about four dozen countries have committed to countering Iran's missile-related activities by way of a Proliferation Security Initiative, which began during the administration of President George W. Bush.
"We are joined today by a broad grouping of 47 countries in the Proliferation Security Initiative in expressing our shared commitment to taking all necessary measures to prevent the supply, sale, or transfer of ballistic missile-related items, materials, equipment, goods and technology by Iran," Secretary of State Antony Blinken said in a statement.
"Further, we fully support the decision made by the European Union to retain nuclear, conventional arms, and missile-related restrictions on Iran."
According to the Reuters news agency, the expiration of the U.N. sanctions comes under a "sunset clause" of the 2015 Iran nuclear agreement. The JCPOA, known formally as the Joint Comprehensive Plan of Action, was aimed at curbing Iran's nuclear program in exchange for sanctions relief.
As president, Donald Trump pulled the U.S. out of the deal in 2018 and restored tough sanctions on Iran. He also said the deal's sunset provisions were "totally unacceptable."
Tehran has maintained that its nuclear program is for peaceful purposes.
Efforts by the administration of U.S. President Joe Biden to reinstate the deal's limitation of Iranian nuclear development have not been successful.
Moscow, meanwhile, says exchanges of missile technology from Russia to Iran will no longer need U.N. Security Council approval. Reuters also reports Russia has not said whether it will now support Iran's missile development.
U.S. concerns over Iran's missile program are elevated as tensions rise in the Middle East following militant group Hamas' deadly surprise attack in southern Israel on October 7.
Israel subsequently declared war on Hamas, which runs the Gaza Strip. Iran has supported Hamas, describing Hamas' actions as the manifestation of resistance, while denying responsibility for the October 7 attack.
Henry Ridgwell contributed to this report. Some information came from The Associated Press and Reuters.