US Virgin Islands demands $190 million from JPMorgan in Epstein case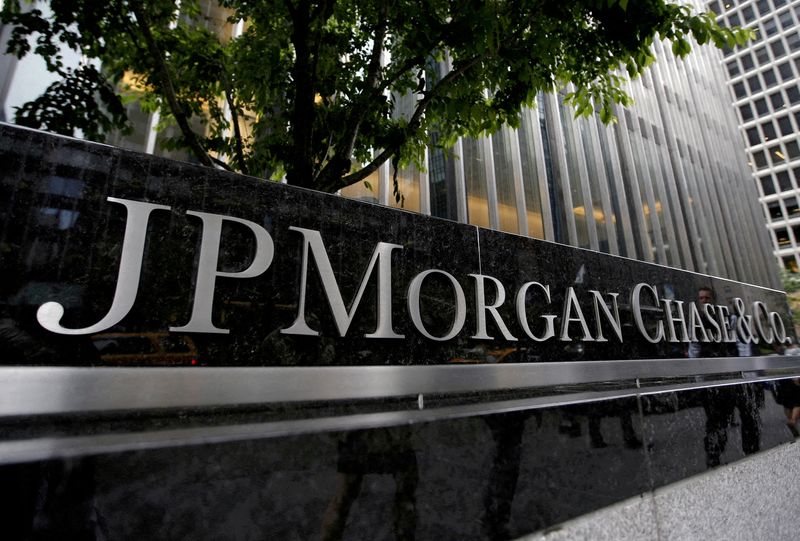 © Reuters. FILE PHOTO: A view of the exterior of the JP Morgan Chase & Co. corporate headquarters in New York City May 20, 2015. REUTERS/Mike Segar/File Photo
By Jonathan Stempel
NEW YORK (Reuters) -The U.S. Virgin Islands said it wants JPMorgan Chase (NYSE:) to pay at least $190 million, and possibly much more, to resolve its lawsuit accusing the largest U.S. bank of ignoring the disgraced late financier Jeffrey Epstein's sex trafficking.
In a Friday filing in federal court in Manhattan, the territory said it wants JPMorgan to pay a $150 million civil fine, and give up at least $40 million from its 15-year relationship with Epstein.
It also wants JPMorgan to pay damages to compensate Epstein's victims, pay punitive damages, separate its business and compliance functions, and hire a compliance consultant.
"Financial penalties, as well as conduct changes, are important to make sure that JPMorgan Chase knows the cost of putting its own profits ahead of public safety," U.S. Virgin Islands Attorney General Ariel Smith said in a statement.
In a statement, JPMorgan acknowledged efforts to resolve the case, but said the filing "does not reflect the nature of settlement conversations."
The bank also called the U.S. Virgin Islands' arguments for damages "misdirected" and "not well founded."
Friday's filing marks the first time the U.S. Virgin Islands has put a dollar figure on its lawsuit.
The territory wants JPMorgan held liable for providing banking services to Epstein from 1998 to 2013, enabling him to pay his victims, and ignoring internal warnings and other red flags because it valued him as a wealthy client.
It said even the $40 million amount excludes the "difficult to quantify" value of Epstein allegedly introducing JPMorgan to famous people like Britain's Prince Andrew and former Israeli Prime Minister Ehud Barak.
Epstein, who died by suicide in August 2019, had owned two neighboring islands within the territory, including one that authorities said he bought to keep people from spying on him as he sexually abused young women and girls on the other.
A trial is scheduled for Oct. 23.
LARGE PAYOUTS
The lawsuit is the largest unresolved Epstein-related case.
JPMorgan agreed last month to pay $290 million to settle a lawsuit by dozens of Epstein accusers, while Deutsche Bank (ETR:), where Epstein was also a client, agreed in May to a $75 million settlement. Both accords await final court approval.
Epstein's estate, meanwhile, has paid out more than $125 million to the financier's accusers, and more than $105 million to the U.S. Virgin Islands.
The financier's former girlfriend, Ghislaine Maxwell, was convicted in Dec. 2021 for aiding in his abuses.
In the U.S. Virgin Islands case, JPMorgan has sought to shift blame.
It accused the territory of "actively facilitating" Epstein by giving him tax incentives and waiving sex offender monitoring requirements, in exchange for cash or gifts to local police and top officials like former first lady Cecile de Jongh.
JPMorgan is separately suing Jes Staley, a former private banking and investment banking chief once close to Epstein, to cover its losses in the two lawsuits it faces.
Staley has expressed regret for his friendship with Epstein and repeatedly denied knowing about his sex trafficking. He left JPMorgan a few months after Epstein, and was British bank Barclays (LON:)' chief executive from 2015 to 2021.
The case is U.S. Virgin Islands v. JPMorgan Chase Bank NA, U.S. District Court, Southern District of New York, No. 22-10904.