Walmart promotes CEO of Sam's Club to head International division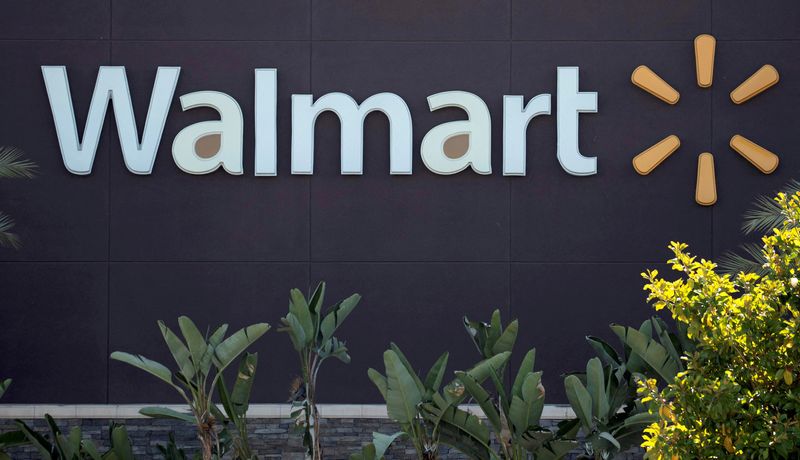 © Reuters. FILE PHOTO: The logo of a Walmart Superstore in Rosemead, California, U.S., June 11, 2020. REUTERS/Mario Anzuoni/File Photo
By Siddharth Cavale and Ananya Mariam Rajesh
(Reuters) -Walmart Inc on Wednesday promoted Kathryn McLay, CEO of its Sam's Club unit, to head its $100 billion international business at a time when high inflation is squeezing spending in many global markets and China's economy is slowing.
McLay, a 49-year-old Australian considered a star within the U.S. company's ranks, will take over the division on Sept. 11, succeeding Judith McKenna, who is retiring after 27 years with the company.
McLay, who joined Walmart (NYSE:) in 2015, will run an international business that spans 19 countries, including China, where slowing economic growth has raised global concerns and sales in the hypermarket sector are falling as purchases shift online.
In some of Walmart's other big international markets like Mexico and South Africa, structural problems exacerbated by the pandemic have dampened consumer sentiment.
Despite these challenges, Walmart International has performed strongly under McKenna's leadership, under which it exited poorly performing operations in Japan, Britain, Argentina and Brazil.
In its most recent fiscal year ended Jan. 31, the unit generated flat sales of $100.1 billion, or 17% of Walmart's annual revenue, despite the market exits, in part due to strong sales from its Flipkart and PhonePe business in India and Sam's Club operations in China.
In April, McKenna laid out plans to double the international unit's sales over the next five years.
McKenna has led Walmart International since 2018, overseeing a multi-year transformation that resulted in the unit delivering more growth and stronger financial results across the board, Walmart CEO Doug McMillon wrote in a memo to employees.
GOOD TRACK RECORD
McLay, a former executive at Australian retailer Woolworths, took over as CEO of Sam's Club in November 2019 after holding high-level positions within Walmart's U.S. supply chain operations and neighborhood markets business.
Sam's Club, a rival to Costco (NASDAQ:), for years had been an underperforming business with muted sales growth.
But for the last nine quarters, it reported positive sales growth in almost every category it sells in the U.S., a period that included the pandemic, Piper Sandler analysts said in a research note.
Sam's Club, a business unit with $84 billion of yearly revenue, has posted 12.7% average annual comparable sales growth since McKay took over the division, according to a Reuters calculation.
"Walmart has a very strong, deep bench of talent and…(McKay) seems like she's had a pretty good track record so far," Edward Jones analyst Brian Yarbrough said.
"We don't expect many changes in the overall outlook for the business or what they plan to do with the business moving forward," he added.
Walmart also announced that Christopher Nicholas, currently chief operating officer of Walmart U.S., would replace McLay as CEO of Sam's Club.
McKenna, 57, will spend time in a transitional role before retiring on Jan. 31, 2024 and will continue to serve on the boards of Walmart Mexico, Flipkart and PhonePe, the company said.
Walmart will report second-quarter results on Thursday. Its stock was unchanged after the news of the appointments.