What we learned in MLB this week: Phillies have room to grow as Trea Turner rebounds
Jordan Shusterman
FOX Sports MLB Analyst
Every Thursday, Jordan Shusterman examines one thing from each MLB division that we've learned from the past week of action.
AL East: A rookie offers the most upside in Orioles' rotation full of questions
Is it finally happening with Grayson Rodriguez?
The 23-year-old right-hander debuted in April amid huge hopes as one of baseball's top prospects, only to post a 7.35 ERA in his first 10 starts before being sent back to Triple-A. Since his July recall, Rodriguez has looked a lot more like the player billed to be the most important arm of a Baltimore rebuild that has produced hitter after hitter. Rodriguez has posted a 3.03 ERA in his past six starts, which includes Monday's one-run, seven-inning gem against San Diego in which he showcased some of the gnarliest stuff of any starter all season.
His four-seamer averaged a ridiculous 98.9 mph — it sat around 95 mph during the first two months of the season — while his secondary stuff was wonderfully wicked. This performance was an emphatic reminder that the best version of Rodriguez could be the best option for the Orioles in Game 1 of a postseason series this October. Kyle Bradish has been underappreciated all season and would be the safest bet for one of the first two games. Kyle Gibson and Dean Kremer can throw strikes, but those strikes have been hit more than you'd want in a game with higher stakes. Deadline acquisition Jack Flaherty can deliver six strong innings on the right day, and three disaster frames on the wrong one.
G-Rod's full-season ERA won't be the prettiest by the time October arrives, but the fact is none of his staff peers can dominate like he can when things are clicking for him. Regardless of if we see it on this year's postseason stage, this guy's gonna be good for a long time.
AL Central: Bobby Witt Jr. is smashing baseballs, too
Coming off a rookie year in which he launched 20 homers and swiped 30 bags as a 22-year-old shortstop, Witt's cathedral-esque offensive ceiling was still intact entering 2023. His lackluster .294 OBP was forgivable. The more pressing concern? Defensive metrics that rated the Royals dynamo one of the game's sloppiest infielders.
Sure enough, Witt has answered those questions in a shockingly impressive fashion as a sophomore, transforming from awful to terrific with the glove in Year 2. But amidst his defensive turnaround, Witt has also continued to ascend at the plate. Following four consecutive hitless games in mid-July which dropped his season OPS to .729, Witt slashed a ridiculous .409/.453/.739 over his next 21 games, good for a 225 wRC+ that ranked second in baseball to José Altuve during that span.
It's catapulted Witt into the top 10 in fWAR among all position players. Moreover, he's already cleared the 20 HR/30 SB standard he achieved as a rookie and is now on pace for what would be just the sixth 30 HR/45 SB season in MLB history.
No one has ever doubted Witt's raw physical ability to impact the game with his power and speed. But even as one of the best high school prospects we've seen this century, the question was always about the degree to which his middling hit tool would enable the rest of his skills to play. The lack of walks and propensity to chase pitches may suggest something of a cap for his ultimate OBP potential, but Witt is undeniably making far more contact already than many evaluators thought realistic. And when you have the kind of elite bat speed that he does, putting even an average amount of balls in play is absolutely going to result in star-level production — especially when you're also one of the fastest players in the league.
That's exactly what we've seen, and it's been marvelous to watch.
AL West: Astros rookie J.P. France demands your attention
Though Houston's farm system has regularly ranked near the bottom of baseball during the big-league club's reign atop the American League, the Astros continue to churn out productive players from unlikely places. Hunter Brown had a lot of buzz coming into the year and has generally delivered on the hype with flashes of excellence along the way. Brown, however, has not been the Astros' best rookie arm. That distinction belongs to France.
The 2018 14th-round pick debuted earlier this season at 28 years old after methodically delivering quality innings at each level of the MiLB ladder. While Cristian Javier has underwhelmed considerably in what was expected to be a breakout campaign following a dominant 2022 postseason run, it is France who has stepped up to keep this pitching staff in traditionally excellent shape.
France's 2.74 ERA isn't just the lowest among all qualified rookie starting pitchers; it's the fourth-lowest among all MLB pitchers with at least 100 innings pitched. That's despite a 17.4% strikeout rate that ranks 78th, or comfortably below league-average. The low K rate isn't particularly shocking given France's middling raw stuff, but it's a stark departure from the roughly 30% of batters he punched out while climbing the minor-league ladder. France's five-pitch mix isn't generating nearly as many whiffs from big-league hitters so far, but it's clearly been good enough to keep them off-balance and sustain elite run prevention for one of baseball's best teams.
Where France fits into the Astros' rotation as October nears will be fascinating to monitor. With the recent return of Jose Urquidy, Houston faces an interesting decision with six healthy starters available. The reacquisition of Justin Verlander makes the top of the rotation look awfully familiar alongside Framber Valdez; how France, Javier, Brown and Urquidy slot in after that remains to be seen. But one thing is certain: In a year full of unexpected plot twists with this rotation, France's breakout has been the biggest surprise.
NL East: Call him Trea Turnaround
It was bound to happen eventually, the Phillies' $300 million man finally looking like himself. A dramatic go-ahead homer against Kansas City followed by a curtain call a few weeks back sure seemed to spark something in Trea Turner, with the 30-year-old shortstop hitting over .400 in 11 games since that feel-good dinger. Manager Rob Thomson has moved Turner into several different spots in the lineup since dropping him from second to seventh on July 29th, and I'm curious to see how long Turner would have to perform to this degree before being elevated back into the 2-hole. In theory, Turner's game-changing speed is best deployed atop the order where the big boppers can drive him in, but he has to get on base enough for such a strategy to manifest.
Houston Astros' Jose Altuve & Phillies' Trea Turner lead Team of the Week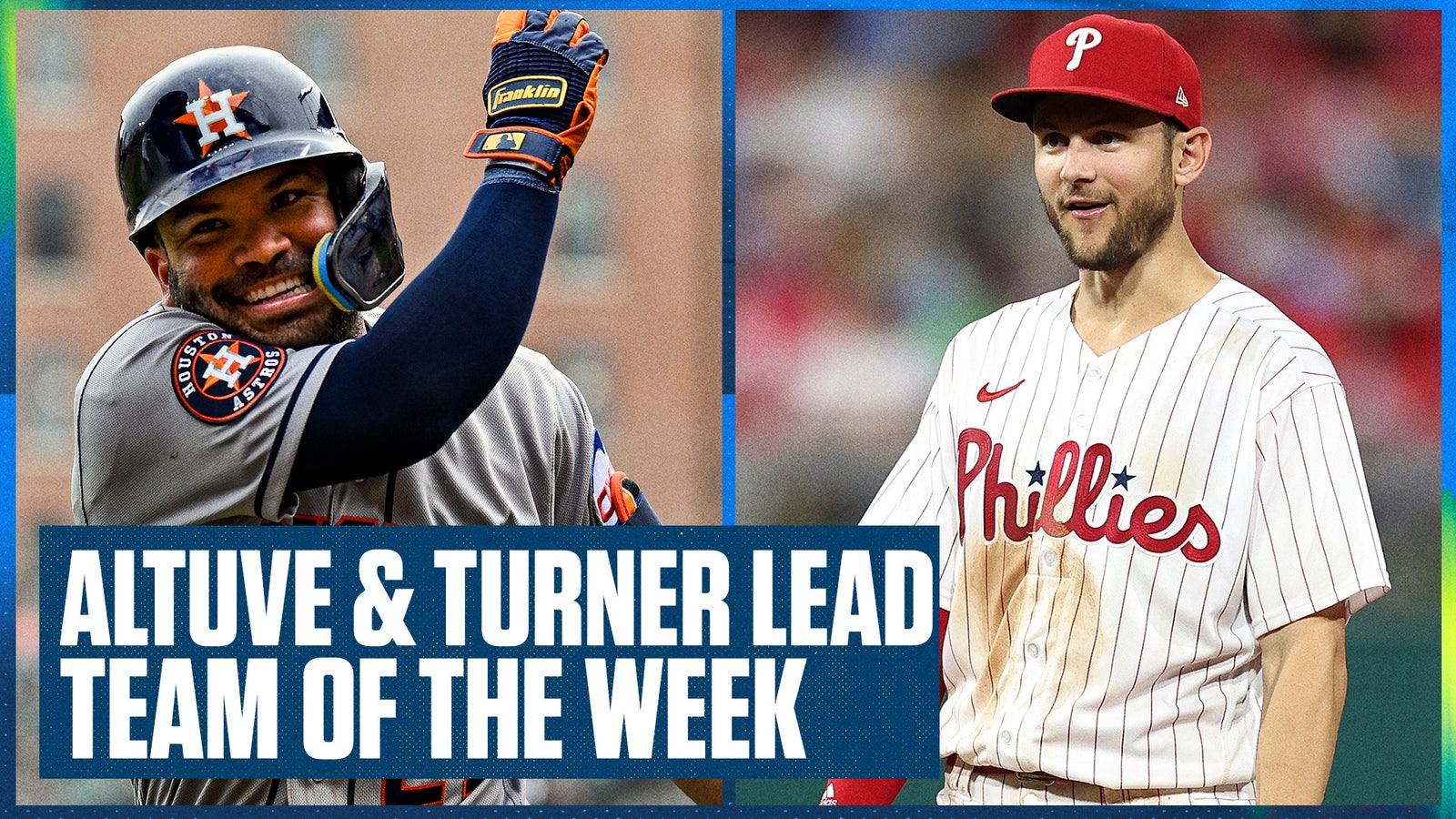 With so many players in Philadelphia's lineup capable of going from ice-cold to flaming hot (and back to freezing) in an instant, we've yet to see this club jell in full symphony. The Phillies have been good enough to put themselves in a reasonably strong position to secure a wild-card spot, but we also haven't come close to seeing the offense reach its ceiling. Turner continuing to rediscover the superstar version of himself could go a long way toward unlocking that potential.
NL Central: Cubs have a new closer and an improving bullpen
Part of what sank the 2022 Cubs was an ill-equipped bullpen that was taxed to an extreme degree. Chicago relievers combined for more innings than any team except Tampa Bay last year yet collectively produced 0.9 fWAR, which ranked 28th in MLB. It was not a strong unit.
Enter 2023, where an improved rotation has eased the workload on the rest of the staff. While some might take exception to calling Chicago's bullpen a strength, notable strides have been made to ensure that the ends of games are not the definitive Achilles heel for this team. Its relievers have combined to throw 426.1 innings (21st in MLB) and produced a 3.97 ERA (12th) with a 24.9% strikeout rate (7th).
In short, the Cubs have solidified the relief corps perhaps more than they've been given credit for. They've gotten some of their best work from unlikely sources, including journeymen Julian Merryweather (71 K in 53.1 IP) and Mark Leiter Jr. (2.81 ERA in 51.1 IP), young swingman Javier Assad (3.12 ERA in 60.2 IP) and recent trade acquisition Jose Cuas (0.00 ERA in 5 appearances with CHC).
I've especially enjoyed the emergence of right-hander Adbert Alzolay as the primary closer, a role he seized in early July. Alzolay bounced up and down Cubs prospect lists for a half-decade before making his MLB debut in 2019 and seems to have finally found his role after seemingly stalling out as a sufficient big-league starter. He throws hard but not that hard. Yet he's developed excellent command of an unusually deep four-pitch arsenal for a closer, which has helped him consistently induce both whiffs and weak contact. He might not be as flashy as some of the other great game-enders around the league, but he's not too far behind them in terms of pure effectiveness. If the Cubs are going to make a real run at a postseason spot, Alzolay is sure to play a massive role.
NL West: Bobby Miller is pumping gas for a needy Dodgers pitching engine
With Jacob deGrom out for the year and Hunter Greene not throwing quite as hard as last season, the current title for hardest-throwing starting pitcher in baseball belongs to Miller. The rookie righty averages 99.2 mph on his four-seamer and 98.8 mph on his sinker, marks that rank behind only the game's hardest-throwing relievers (e.g. Jhoan Duran, Aroldis Chapman, and Jordan Hicks). Beyond the pure fuego, Miller's ability to use two different kinds of fastballs adds to the complexity of his high-powered attack. On the season, the usage of his two heaters looks nearly identical — he's thrown 302 four-seamers compared to 295 sinkers — though he's gone noticeably four-seam heavy in recent weeks while leaning more on his slider and curveball to garner whiffs and chases out of the zone.
Miller's fireballing arsenal might not be generating as many strikeouts as one would assume (8.4 K/9), but he's started to settle into a crucial role within a Dodgers rotation that's as shaky as it's been in years. Six innings of one-hit, one-run ball on Tuesday against Milwaukee lowered his season ERA to 3.70 — and 2.59 over his past six starts. The addition of veteran innings-eaters Lance Lynn and Ryan Yarbrough has tempered concerns regarding the pitching staff being stretched too thin, but Miller's increased reliability in recent weeks has also gone a long way in those efforts.
Similar to Rodriguez in Baltimore and France in Houston, how the 24-year-old Miller throws down the stretch could have a massive impact on how his team chooses to deploy him come October. Should Clayton Kershaw stay healthy and Julio Urías and Tony Gonsolin continue trending in the right direction, it's not hard to envision a scenario in which Miller transitions to the bullpen — could he throw even harder in relief?! — as a way to both maximize the pitching staff and manage his innings as a young arm. But if Miller continues to find his footing as a starter, he might end up one of Dave Roberts' best options to start a playoff game.
Jordan Shusterman is half of @CespedesBBQ and a baseball writer for FOX Sports. He has covered baseball for his entire adult life, most notably for MLB.com, DAZN and The Ringer. He's a Mariners fan living in the Eastern Time Zone, which means he loves a good 10 p.m. first pitch. You can follow him on X @j_shusterman_.
---
MLB trending



Matt Olson is filling one Braves legend's shoes and pushing another for MVP — his way

2024 MLB free agents: Whose stock is up, down from Shohei Ohtani to Julio Urías

2023 MLB Playoff Picture, bracket, standings




2023 MLB MVP race: Updated AL and NL MVP odds, favorites

MLB awards update: Favorites, contenders, dark horses for MVP, Cy Young, ROY

Dominican investigation of Rays' Wander Franco is being led by gender violence and minors division




Dodgers vs. Brewers Prediction, Odds, Picks – August 16

Braves vs. Yankees Prediction, Odds, Picks – August 16

Diamondbacks vs. Rockies Prediction, Odds, Picks – August 16
---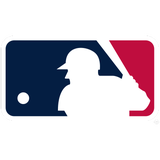 Get more from Major League Baseball Follow your favorites to get information about games, news and more
---