Will elite QB play be enough for Pac-12 to end CFP drought?

Bryan Fischer
College Football Writer
LAS VEGAS — There are few spots like Las Vegas where you can completely reinvent yourself for a weekend.
So perhaps it was only natural for the Pac-12 to do the same as football media day took place at its unofficial home away from home in Sin City. After months of battling slings and arrows — both real and imagined — from across the college football ecosystem over a new media rights deal that has yet to fully materialize, the assembled coaches, players and administrators gathered with hopes of spinning a new narrative into reality.
And so the focus turned away from TV deals and realignment and toward the actual play on the field that will take place this fall.
"I think it's fair to say this is the most highly anticipated Pac-12 Media Day in recent memory," said Commissioner George Kliavkoff, standing on a stylishly lit stage at the Zouk Nightclub inside ResortsWorld Casino. "The Pac-12 is the strongest it has been in two decades. This is a direct result of the investments made by our schools and their athletic departments, particularly over the past few years. We have nationally recognized head coaches, both returning and new to the conference, with track records of great success."
As he fielded questions from the assembled media members doing their best not to lounge at tables that normally run upwards of $10,000 a night, it said plenty that Kliavkoff didn't once mention the oft-used slogan to denote the league's success: the "Conference of Champions."
No, instead this was an event that, somewhat wishfully, wanted to note was instead the "Conference of Quarterbacks."
Marketing aside, though, it's not a stretch to lay claim to such a tagline.
Reigning Heisman Trophy winner Caleb Williams posed for pictures on Friday alongside the National Championship Trophy — and he was just one of the seven signal-callers in attendance who passed for at least 3,000 yards last year.
"The greatest part about the quarterbacks' deal is they're all different. They're all very unique challenges," Washington State coach Jake Dickert told FOX Sports. "Caleb Williams, he might be the best running back in the country — his skill set is just so incredible. [Michael] Penix's accuracy, Bo Nix's playmaking, Cam Rising's toughness, Cam Ward is like Houdini with the things he can do. It's unique and what a challenge for defensive coordinators.
"I'm glad I'm not calling plays anymore. It's a challenge each and every week, and it makes Pac-12 football stand apart."
It will help the league even more if the group behind center can shift outside perception by delivering some marquee wins in non-conference play, something that has been lacking.
USC will get a chance to showcase Williams with little television competition during a Week Zero game, while Washington, which should join the Trojans in the top 10 of the preseason polls in a few weeks, hosts a strong Boise State side and travels to Michigan State in Week 3. Oregon will experience a unique environment down in Lubbock at Texas Tech, while Washington State hosts a Big Ten team (Wisconsin) in Pullman for the first time in three decades. Reigning champion Utah doesn't play local rival BYU, but opens with Florida before heading to Baylor.
In part because of those quarterbacks and all the attention they soak up at the most important position of the field, half the conference could be ranked to open the upcoming campaign. And that's not even getting into the slew of defenses that return at least seven starters from decent runs in 2022.
"I think the Pac-12 is in a very good place right now. The conference is really strong," said Utes head coach Kyle Whittingham, now entering his 19th season in charge in Salt Lake City. "We're poised hopefully for a run at the CFP with one of the teams in the league."
That's been the case for the past several years in the Pac-12, but it's a playoff pursuit that has now stretched for five seasons with no skin in the game for the semifinals. Often a string of non-conference losses to inferior teams has been to blame, taking the league out of the hunt before Thanksgiving even rolls around. Recently, slip-ups by higher-ranked sides in the conference title game ended such dreams.
Take USC eight months ago, which collapsed down the stretch by allowing at least 45 points in three of its final games to prevent any additional hardware from joining Williams' Heisman in Heritage Hall.
No. 11 Utah hoists the Pac-12 trophy after upsetting No. 4 USC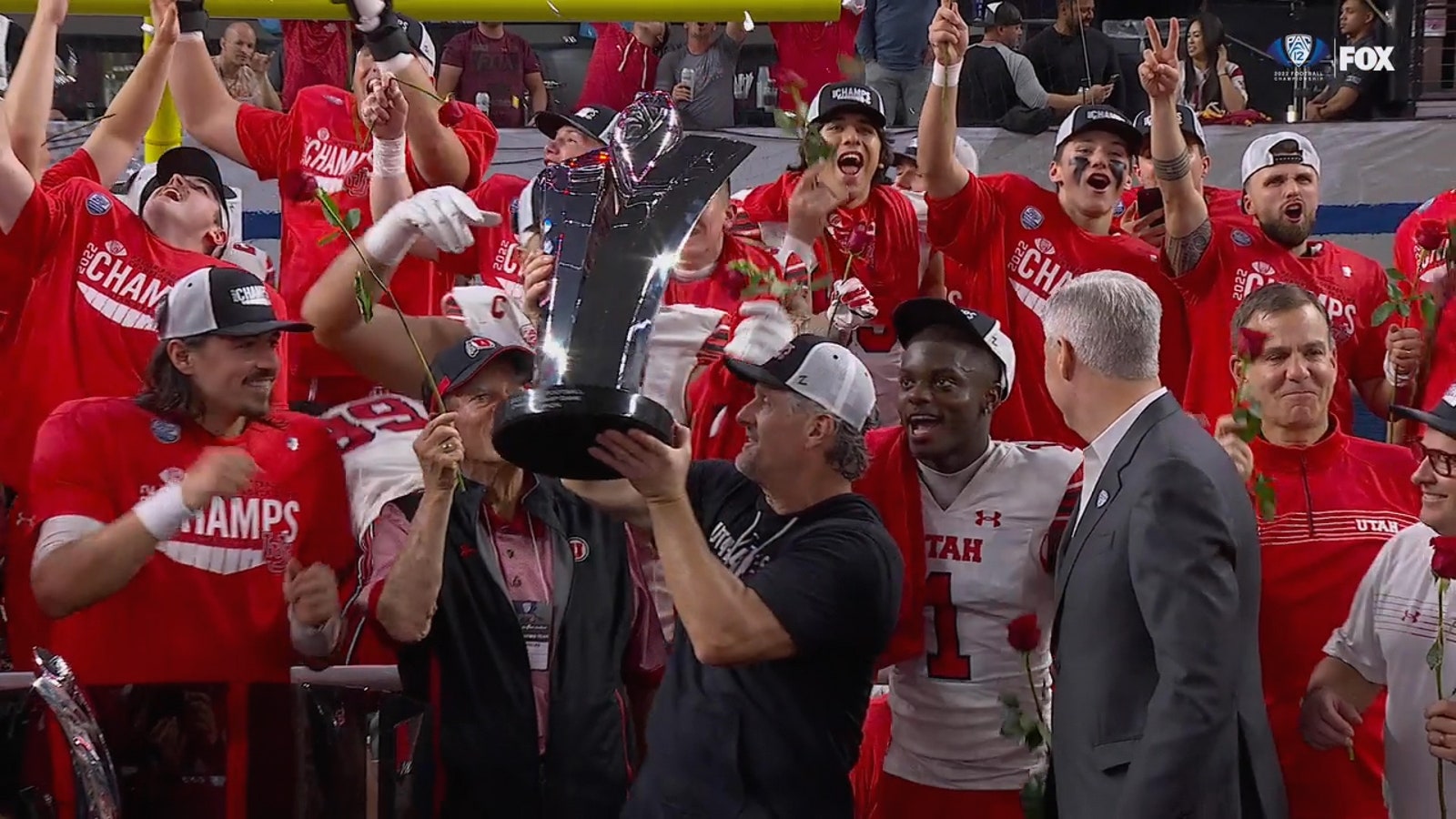 For all the fanfare that the star quarterback has generated, or NIL deals with his name attached, just about everyone recognizes that for his program to win the Pac-12 in 2023, it will have to be about far more than their quarterback. Rather, the Trojans must develop a complete roster around him.
"I think the reality is we didn't come in here trying to say, 'all right, we're going to come to the USC and try to build a team to win the Pac-12.' We've come in trying to build a team to win the national championship," Trojans coach Lincoln Riley remarked. "We feel like we're building towards that."
Linebacker Mason Cobb, who was one of a swarm of defensive reinforcements to arrive in Los Angeles this offseason, noted there were roughly seven plays that could have changed the trajectory of the team's postseason destination. He believes that improved depth at all three levels on his side of the ball will surprise viewers when pads start popping next month.
Whether that proves to be the case remains to be seen, especially against a schedule that features five of the other six in-conference 3,000-plus-yard passers, plus two more in San Jose State's Chevan Cordeiro and Notre Dame's Sam Hartman.
It's a daunting prospect even for those who have far fewer concerns about their defense. In looking to become the first team to win three straight conference titles since the league expanded to 12 teams in 2011, Utah actually has both its greatest strength and greatest question mark in veteran signal-caller Rising.
The senior remains on track to be fully recovered from the ACL he tore in the Rose Bowl in January, but his status for the opener remains a bit murky. With both QB and head coach cautiously optimistic that he'll be ready, the team looks to avoid another slow start to become one of those CFP hopefuls.
"We're used to being, I don't want to say disrespected, that's the wrong word, but under the radar," said Whittingham. "The last couple of years, we had a few hiccups at the beginning of the year, but we're looking at everything. How we're training in the summer, how fall camp is structured, every little thing."
Just a little bit earlier, he noted that Rising didn't even make preseason honorable mention at his position this week despite hoisting the trophy two years running and, surprising for the coach's nature, even admitted that it's been the other side of the ball which has helped his program get over the hump in league play.
"We have a great quarterback," added Whittingham. "I think maybe the old adage is not quite as true as it used to be. In fact, offense is probably statistically more important to winning games than defense, at least on paper."
Why USC QB Caleb Williams is destined for NFL stardom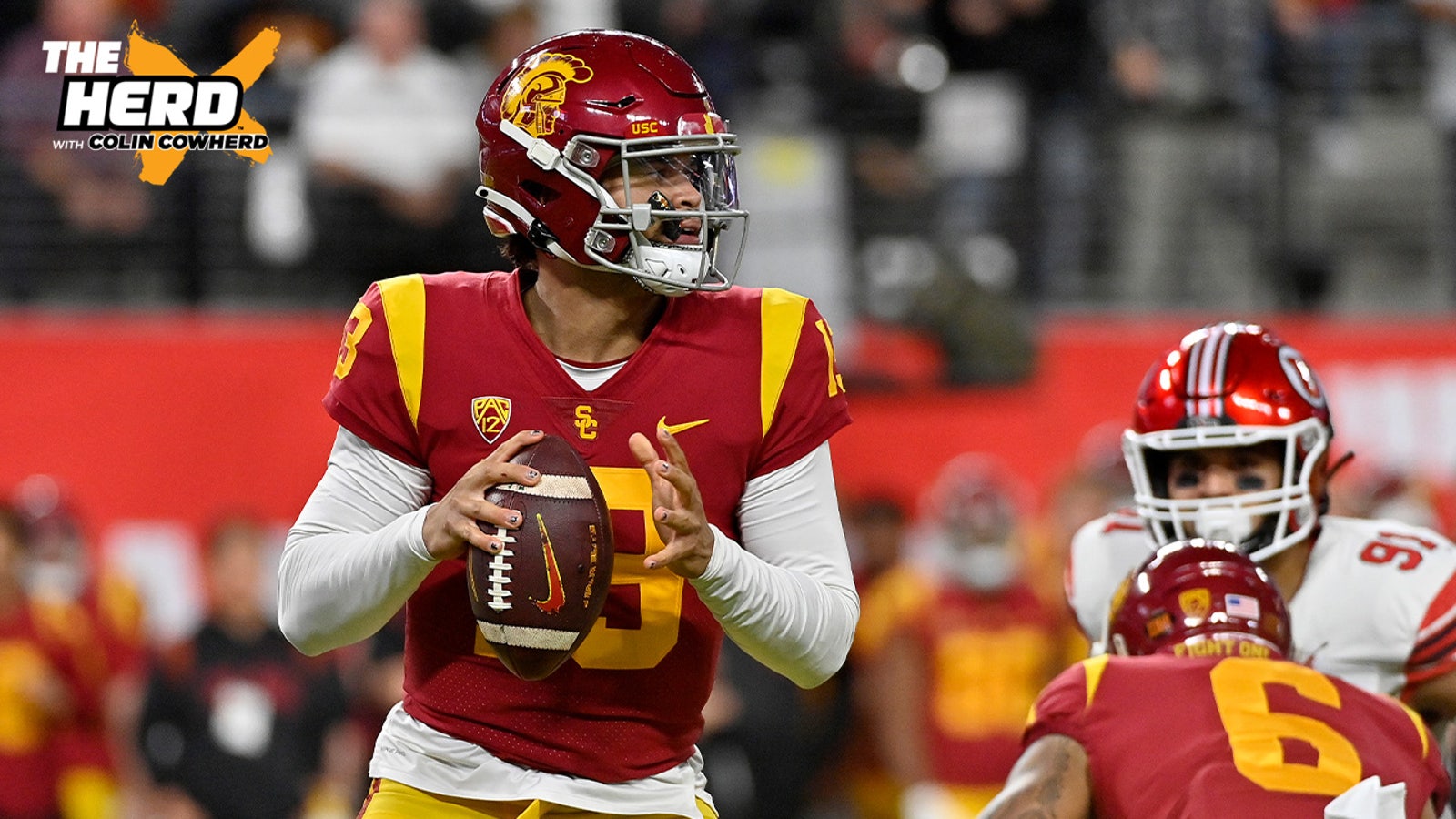 Yes, the Pac-12 is so loaded with quarterbacks that even the most ardent of defensive-minded coaches are coming around to what is transpiring between the lines.
"It's the nature of being in the conference with a lot of elite guys," Arizona cornerback Treydan Stukes remarked. "I like it personally. I'm a real competitive guy and the better the competition, the better I feel I want to play."
It's a sentiment shared by many and one that league leadership hopes will become the dominant storyline as the season gets going. Even more, they hope that it helps put a positive spin on a Pac-12 that will be hard to talk about without mentioning USC and UCLA's swan song in the league — to say nothing of the host of other issues like name, image and likeness, and the transfer portal, which have become an ever-present talking point whenever a coach or commissioner sits down in front of a microphone.
"We have to be willing to adapt in a world of college football where everything changes," said Oregon's Dan Lanning with an energy equaled only by the triple-digit temperatures outside. "We've been able to recruit elite talent since I've been here. We'll continue to do that. Our focus is winning games. I'm a true believer if you win games, the rest takes care of itself."
Considering the Pac-12 plays its annual championship game at the home of the Las Vegas Raiders, such an attitude of 'just win (baby)' would be wholly appropriate.
The conference certainly has the quarterbacks to accomplish it. We'll see if there's enough beyond their stellar play to help put a turbulent offseason behind them moving forward.
"Issues outside of the game have been going on for a long time. I don't think that takes away from the game. I think the coaching is at an all-time level and the players' skill is at an all-time level," UCLA coach Chip Kelly said. "There's so many good coaches coming up, putting players in good position to make plays, the game is awesome. I think the players that are playing is awesome. I think that's what the story should be about."
The Pac-12 certainly hopes that is the case after several months of anything but.
Bryan Fischer is a college football writer for FOX Sports. He has been covering college athletics for nearly two decades at outlets such as NBC Sports, CBS Sports, Yahoo! Sports and NFL.com among others. Follow him on Twitter at @BryanDFischer.
---
COLLEGE FOOTBALL trending
---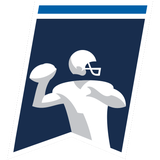 Get more from College Football Follow your favorites to get information about games, news and more
---